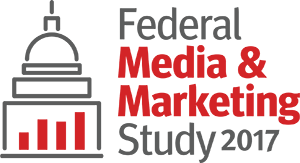 9TH ANNUAL BREAKFAST & BRIEFING
Thursday, November 2, 2017 | 8:30 AM – Noon
VALO Park Conference Center (formerly known as TEGNA)
7950 Jones Branch Drive
McLean, VA
Online ticket sales have ended. On-site registration is still available at the event.
SAVE THE DATE!
NOTE: The Eventable link above works by synchronizing your calendar with a separate calendar feed. This event will appear in "other calendars" to protect your privacy and data and allow us to update, as needed.
Join us Thursday, November 2 at this popular event for B2G marketers. The annual Federal Media & Marketing Study™ looks at media consumption habits of federal decision-makers: the top publications, websites, radio, TV and more, along with demographics, job functions and purchasing responsibilities.

NEW THIS YEAR:
The impact of fake news on media credibility
Federal employee tenure and future plans for retirement
Inside the beltway: Top media consumption habits of DC commuters

PRESENTERS:
Lisa Dezzutti, Market Connections, Inc. – President & CEO
Sara Leiman, TMP Government – VP Media Director
PANELISTS:
Lisa De Luca, Veritas Technologies LLC, Senior Manager, Public Sector Marketing
Melissa L. Koskovich, Leidos, Inc., Senior Vice President, Director of Corporate Communications & Marketing
Grant McLaughlin, Booz Allen Hamilton, Vice President
Special Guest Moderator:
Francis Rose, Government Matters, Host