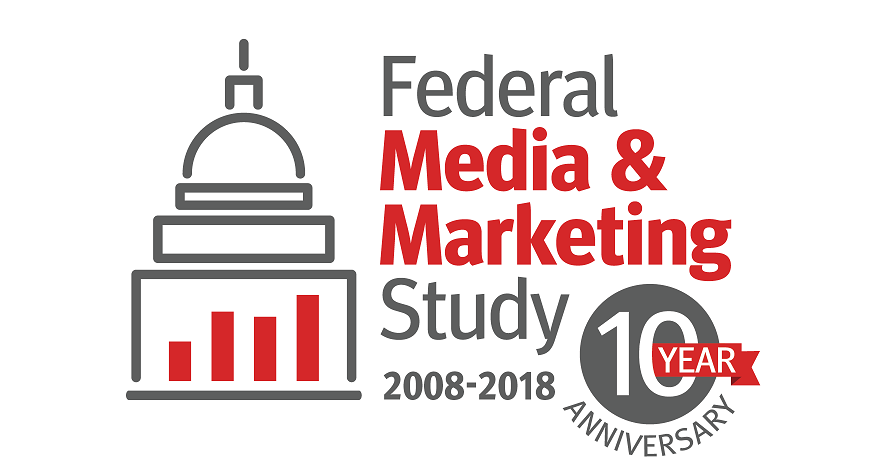 10th Annual Breakfast Briefing
Thursday, November 8, 2018, 8:30-11:30 AM (EST)
VALO Park Conference Center
7950 Jones Branch Rd.
Mclean, VA 22102
ONLINE TICKET SALES CLOSED!
TICKETS AVAILABLE FOR PURCHASE ON-SITE.
We're excited to announce our 10th anniversary of the Federal Media & Marketing Study from Market Connections and Sara Leiman, VP Media Director at TMP Government.
For the past 10 years, our comprehensive study has helped federal marketers develop the right strategies to reach mid- to senior-level federal decision makers by providing them key data about their purchasing and media habits. Year over year, nearly 3000 federal respondents at defense and civilian agencies, inside and outside the Beltway, participate in our survey about their use of digital, social, mobile, print and broadcast media, creating a comprehensive database like no other in our industry.
Join us to see an overview of the results including overall top media outlets, trends among feds to watch out for, and to see new insights based on current affairs.
New this year:
Confidence in sources over the news they report
Sources for "breaking news"
Concerns over data privacy issues
PRESENTERS:
Aaron Heffron, President, Market Connections, Inc. 
Sara Leiman, VP Media Director, TMP Government 
PANELISTS:
Katie Hanusik, Executive Vice President, SpeakerBox Communications
Ashtan Moore, Co-Founder & Partner, Model B
Julie Murphy, Partner & SVP, Sage Communications
PANELIST MODERATOR:
Tom Temin, Author & Anchor, Federal News Network
AGENDA:
| | |
| --- | --- |
| 8:30 AM – 9:00 AM | Registration and networking breakfast |
| 9:00 AM – 10:00 AM | Study results and online tool preview |
| 10:00 AM – 11:00 AM | Panel discussion and Q&A |
| 11:00 AM – 11:30 AM | Coffee refresh and networking |
Thanks to our sponsors: