It has now been 6 years since the events of September 11th. I certainly remember the moments as vividly now as when I witnessed them for the first time. It's something I'll never forget, nor ever should.
In the years following the launch of the War on Terrorism, the President and Congress brought together numerous agencies under one umbrella, the Department of Homeland Security. Securing our homeland against future attacks became mission #1 for all working for, or with, the Federal government, regardless of agency. Incorporated in every strategic plan from 2002 on were certain milestones and goals related to securing the agency infrastructure.
After the newness of DHS settled down, Market Connections surveyed over 1,000 Federal government employees in 2004 and 2005 about the homeland security missions within their agencies. We knew that security was important, but we wanted to find out more about how it affected them from a technology perspective. The participants were asked how important certain initiatives were in meeting their agencies' homeland security mission and who could, or would, be most helpful in meeting these security goals.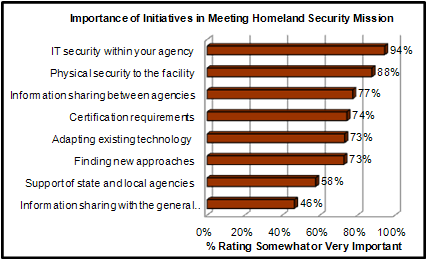 These decision-makers rated IT security as most important. Physical security to agencies' facilities was also of top importance.
Now, with 2-3 years under our belt since these questions were asked, were these really the priorities you witnessed on a daily basis? An even better question might be: Did the money follow this pattern? If we asked these questions again today what initiatives do you think would be most important?
Approximately 70% of respondents said that either integrators or manufacturers would be helpful in meeting their goals. We have witnessed some examples of how this community has stepped up, but where do we go from here? There is always hope for a silver bullet; some new technology or process that a creative entrepreneur will develop that will help solve our problems. Looking back, who do you think was most helpful to the Federal government in meeting their homeland security initiatives? I invite your comments on this and other homeland security topics. Where does the government/contractor partnership go from here?