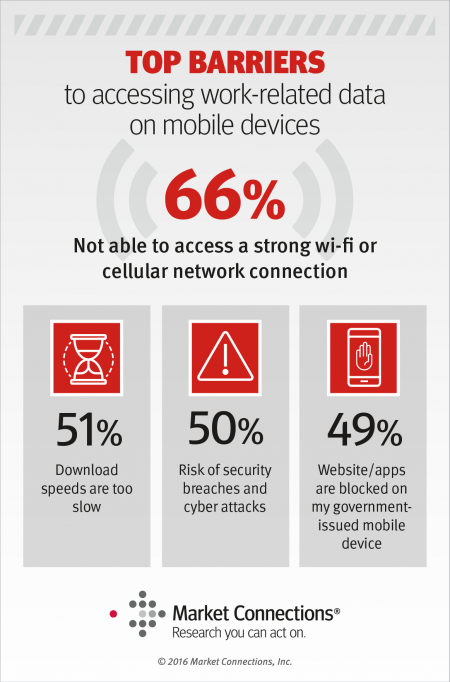 Mobile device usage in the workplace has become common — and even preferred for many. It is common for people to whip out their mobile device in staff meetings to download data, or even to turn to the mobile device because the desktop is busy with some other function.
Results of a new Market Connections PulsePollTM show that 86 percent of federal decision-makers believe mobile devices are critical to their jobs, and nearly all (96 percent) of respondents use a mobile device to check email during the workday. In addition, almost two-thirds (62 percent) use mobile devices to access training during the workday.
As more people, both within and outside the federal government, reach for their mobile devices to access work-related content, it becomes increasingly important to remove the barriers to doing so.
Yet they face challenges in using their mobile devices to access work-related information. The top barrier is low to no Wi-Fi signal (66 percent), followed by slow download speeds (51 percent) and risk of cybersecurity breaches (50 percent). As agencies work to modernize their IT infrastructure, addressing these challenges will be an important consideration in supporting the end-users who expect — and need — to be able to use their mobile devices in the workplace.
This study is a follow-up to a 2013 study on mobility. In addition to looking at productivity, the survey explores the type of work-related content and media federal decision-makers view on their mobile devices, how much time they spend on mobile devices outside of traditional business hours, and top barriers they face in accessing data on their devices. To see the full report, visit https://www.marketconnectionsinc.com/FedMobile.