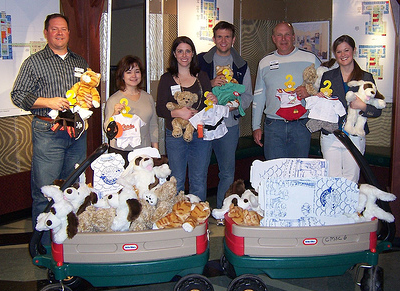 At Market Connections, we feel that it's important to give back to the community that gives so much to us. Recently, I attended a "Blue Reach" event that connects professional sports officials with pediatric hospital patients managing health-related issues. I joined the Blue Reach team and two Major League Baseball umpires at Johns Hopkins Children's Center in Baltimore. During the event, we pulled red wagons filled to the brim with Build-a-Bear toys and stopped by each room so that the umpires could meet with and lift the spirits of the patients.
One child screamed with delight, "A bear, a bear, mom it's a bear!" as the umpires walked through the door, stuffed bears overflowing from each arm.  Another young patient donned his favorite baseball jersey and held his autographed baseball up to show his mom. This event was so extraordinary because it was much more than a bear or a baseball, it was an opportunity to refocus and create a lasting memory.
Blue Reach is only one of the several programs offered by Blue for Kids, a nonprofit organization that facilitates community outreach opportunities for sports officials. Check out their website at www.blueforkids.com to learn about the good things this organization is doing for kids.