With limited resources and increased pressure to deliver ROI, marketers are continually challenged to implement the right strategies that show deliver results beyond brand recognition. The rapidly changing marketing landscape can be hard to keep up with, as marketers face a dizzying number of new technologies and techniques to try.
A recent Market Connections study, commissioned by Vocus, a leading provider of online PR and marketing software, shows how marketers are grappling with digital marketing and where they are finding success.  Equally important, the study busts big myths when it comes to digital, social and content marketing, which can provide clarity for any marketer.
[pullquote]Download the full report, State of Marketing and Public Relations white papers and infographics.[/pullquote]
The study, which Market Connections and Vocus released at Vocus' June 2014 Demand Success conference, showed increasing brand awareness is still by far the top marketing priority, followed by content marketing, social media, sales conversion and generating leads. Content marketing, digital advertising and search engine marketing rose to the top as the strategies currently in use or planned for the next 12 months. When it comes to digital marketing tools, website visitor tracking, email marketing, social media monitoring and analytics top the list.
The study also reveals a contrast between those who have marketing automation and those who do not: Those who use automation are significantly more likely to use digital tools such as advanced mobile and native advertising, and those with automation are reaping the benefits in terms of tactical success such as improved campaign management and lead nurturing.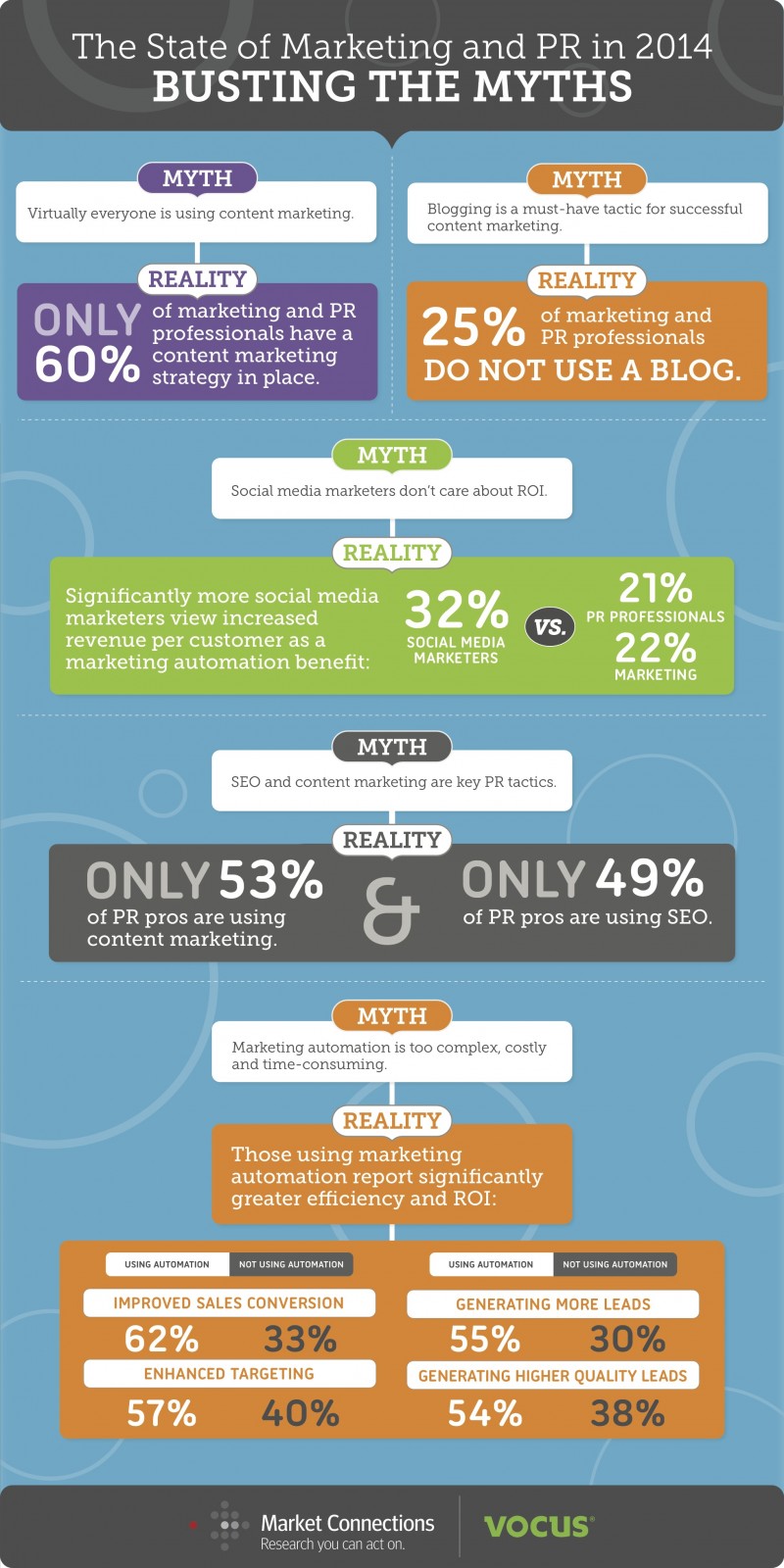 Meanwhile, the top marketing automation challenges remain budget constraints, insufficient or lack of skilled staff, integrating data from disparate sources and time investment to implement. However, the study reveals six top benefits of marketing automation, and shows those who use it are seeing those benefits at significantly higher rates.
Top marketing automation benefits revealed by the research:
Enhanced segmentation and targeting
Campaign management
Increased budget efficiency and maximizing budget
Improved sales conversion rates
Generating higher qualified leads
Generating more leads
The study shines light onto common myths upheld in modern marketing and public relations, including:
Myth #1 — Virtually Everyone Has a Content Marketing Strategy: Many marketers are tasked with creating all or some of their brands' "owned" content: market research, webinars, white papers, blogs, events, infographics and much more. The study shows that while content marketing may be an omnipresent tactic, only 60 percent of respondents or their clients have an actual content marketing strategy. Only 19 percent are considering adding such a strategy.
Myth 2 — Marketing Automation Is Too Complex, Costly and Time-Consuming to Implement: When most professionals discuss reasons not to implement marketing automation, they cite cost (49 percent), lack of technical human resources (40 percent), and time to implement and use (34 percent).  The reality is that those using marketing automation tools see enhanced sales conversions, enhanced prospect targeting and an overall improvement in lead generation.
Myth 3 — The PR Sector Has Fully Adapted to New Digital Tactics:  While online public relations tactics often include social media, owned content and native advertising, PR practitioners are not using all of these tools.
Myth 4 — Social Media Pros Don't Care About ROI:  While it is believed that most social media experts measure weak statistics like engagement (i.e. number of Twitter followers), the reality is that ROI is very important.  The study found that one-third (32 percent) of self-described social media pros care about increased revenue per customer, compared to only 21 percent of PR practitioners 22 percent of traditional marketers.
Myth 5 — Blogging is Essential: Despite common myths, blogging is not essential to marketing practitioners. Of all the distribution channels noted by marketing survey respondents, blogging is considered the least effective.
What is your take on these marketing myths?  Do they ring true with respect to your current marketing efforts?   We welcome all comments, insights and feedback.
Get the full research results and learn more about what they mean for marketers and PR professionals when you download the white papers and infographics.