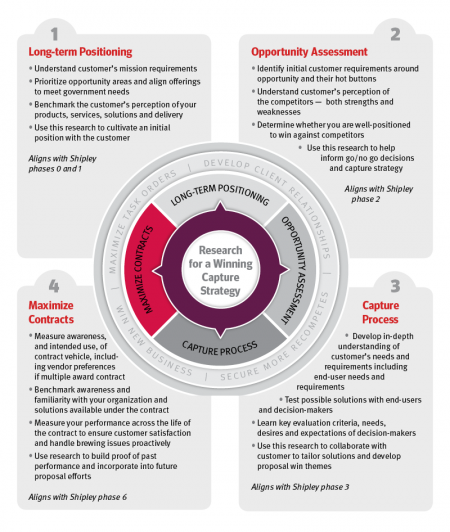 To increase win rates and retain existing customers, contractors need know when and how to engage effectively with government customers and prospects throughout the lifecycle of the acquisition and the contract.
This infographic illustrates how New Pursuit and Capture Research aligns with the Shipley Associates business development lifecycle, a model that has helped organizations gain competitive advantage for more than 40 years.
Specifically, for the capture process, a needs and requirements study can help you fully understand the new contract requirements, as well as who the incumbents, competitors, and potential partners are. In-depth interviews with the source selection committee and other decision-makers and influencers before the procurement goes into RFP can tell you about expectations and requirements, and how well positioned you are to win the business. This is the time to test possible solutions with decision-makers and end-users, and use the intelligence to help shape the procurement.
The actionable insights you gain can help you determine how qualified you are for the opportunity, how you are perceived in the marketplace and how you stack up against the competition. It will give you the information you need to position effectively, mitigate weaknesses, and fend off the competition.
The best way to counter uncertainty in the marketplace is with targeted knowledge that will help you win more new business and recompetes, and keep your business development and capture operations running efficiently and effectively.
Using Research to Position Your Company for Contract Wins
Want to learn more? Attend our next Best Practices Webinar on using research to position your company for contract wins with Market Connections Executive Vice President, Aaron Heffron.
Date: Wednesday, June 28, 2017
Time: 11:30 AM – 12:00 PM EDT
Cost: Free