Uncategorized
Only download pages go in this category.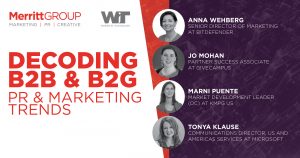 Earlier this summer Market Connections attended Women in Technology's (WIT) "Decoding B2B & B2G PR & Marketing Trends" in partnership with Merritt Group. This informative discussion brought together a panel of leading marketing and PR professionals from small to large companies including Bitdefender, Hybrent, KPMG US and Microsoft to discuss challenges they face and successes they've had in marketing to other businesses and the public sector.
In part two (read part one) of this blog post series we'll focus on a second challenge discussed by panelists: broken internal systems and processes.
How Can We Better Work Together: Broken Internal Systems & Processes
Market Connections often works with B2G clients to support their business strategies from brand awareness through business development. The internal structure of these companies often varies, affecting the business growth efficiency and success of the organization. This was echoed by the panelists. Whether it's interdepartmental communication, collaboration or even the simple inefficiencies in using marketing automation systems, the panelists shared their perspective on the good and bad of how their teams work together.
Sales & Marketing: A Contentious Relationship? Or Working Together?
How many times have we heard the following:
"The marketing leads don't give us what we need" or "the sales rep just cares about his or her individual sales"
While each group may have different short-term goals, both need to work together to achieve long-term success.
According to Marni Puente, Market Development Leader from KPMG every member of her team must focus on the organizational client interaction plan, understand where the strategic relationships are, and together support negotiations, decision-making and networking. In her perspective, "If you're responsible for marketing you're responsible for business growth too." She continues to say, "Whether it's…doing business development [yourself], or …. working closely with the business development team, (business growth) is something every marketer thinks about."
Are companies structured for this integration?
Market Connections conducted a study of government contractors in 2018 that revealed that over half (51 percent) of respondents stated their business development (BD/Sales) and marketing departments reported to different supervisors, nearly four in ten reporting to a single supervisor and the remaining listing either BD reporting to Marketing or vice-versa. While more than half may be reporting to different supervisors, this does not mean there isn't room for integration; meeting regularly can ensure communication and alignment of business goals.
According to our study, many successful companies, nearly two-thirds of respondents, said their sales and marketing teams meet at least once a month, and a quarter of which said they meet weekly. However, interestingly, nearly one in five said they meet maybe once a year, if at all. Anna Wehberg, Senior Director of Marketing at Bitdefender validated our results. "If sales and marketing are not aligned, business doesn't seem to flow right." According to Wehberg, her sales VP and her speak, text, or Skype every day.
According to the speakers, those departments that work together see better success. A strong relationship between these two departments is key. As one panelist put it, "When relationships are strained things are going to be bad… When things are good, they're really good."
The overall feeling is that there is a general trend moving towards the integration of sales and marketing, with a strong focus on relationship building between the two groups.
Marketing Supporting Business Development
How are marketers supporting their BD counterparts? At Microsoft, Tonya Klause, Communications Manager US and Americas Services, talked about reducing redundancies while maximizing the "story" of Microsoft. Marketing plays a key role in training their sales team to use tools such as LinkedIn, Navigator and Elevate. Skills and techniques to effectively reach customers include content sharing on Navigator and LinkedIn, helping executives develop their profile, unique voice, and blogging skills.
Marketing can also help support the BD/Sales teams through webinar trainings and follow-up. Wehberg explained that in addition to hosting training sessions, she records those sessions and saves them online for later access. She takes notes and pulls highlights from webinars and shares them along with links to the original webinar to team members via email as a follow-up. She even texts the sales teams to ensure they have the information. She tries to find different ways to give sales reps information in different formats and repeats the message several times, understanding that people may respond and learn differently.
In general, we are moving towards integration. In order to have success in the market, it is essential for marketing and sales to collaborate, communicate and have integrated strategies. Regardless of how departments are currently structured, these teams must work together toward their common business growth goals. Best practices include: keeping lines of communication open between executives, regular weekly or monthly team meetings for strategy and planning and providing training opportunities to ensure a unified external brand as well as a sharing of best marketing and sales practices.
Thanks again to WIT and Merritt Group for putting together a great event with insightful conversation around challenges and trends and many thanks to each panelist for thoughtful input that will be supportive to B2B and B2G marketers.
Read part one of our blog series providing an overview of the event and insights into top challenge: keeping content relevant.
Even the largest of states rarely serve a population one-tenth the size of the entire United States. Similarly, state budgets are a fraction the size and scope of the country as a whole. The overall budget for the U.S. Department of Health and Human Services, alone, rivals that of many mid-size cities. Therefore, it is not surprising that state and local decision-makers do not have the same resources as their federal counterparts when it comes to the procurement of IT products, services and emerging technologies.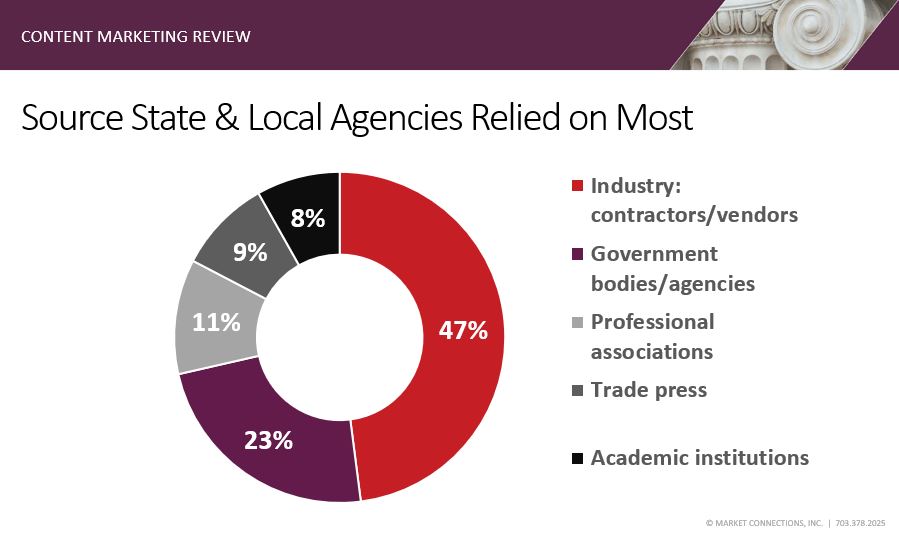 With fewer dollars to spend and fewer people to serve, state and local staffing levels are smaller with greater responsibilities and decisions, laying at the feet of a narrow group of individuals. With fewer colleagues to rely on for research and information, state and local IT decision-makers seek outside resources for education. According to the 2019 Content Marketing Review: Federal & Beyond, nearly half of state and local IT decision-makers admitted the source they relied on the most are industry contractors/vendors (47 percent). They look towards their vendors and suppliers to help them educate, validate and communicate with their stakeholders.
The quote, "with great power, comes great responsibility," sums up the importance of a vendor's role for state and local customers. As a vendor serving the state and local market, you have a responsibility to make your content as relevant as possible to these decision-makers. Market Connections' recent study compared state and local decision-makers with their counterparts at the federal level and identified some key elements that should be incorporated in your state and local government content marketing strategy:
Educate and Explain
State and local buyers are not only thirsty for information, they want it to help explain it in a way both they, and other non-technical colleagues, can understand. Research reports and white papers are the top two ways to get information delivered to state and local audiences whether it's describing new products, services or emerging technologies. However, over one-quarter also value case studies and marketing collateral, content often rich with descriptions of practical applications, that can explain in clear terms the specifications and benefits of certain products, services and technologies.
While they are thirsting for information, keep in mind how much time you expect them to dedicate to your collateral. While they value written content, the state and local audience is less willing to spend time with this type of content compared to videos and podcasts (only up to 15 minutes with white papers and case studies.) If you are describing something completely new, or very involved and complex, consider webinars, podcasts and videos as long-format content to educate, as the study shows they are willing to spend more time with these content formats (up to 30 minutes or more.)
Validate and Justify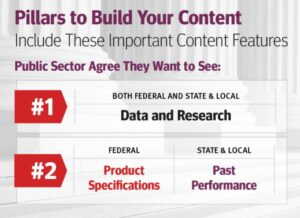 State and local decision-makers are often the sole primary technical consultant within a larger agency of program staff. They need to justify their decisions with materials that clearly explain a certain viewpoint and provide all the background necessary for a clear path forward. Past performance examples and product specifications should be embedded within the description of any service or technology. These informative stories help validate the decision to less technical individuals and justify the vendor selection.
Your content will have legs, so you must treat it as if it will speak to everyone, technical and non-technical. Over half of state and local respondents we surveyed admitted to sharing content electronically with colleagues, supervisors and teams, one-quarter printed it to share with colleagues and one-quarter shared it via LinkedIn or other social media. Among key reasons for sharing included that it confirms their opinion or viewpoint. Too much language that sounds "salesy" in nature is likely to reflect negatively on your customer and not give them the foundation they need.
Final Thoughts
Public sector marketers often need to create content that will serve multiple purposes for this unique audience. First and foremost, this audience is looking at you not only as a vendor, but as a partner helping them support their constituencies. Your content should be short, concise and easy to understand for non-technical audiences, since your target audience may look to use your content to help them educate their colleagues, supervisors and teams and provide validation for their decision to purchase your products and services.
This audience is also open to different ways of content delivery. State and local government customers are more willing than many customers to leverage video and podcasts to help understand the issues and tell their stories. An effective content marketing strategy on the state and local side includes larger doses of video and audio than many of the other traditional public sector verticals.
Learn more about the preferences of state and local audiences or to compare this audience with their federal counterparts, download the 2019 Content Marketing Review: Federal & Beyond full report and infographics.
Laurie Morrow has over 25 years of experience in market research and was Market Connections' first employee when it was founded in 1997.
In addition to her passion for research, Laurie also has a passion for the curly W – that is the Washington Nationals. You can almost always count on her being at spring training each March catching her favorite team prepare for a summer of pitches, swings and home runs for the upcoming season at Nationals Park.
With two signed baseballs from Max Scherzer and Stephen Strasburg, a signed third base by Anthony Rendon, a signed baseball bat by Ryan Zimmerman, an impressive collection of bobbleheads and up- close-and-personal pictures with more than 20 players, we thought it would be fun to give you a glimpse to a different side of Market Connections' vice president, and Nationals' superfan, Laurie Morrow.
MC: How long have you been a Washington Nationals fan?
LM: Though I went to a few games here and there during the early years, I really started to take an interest when Bryce Harper was brought up to the majors. He is the same age as my oldest son who also played baseball. It was around the time my son stopped playing in his senior year of high school that Bryce came along. Instead of sitting in the bleachers at travel league and high school games, I started watching the Nationals faithfully on TV. I also try to attend a few games in-person every month.
MC: Who is your favorite player and why?
LM: Anthony Rendon. Tony is an awesome player and is truly underrated. He has never made it to the All-Stars but deserves to be there. Besides being a great baseball talent, he is very involved with the Nationals Youth Baseball Academy. I hope the Nats re-sign him.
MC: What is your favorite Nationals memory?
LM: Attending spring training games played in their old stadium in Viera, FL before the team moved to West Palm Beach. The new stadium is very nice, but the old stadium was a great way to see the games and players up close. My husband and I try to go to spring training every year.
I can also share my least favorite memory. This was game two of the 2014 NLDS when the Nationals lost to the Giants (after 18 long innings!). I was at that game and stayed until the bitter end!
MC: Of course, we have to ask, do you miss Bryce Harper?
LM: I wasn't surprised that the Nationals didn't sign Harper. However, I wasn't happy that he went to the Phillies and I will have to watch him play against the Nats 19 times a year for the next 13 years! I don't really miss him. The Nats have great young talent on their team.
MC: What is your outlook for the 2019 season?
LM: I'm hoping the Nationals will start playing better baseball than they have in April and early May. They are a very frustrating team to watch. You can't turn off the TV thinking they already lost or already won. It's always a roller coaster ride, but it's a fun one!
If you have questions about market research or the Washington Nationals, you can reach Laurie at lauriem@marketconnectionsinc.com.
"Content marketing is the only marketing left." – Seth Godin
In 2008, Seth Godin made this bold statement, and in the decade that followed, in both the corporate world and public sector market, we have watched this statement unfold with an explosion of white papers, infographics, podcasts, sponsored articles, and videos. However, with so much content in the market, it's hard to break through the noise. What marketers need now, more than ever, is content refinement and an understanding of WHAT the target audience wants, WHERE they are searching for it and HOW much time they want to spend with it.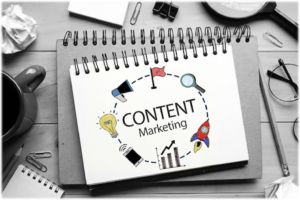 Looking ahead to the release of the findings from Market Connections' 2019 Content Marketing Review survey of the public sector marketplace in May, we decided to look at what other researchers focused on commercial B2B and B2C markets are reporting.
According to Content Marketing Institute in 2019, nearly two-thirds of marketers reported increased use of video and/or written digital content compared to the previous year. More than a third (37%) said they increased their use of podcasts and audio books.
With these three areas on the upswing, it's important to understand how and when to deliver content. According to Harvard Business Review, content marketers should take three things into consideration:
The amount of time you are asking your audience to invest. According to HBR, buyers' average viewing time is just under three minutes and within that time can make quick judgments including whether to move to the next step.
When to optimize content for mobile and when not to. Mobile content is leveraged most at the top of the sales funnel. But just as the type of content should evolve throughout the sales process, so should your content format. When a lead becomes a strong opportunity, the use of desktop to view content becomes more prevalent.
Traditional times to send content may no longer apply. Seasoned marketers have often delegated sending content on Tuesday morning through Thursday afternoon. However, according to HBR, visits have become more evenly distributed across all week days. In addition, they found that "[Even] if initially engaged [during the week], a prospect reading a piece on Wednesday often returns for a longer visit on the weekend."
All of these suggestions provide great food for thought for those working in the public sector market, and lead to the ultimate question: do these strategies work for the B2G market?
To answer this question, we invite you to join us for a breakfast briefing: Content Marketing Review: Federal & Beyond on May 9. We'll share how public sector decision-makers at the federal, state and local levels are responding to content: what types of content they prefer, how much time they want to spend with it, what they want to get out of it, and where they go to get it. After the results briefing, a panel of expert marketers will share best practices from their own experiences.
upcoming events

2019 Content Marketing Review:
Federal & Beyond
May 9, 2019
Vienna, VA

Reaching government decision-makers with thought-provoking content should be a priority for any B2G marketer. What format (white papers, podcasts, videos, etc.) do they find most useful and influential and, furthermore, where are they going to get this content? NEW THIS YEAR: As many contractors continue to expand into state and local markets, do the same rules apply as their federal counterparts? How should content be developed and marketed to this audience? Join us as we expand the Federal Content Marketing Review to include state and local decision-makers as well!

highlights

Key Takeaways from Professional Services Council's AI Roundtable Discussion

Discussions for potential applications of artificial intelligence (AI) in the private and public sectors are becoming ever more frequent. Market Connections recently attended Professional Services Council's Government Affairs Committee AI roundtable on March 1, 2019, featuring Varun Krovi, deputy chief of staff & legislative director for Representative Brenda Lawrence (Dem, MI-14), who together with Representative Ro Khanna (Dem, CA-17) introduced a resolution calling for the ethical development of AI.

ICYMI: WEBINAR: Confidence, Trust and Its Impact on the Federal Market

Did you miss our recent webinar? No problem! The recording is now available sharing insights and data based on our most recent Federal Media & Marketing Study. Understand how the level of confidence federal employees' have in particular media properties may have a positive or negative effect on your brand and message. Understand how combining confidence with levels of engagement and reach can be an effective measure to make key decisions in the media channels you are choosing to get your message out.

Lisa Dezzutti Shares Lessons from Summiting Mt. Kilimanjaro

Climbing Kilimanjaro has been one of my major goals and last year I decided to stop talking about it and just get it done. As in other times in my life, it showed me that I could accomplish the high-reaching goals I set for myself by putting in the hard work, training and preparation, and in the end, there is a certain level of exhilaration and awe when accomplishing that goal. As in any difficult endeavor, certain life lessons are brought into sharper focus. Here are a few lessons from the climb that apply to both my business and personal life.
contact us

11350 Random Hills Road, Suite 800 | Fairfax, VA 22030
703.378.2025 | www.marketconnectionsinc.com
"The greatest danger for most of us is not that our aim is too high, and we miss it, but that it is too low, and we reach it."   -Michelangelo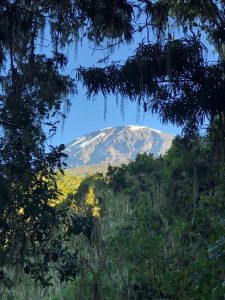 This quote from Michelangelo is one of my favorites because it sums up what I truly believe – we are each capable of so much more than we realize.  Over the course of my adult life, I have tested this belief multiple times by setting and achieving big goals – from starting my own company, Market Connections, to jumping out of perfectly good airplanes to trekking to the top of Mt. Kilimanjaro in Africa this past January.  At, 19,340 feet, "Kili" is the tallest peak in Africa and the highest free-standing mountain in the world!  Not only was this an epic adventure, it was the hardest physical thing I have done.  EVER.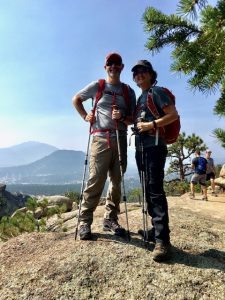 Climbing Kilimanjaro has been one of my major goals and last year I decided to stop talking about it and just get it done.  As you can imagine, doing this type of climb takes both physical training and mental preparation.  Last August, I started my physical training by doing cardio three times a week and strength training once or twice a week using machinery like my Peloton bike and Stairmaster.  On the weekends, my husband and I drove 1½ hours to hike various trails in the Shenandoah and GW National Forests.  Even though he did not go on the Kilimanjaro trek with me, I could not have asked for a better, more supportive training partner.
While the training helped me to prepare physically for the challenge, the actual trek (taking nine days from start to finish) was, at times, both physically and mentally grueling. However, summiting Kili gave me a true sense of accomplishment.  As in other times in my life, it showed me that I could accomplish the high-reaching goals I set for myself by putting in the hard work, training and preparation, and in the end, there is a certain level of exhilaration and awe when accomplishing that goal.
As in any difficult endeavor, certain life lessons are brought into sharper focus.  Here are a few of mine from the climb that apply to both my business and personal life:
Slow down and enjoy the journey.  If your life is anything like mine, it is full to the brim with activities and obligations.  It can be very hard to be present and keep your focus on things that are truly important.  Kilimanjaro doesn't give you a choice.  It strips you down to only the absolute essentials, both physical and mental.  For example, I packed several "must have" items I thought I would need that never came out of my duffle bag!  As we climbed further up the mountain, worries and frustrations I carried from home quickly fell away.  Instead my focus was on "pole, pole" – Swahili for slowly, slowly.  It's a phrase we heard often on the trek.  Walk slowly and breathe slowly and deeply.  This advice was almost meditative and allowed us to focus more fully on our surroundings, each other and achieving our goal of getting to the top.
"Hakuna matata."  Swahili for no worries.  Before coming to Tanzania, I'd only heard this as a reference to The Lion King.  In Tanzania, and particularly on the mountain, this is something people repeat a lot.  For them, it's not just another phrase, it's a way of life.  I'm trying hard do the same.  Stuff happens, but we all have the freedom and ability to decide how we deal with it.  Easier said than done, but I'm working on it.
Drink more water and be a 'lazy lion."  To stay well hydrated and keep altitude sickness at bay, we had to consume at least three liters of liquid each day.  That was tough.  At home, usually the only liquids I have all day are two cups of coffee in the morning.  We had acclimatization time when we were told to be "lazy lions" – to rest and take it easy – so we would be ready for the physical and mental challenges of the next day.  To succeed on the mountain, you must pay attention to, and take care of your body's needs.  Back down at sea level, we all need to do the same.  With all the responsibilities and busyness of our everyday lives, we sometimes forget to take care of ourselves.  Start small.  How much water have you had today?  Drink more water. Take a nap.  You'll feel better.
We are all greater together.  We can accomplish so much more together than we can ever accomplish on our own.  Stephen Covey calls it interdependence.  And I needed it to get up the mountain.  Before I went, it came in the form of encouraging words and training support from friends and family.  On the mountain, it came in the form of about 60 people including my climbing partners, guides, porters, and cooks all watching out for my well-being.  Each had their own unique strengths they brought to the task at hand.  It's no different at home.  You are only as strong as those who support you.  Don't underestimate the value and power of your team.  Recognize and tap into that power and there's no telling what you can accomplish together.
Never give up and push beyond your comfort zone. As a successful business owner, I already knew this, but the climb reinforced it.  Big journeys begin with a single step.  And it's one step at a time and then just one more until you reach the top.  While the journey may be tough, the view from the top is worth it!  (Just check out my video below!)  We each must set our own goals and hike our own trail in life.  Your goals may change, and while you may not always make it to the summit, make sure you give it your best and that you're happy with the trail you leave behind.  Remember, life begins at the end of your comfort zone.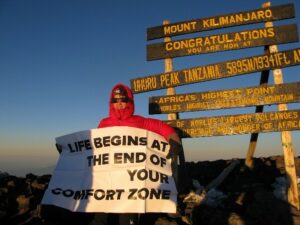 I hope this will inspire you to take on new challenges or try something you never thought possible.  What are your plans in 2019 to get out of your comfort zone?  What goals will you strive for?  What steps do you need to take to prepare to reach those goals?  Drop me a note and let me know.  I would love to hear from you:  lisad@marketconnectionsinc.com
Check out Lisa's video from the summit below:
upcoming events

Confidence, Trust and Its Impact on Federal Marketing: A Federal Media & Marketing Study Webinar
March 14, 2019, 2-2:45 PM EDT

Will federal employees' confidence in particular media properties create a halo effect on your brand? If they aren't confident in the news reported, will this negatively impact your message? Join us as we share results about confidence levels among top media properties and discuss how combining confidence with levels of engagement and reach can be an effective measure to make key decisions in the media channels you are choosing to get your message out.

Save the Date:
2019 Content Marketing Review for the Public Sector: Reaching Beyond Federal
May 9, 2019, 8:30-11:30 AM EDT
Vienna, VA

Reaching government decision-makers with thought-provoking content should be a priority for any B2G marketer. What format (white papers, podcasts, videos, etc.) do they find most useful and influential during their buying process and, furthermore, where are they going to get this content? NEW THIS YEAR: As many contractors continue to expand into state and local markets, do the same rules apply as their federal counterparts? How should content be developed and marketed to this audience? Join us as we expand the Federal Content Marketing Review to include state and local decision-makers as well!

highlights

To Develop a Strong Brand Strategy in the Federal Market, Take Steps to Set You Up for Success

If the January 2019 Federal Shutdown has revealed anything, it's that the best laid marketing plans may fall to the wayside in the need to react to changing dynamics of the market. A solid marketing plan focused on brand awareness, strategic outreach, and effective communication tools can handle any fluctuations and bumps in the road. A strong brand perception among your customers can ease anxieties, knowing that solutions exist when budgets and timelines are in turmoil. What should one do to develop a brand strategy that can weather the ups and downs and layers of uncertainty?

Blurring the Lines: Is Work-Life Integration Affecting Feds and How We Market to Them?

Emerging technologies have afforded workers the opportunity to telecommute, work flexible schedules, and/or work in remote offices or shared workspace, thereby changing the way we do business from the traditional 9-5 of days past. This new work-life integration, for many, eliminates hard boundaries and also affects how we consume media and communications for work. It is not surprising to find modern professionals checking personal emails or visiting social sites throughout the workday while at the same time checking work emails or reading online articles during personal time. Are federal workers following suit?

Podcast: Aaron Heffron Joins Government Marketing University's Podcast on Marketing IT Offerings

Traditional commercial tactics do not always translate seamlessly into the public sector market. Aligning your message to your customer's mission needs and outcomes, marketing to multiple agency stakeholders and transitioning your position from vendor to partner/educator can significantly improve the strength of your marketing and messaging to this niche market. Listen to the Government Marketing University interview with marketing executives from ViON Corporation, Dell EMC and Market Connections about effectively marketing IT service offerings in the public sector.

contact us

11350 Random Hills Road, Suite 800 | Fairfax, VA 22030
703.378.2025 | www.marketconnectionsinc.com
If the January 2019 Federal Shutdown has revealed anything, it's that the best laid marketing plans may fall to the wayside in the need to react to changing dynamics of the market. A solid marketing plan focused on brand awareness, strategic outreach, and effective communication tools can handle any fluctuations and bumps in the road. A strong brand perception among your customers can ease anxieties, knowing that solutions exist when budgets and timelines are in turmoil.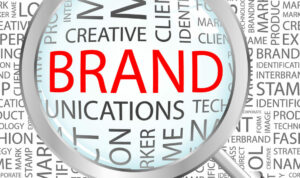 As part of Market Connections' ongoing efforts to help its clients, we often tap into the great ideas of other thinkers in the marketplace and try to bring it home for public sector marketers. A recent LinkedIn article by Ironclad Brand Strategy's Principal, Lindsay Pedersen, got us thinking: What should one do to develop a brand strategy that can weather the ups and downs and layers of uncertainty? According to Ms. Pedersen one should "define the target customer and the competitive frame of reference."
Over the years, some of our clients have broken into the federal market almost by accident by producing commercial solutions that help address a public sector issue. In these cases, sales teams experienced great success by being the first in, bringing a new technology or solution to bear in a way that hadn't yet been considered. Thus, enlightened public-sector buyers saw the potential and worked hard within their organizations to justify its value in a traditionally rule-bound, risk-averse setting.
However, as other players came into the market, the "first in" vendor wasn't connecting like it used to. While they had identified the customer, built some brand awareness and started understanding the competitive frame of reference, what they didn't have was the right way to talk to the federal buyers. Their potential market had expanded beyond the early adopters and the commercial messaging rooted in bottom line rewards did not resonate in an environment focused on mission, service and public good.
For those clients who have experienced some success and need to break through to the broader federal market (whether new altogether, or bringing new offerings), we suggest THREE key steps, building on Pedersen's first two:
Define the target customer: Is the whole federal market right for you and your offering?
Who is your target customer? Are you trying to break through or increase the offerings you provide in the federal market? Would they benefit from the products or services you provide? Does your product offer solutions to their challenges? Do you truly understand their pain points?
For those focused on making the federal market a part of their business strategy, this takes on an additional meaning. Are you targeting the federal market as a whole? Are you focused on a particular product category for the federal market? Are you focused on a type of agency or a specific agency? Whether broad or specific, contractors must consider not only pain points and challenges, but what it means to work with the federal government including mission, processes and timelines. Will your product or service be viable in the federal market? To find out, it's important to go right to the source.
However, companies looking to break into the federal market may find it difficult to gather this type of information directly. Those looking to break into this market or looking to bring a new offering to federal audiences may want to consider a market opportunity assessment to help them make informed decisions around whether to keep, eliminate, or enhance offerings. This type of study provides a profile of the federal market, specific target audiences and titles that offer the strongest potential for success, market needs within the framework of the offering and characteristics and features of the offering that resonate the strongest in the market.
Once companies have a firm understanding of their federal customer, their unique challenges and mission goals; and having a confirmation that the products and services they offer can benefit this customer, the contract and the mission; the next step is to understand how they are perceived by federal decision-makers, especially in comparison to other contractors in the same space.
What is the Competitive Frame of Reference: Are you working in an environment with strong incumbents, new players, or a mix of the two (and what do customers think about them?)
As Pedersen points out, the second part of preparing is defining the competitive frame of reference. Who are your top competitors? What differentiates you, your services and products from theirs? What are your competitors' weaknesses and where are their strengths?
To understand your customer and competition better, Pedersen recommends conducting customer interviews. She points out to small focus groups or interviews conducted over the phone. However, in the federal market, as many of our clients can point out, getting honest feedback from customers, especially if those contractors sit among their clients day in and day out, can prove to be difficult, if not impossible. Working together with a third-party firm may help in getting honest feedback about current customers while also looking into the satisfaction of service of contracts whose incumbents you'd like to unseat.
If clients are interested in winning new contract work, it is key to do this type of contract evaluation prior to when the RFP has been issued. A minimum of 12 to 18 months prior is recommended. Seasoned contractors know that once the RFP or RFI has been released, it is nearly impossible to get any feedback from agency decision-makers.
This type of research can provide key insights that could help shape a proposal based on current or past challenges or even future expectations and help you understand how you can position yourself to differentiate yourself, your products and your messaging from those of your competitors.
Tailor your message: Are you talking the talk WHILE you walk the walk?
Your offering is viable in the market, and you have insight into the unique challenges of the customer and how you can differentiate from the competition, now is the time to focus on the framework of your messaging.
To ensure the messaging resonates, the best next step is to do some message testing. Whether you are investing in concept, communications, advertising, logo, tagline or name testing, having feedback from your customer/prospect ensures that you are delivering the right tone that addresses their key challenges and pain points.
This is especially true in the federal market. Experienced federal marketers understand that developing messaging for this market is not as simple as taking corporate marketing materials and simply adding a federal agency name in place of other customers. To truly reach and resonate with public sector clients, in addition to understanding their pain points and criteria, those seeking to reach federal audiences must develop marketing materials and assets with the right tone and language formatted for the channels in which they will be most visible. An example of this is seen in how a company addresses how their solution may "support the mission," a concept less heard of in the corporate/commercial markets.
However, getting the deep insights needed to develop their brand framework as laid out in the three steps mentioned above can be difficult – not only for contractors who are trying to break into the market, but even for trusted vendors who sit next to their federal clients day-to-day. To get these insights, we recommend using a neutral and objective third-party who can uncover honest feedback on messaging and articulate the needs and expectations of federal audiences. By evaluating impact and effectiveness of messaging appeal, credibility, relevance, and usability, contractors can create campaigns with messages that address federal clients' needs. This will strike a deeper chord with their federal audiences, motivating them to act on that messaging.
This way, contractors seeking strong brand recognition for their company and offerings in the federal market can have solid data to help them make key decisions. They understand their target audience and how that audience will respond to their offerings, how they fit within and differentiate from the competition, and key messages that resonate with their audience to help them stand out from the noise. Having this information will ensure that strategies they put in place in the federal market will be successful and provide a stronger ROI for their investment.
Learn more about Market Connections services to support your brand strategy framework:
FEDERAL MEDIA MARKETING DASHBOARD
A dynamic web-based reporting dashboard allows you to cross-tabulate survey results to create your own customized data views, such as job title and product purchases; or job title and web site visits or publication readership.
NOTE: You are purchasing a subscription to a dynamic online data set, not a PDF report. You will receive a user guide in the form of a PDF, and a representative from Market Connections will contact you within 48 hours with your username and password to access the online dashboard.
The Federal Media & Marketing Study (FMMS) dashboard has provided federal marketers reliable and affordable data source for honing and perfecting strategic marketing campaigns. The FMMS database, as a whole, gives federal marketers detailed information to reach the right senior decision-makers at a wide array of federal defense and civilian agencies. The comprehensive dashboard allows a user to match certain demographics, job functions or purchasing areas with specific media habits.
Agency-Based Marketing Reports
(2019 Available Soon)
Market Connections now offers federal marketers a quick and easy way to get agency specific marketing data to assist with their account-based marketing needs. Whether you are targeting DOD as a whole, or focusing just on the Army, new single audience-based canned reports derived from years of Market Connections' study data can provide the background you need to make smart decisions. The library of reports will provide what you need to know for media buying, advertising and overall strategy decisions for the most popular categories including:
Department of Defense (overall)
Air Force
Army
Navy/Marines
IT purchasers
For $495, purchase a single-run report of the above critical audiences. Use the purchase form below:
Benefits:
Single-segment runs provide:
Detailed information on the specific audience you are interested in reaching
Ready-made reports for quick and easy access (the slicing and dicing has been done for you)
Smaller, budget-friendly reports of only the data you need, at a reasonable fee.
After completing two recent studies with Market Connections, we reached out Christie Cox, Marketing Director at Unisys Federal to understand how this research is supporting their marketing and sales strategies. Unisys's offerings include security software and services; digital transformation and workplace services; industry applications and services; and innovative software operating environments for high-intensity enterprise computing. Unisys has always understood that the federal market has unique challenges and needs; from budgetary restrictions to constantly changing federal mandates and requirements; and has been a long time consumer of research in the industry.
MC: Can you give us a little background as to why you conducted this research and how you are leveraging your results?
Christie: Market-relevant research of our targeted government audience is invaluable to help us understand our client's pain points so we can drive solutions to better support their missions. We leveraged the results [from a recent research study] for a very successful live event for the industry that resulted in meeting potential clients, gaining thought leadership media placements; and we continue using the data as ongoing messaging points for why we design our solutions plans.
MC: We understand you see the value in research, as you are conducting additional studies this year. Can you share any ROI you have seen or expect to see from the studies you have already conducted and share why it's important for you to continue to do studies?
Christie: We plan to conduct another major research-based campaign in 2018 around technology's influence with automation on the federal changes in their workforce. We feel it is very important to take a pulse of the audience to best understand how Unisys can meet their needs. The marketing and PR ROI is, as usual, difficult to measure, but we highly value the opportunity to lead industry discussions from our previous research in digital government,  IT modernization, and biometrics-based identity intelligence. The market research we employed Market Connections to conduct for us has led Unisys to be a first and early thought leader in the industry and provided value that is unmeasurable for positioning for future deals.
MC: What advice would you give a marketing director who wants to do a research project?
Christie: Pay close attention to your design of the research survey questions because they are critical to the end results you will see and what gets measured. Make sure you ask all of the right questions, and Market Connections can help you achieve that.
Market Connections would like to thank Christie for taking time to share insights on how Unisys Federal is using the research provided to further their work in the federal market.
See results from Unisys Federal's recent studies: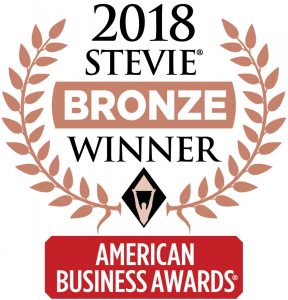 ANNOUNCED ON MAY 1, 2018: Unisys's Modernization Revolution Marketing Campaign won the American Business Awards' Stevie Bronze Award in the Government/Institutional/Recruitment category.  See all the winners: https://stevieawards.com/aba/2018-marketing-award-winners