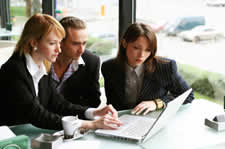 Often times, organizations that have conducted fairly straightforward research projects, such as a stand-alone focus group or a market awareness survey of a single target audience, are caught off guard by the many intricacies and potential pitfalls of larger, more complex studies.   Unquestionably, research projects of a larger scope require more people, more time, and more funding.  And, above all, they require skilled and dedicated project managers on both the client side and at the research firm.
You'll know you're embarking on a more complex research program if it entails one or more of these characteristics:
– Multiple market segments, such as defense, civilian, and state-and-local government agencies.
– Multiple functions or titles.  Perhaps a DoD survey requires that senior military management, commanding officers in the field, and purchasing agents be surveyed.
– Multiple research methodologies, such as focus groups and/or in-depth interviews followed by a quantitative phone survey, or a study that entails the simultaneous use of phone surveys and a web site to accommodate visual aids.
– Multiple products and/or services.  Perhaps you need to measure awareness and preference within five different product groups,?? and compare your rankings to those of competitors in those groups.
Of course, the more of these characteristics your research entails, the higher the complexity level of the project.  And, complex research projects typically result in:
– the need to involve numerous internal stakeholders with diverse data needs
– larger research populations
– increased phone and/or email list challenges
– multiple layers and branches in the survey instrument
– more time to pre-test and to field the survey
– more time and skills to tabulate and analyze the results
Expert project management is the key to successfully developing and executing complex research studies.  You'll maximize your success by following this advice:
Designate a Team Leader:  This person may or may not be the executive, or "champion," that's driving the program.  Sometimes, if these executives are too busy to coordinate with numerous people, read every email, attend every meeting, and so forth, they delegate the leader role to a trusted employee who has very strong project management skills, a solid understanding of the relevant business areas, and the authority to make the many decisions the research development will demand.
Involve an Experienced Research Firm:  You'll need a full-service research firm that has not only proven experience in your markets, but also very strong project management capabilities.  A complex project likely requires the upfront and back-end involvement of the firm's senior executive and the ongoing daily involvement of a detail-oriented account representative with proven experience on similar projects.  It's best to involve the firm early on, as they'll help you set upfront assumptions on objectives, methodologies, and market access options as well as the project budget range and timeline,?? all of which they'll likely need to refine a bit further into the development process.  You should also rely on your research firm to develop and update project management tools like a detailed project timeline and related tasks.
Build and Engage the Appropriate Team:  It's critical to involve the right people in the organization upfront to clarify research objectives and survey audiences, gather data needs, and explain the methodology, timetable, and so forth.  Otherwise, at the end of the project you'll be facing questions like "why didn't we ask X?" or "why can't I see X type of analysis on this information?"  Ask your research firm to attend and participate in this meeting, as they can help you balance diverse interests and maintain a realistic project scope.  After this first group meeting, the project leader and research firm can work with each department or business unit representative individually on the survey questions designed to meet their specific data needs.
The complexity of a research project should not deter you from undertaking it.  As long as it's well managed at both your organization and at the research firm, the business intelligence value it delivers will be well worth it.