Providing educational, thought-provoking information to customers is a good way to position oneself as a thought leader and trusted resource, making quality content development a top action item for federal contractors. But are you producing the content your target audience wants to receive?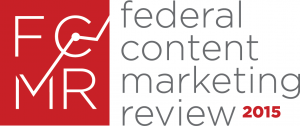 To answer this question, Market Connections and Merritt Group polled federal decision makers and B2G marketers in the 2015 Federal Content Marketing PulsePoll™.
The study shows more federal decision makers are turning to digital content to fill the knowledge gaps resulting from budget cuts and travel restrictions: digital content is providing much of the information and training they previously acquired from events. Almost three-quarters (73%) of respondents participate in webinars—this up from 55% in a 2013 poll. Significantly more are reviewing websites related to their field (65%, up from 48% in 2013) and more than half read white papers and case studies (53%, up from 34% in 2013).
Despite the increase in the use of digital content, the poll revealed some disparity between what federal decision makers and contractors believe are the benefits of digital content and what kind of content they find useful.
How can you adjust your content marketing strategy to provide the content your audience values?
Join Market Connections and Merritt Group as we present the full results of this poll at the 2015 Federal Content Marketing Review. We will review the key findings and an expert panel of federal decision makers and contractors will discus and debate the results. You will leave with solid ideas on how to start creating content that will impact your audience.
Space is limited, so register now!
Who Should Attend: Anyone investing time and budget to produce and distribute content, and business development and proposal professionals who use content when connecting with federal decision makers.
When: Tuesday, March 17 from 8:00 – 10:00 AM EST
Where: The Gannett Building, 7950 Jones Branch Drive, McLean, VA 22102
Cost: $59 Individuals; $413 Table of 8; $69 onsite
Join the conversation on Twitter: #FedContent15