On October 14, 2014 the Professional Services Council (PSC) and Market Connections released the results of a new study on the impact of convergence on government acquisition. As this As-a-Service (XaaS) model is still in its early days, the purpose of this research was to benchmark the status of convergence and reveal gaps in adoption and understanding between government and the contractors who serve them—and to form the basis for discussion between government and contractors on how to move forward with this market shift.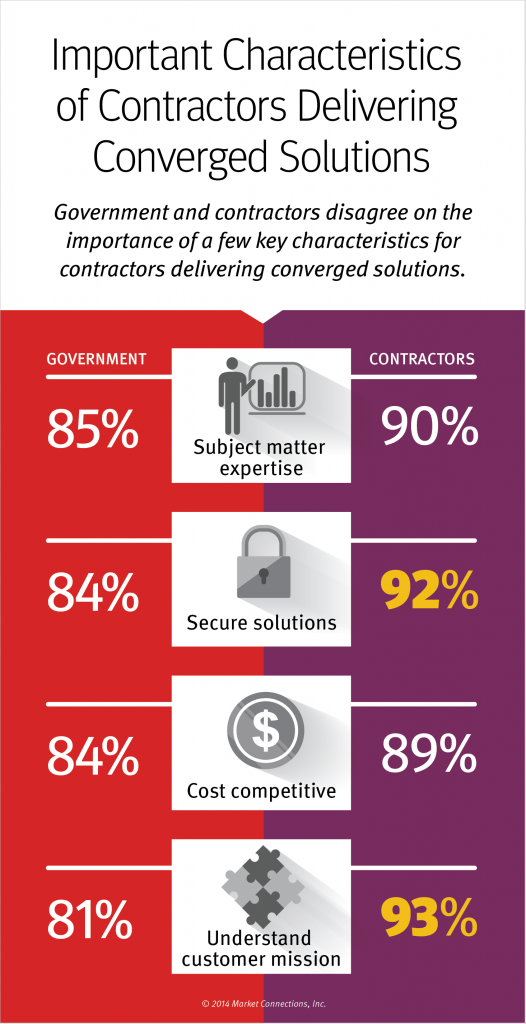 To start the conversation, PSC convened a panel of government and industry professionals to discuss their perceptions of, and experience with, convergence. The panel, moderated by David Wennergren, PSC Senior Vice President, Technology, included: Steven Cooper, CIO, U.S. Department of Commerce; John Garing, Vice President, ViON; Julie McPherson, Vice President, Booz Allen Hamilton; Chris Smith, Vice President of Technology, AT&T Government Solutions; and Stanley Tyliszczak, Vice President of Technology and Chief Engineer, General Dynamics Information Technology.
The study showed that while both government decision-makers and contractors agree that convergence is causing a shift in how government buys and industry provides solutions, government respondents revealed significant perceived barriers to adoption such as security risks and cost concerns. The panelists were nearly unanimous in their perceptions of why this is, and what to do about it.
Partnering for Education is Key
Regardless of the barrier under discussion—security, budget, procurement—the panel agreed education is the key to acceptance and adoption.
"In the face of rapid change, things that have been working don't anymore. What if we worked together to educate the government on the art of the possible?" said Cooper.
He added that if what government wants does not fit with the way services need to be delivered for the future, contractors needs to focus on partnering with government to educate them about what is possible.
McPherson noted that implementing converged solutions is an orchestration problem; there are many moving pieces, which also suggests a need for education.
"There has to be give and take with XaaS," said Smith. "We need more open conversation between the government and industry."

Give Them What They Want
Smith and Garing both stressed the importance of listening to government and delivering what they want. "A build it and they will come model may not work," said Smith.
The panel agreed that in today's environment, there is an expectation—regardless of mission—that contractors will deliver a converged solutions, even if that isn't explicitly what they are asking for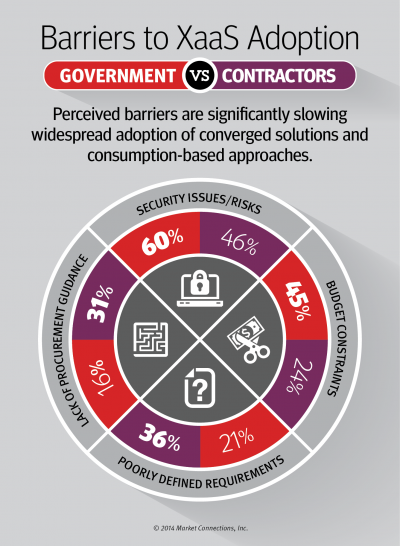 Contractors need to find the right balance. "Some companies have their big toe in the water, but aren't sure if everyone is jumping," said Smith.
Navigating Procurement
Garing believes the pressure to spend money wisely is going push government to an XaaS model. He also feels that to be successful, XaaS agreements "have to have prudent and practical requirements and share the risk."
One of the notions surrounding procurement in this new model is moving from CapEx to OpEx funding. Cooper noted that at Commerce, they are discussing ways to do this, and are assessing "speed to valued delivery," or how fast they can bring a value proposition of integrated solutions into production. "If we can achieve speed to outcome while mitigating risk and educating stakeholders, I am optimistic about where we are going," he said.
XaaS requires a shift from the traditional statement of work (SOW) to a statement of objectives (SOO)—a shift that, according to Smith, changes things internally and makes government uncomfortable. Cooper agreed: "The shift from SOW to SOO is a challenge because there is concern about 'what am I going to get from industry?'"
Tyliszczak added there needs to be flexibility on both the government and industry side to make the shift happen.
At the end of the day, the panelists believe that government will adopt convergence models. As Tyliszczak noted: "As-a-service is not mystical—it's been around for a long time in our personal lives."
To learn more, download the research report, white paper & infographics.