Gaining honest feedback from clients and customers is vital for enhancing overall performance.  Though getting this type of feedback can be challenging.
For government contractors who are often embedded with their clients on a daily basis, it can be difficult to gather constructive feedback needed to ensure re-compete contract wins.   And, it is easy for contractors to make false assumptions about their perceived performance that could actually jeopardize contracts.
Winning government contractors are using the results of customer satisfaction research to increase competitiveness and achieve business growth during these austere times.
Market Connections' 2012 Government Contractor Study found that contractors with higher win rates were more likely to use outsourced customer satisfaction surveys (83%).  The vast majority (96%) of contractors used some sort of research to better understand the federal marketplace.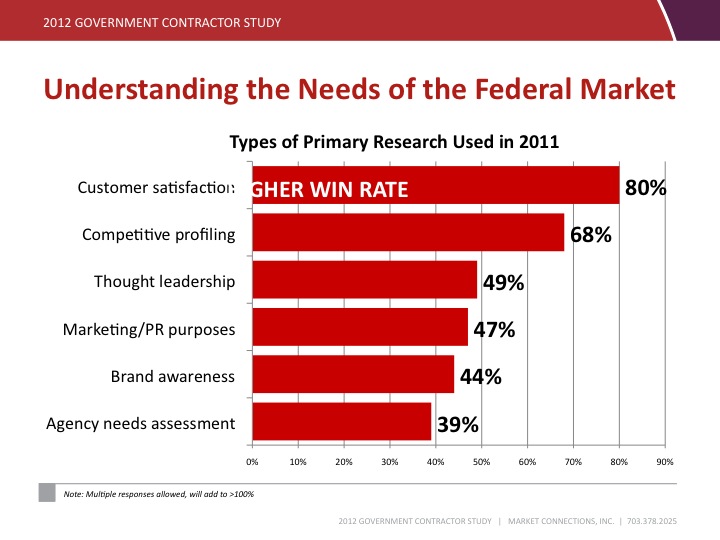 "Based on the data from the 2012 Government Contractor Study, the most competitive contractors are using customer satisfaction research, which is exciting to see," said Cynthia Poole, Director of Research Services, Market Connections, Inc.  "Conversely, we have seen government contractors who are completely surprised when they lose a re-compete as a result of not doing this type of research."
Nancy Nolting, Marketing Programs Manager at Intelsat General, recently spoke with the FedPulse blog about the value of doing customer satisfaction research and said:
"When our senior leadership reviewed the outcomes of the surveys, they gleaned information that allowed us to better fine-tune our approach — certainly moments of learning for everyone.  Most organizations believe that they truly know what their customers are feeling.  Though you never really know unless you actually ask them the pointed questions, and we feel it is vital to bring in outside 3rd party research assistance to help us get the actionable information we need."
By bringing in an independent third party to implement the research, contractors are more likely to receive the most candid feedback.  Many customers find it hard to provide constructive criticism or negative commentary directly to the individuals who may have their compensation tied to the satisfaction ratings.
"Some of our clients prefer to do their own internal customer satisfaction research, added Poole.  "However, when an outside party implements the research, government customers are more frank and forthcoming, affording the key insights needed for improving performance."
Gaining the right feedback from customers is only the first step.  The next phase is taking action and enhancing performance based on the research, whether it is course-correcting or focusing more on the positive attributes of the client engagement.
For example, L-3 STRATIS implemented a robust quality management program that included customer satisfaction/loyalty research conducted by Market Connections. As a result, the company's departments and business units have made strategic performance improvements based on facts rather than internal opinions.  In addition, the executive team has structured, measured visibility into potential concerns, progress and best practices, ensuring high customer satisfaction and win rates.