"The user doesn't want to see raw data, they want the data in a usable form, and that usable form should help them do something more creative, be more efficient, give them superpowers."
DJ Patil, White House Deputy Chief Technology Officer for Data Policy
Source: Bereznak, Alyssa, "Meet DJ Patil: Obama's Big Data Dude," April 9, 2015, Yahoo Politics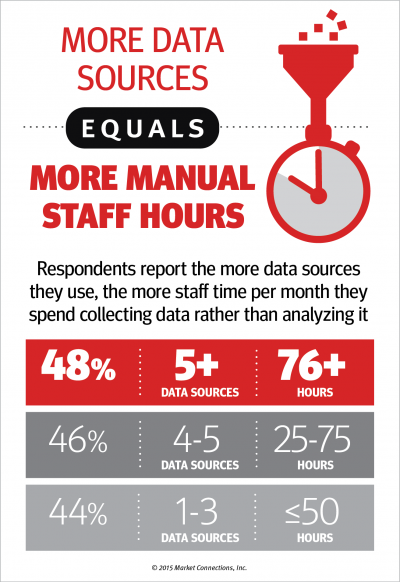 Data is a beast. For many agency staff, it takes superhuman efforts to tame it: They must find the raw data (which may include figuring out where to even look for it), compile it and put it into a usable form. To learn how agencies are taming the data beast — and how and to what extent they are using that data — data analytics company Qlik commissioned a PulsePollTM from Market Connections.
The PulsePoll found that efforts to collect, compile and put data into a usable format often happen behind the scenes, with agency department managers unaware of how many staff hours are spent managing data. They do, however, realize how much potentially valuable information is not being used because the data is outdated by the time they see the reports.
The survey found that:
Almost three-quarters (71 percent) of respondents say manually compiling data from various sources is the greatest barrier to integrating more data and analytics into their day-to-day decision-making.
Ninety-seven percent of agencies must compile data from more than one data source and 59 percent of agencies spend 25 or more staff hours per month collecting data, as opposed to analyzing it.
Twenty percent of them spend more than 100 hours per month on data collection.
Data will continue to influence all aspects of federal agency operations. Attempting to manage data with static reports, Excel sheets, or lightweight visualization tools are your staff's nemesis, not the data itself. With an effective data discovery solution in place, it need not take superhuman strength to tap into your data's power. A data recovery solution lets your team quickly compile data, extract insights on the fly and respond quickly to any question or request.
To help agencies and the contractors who serve them, Qlik built a custom Qlik Sense web app for accessing the full insights from the survey results. Check it out at http://federalsurvey.qlik.com/survey/index.html.