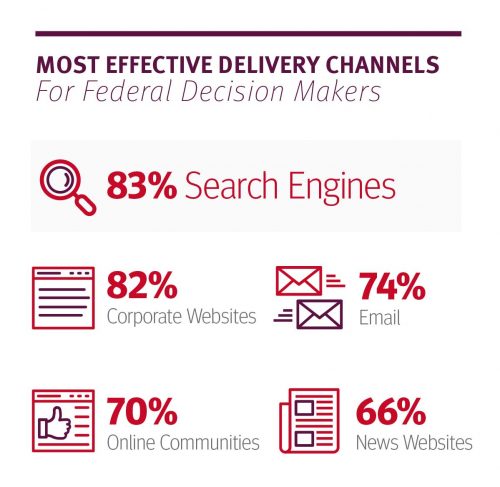 Not if you're selling to the federal government.
The 2017 Federal Content Market Review asked federal decision makers what content delivery channels are most effective. Almost three quarters said email (just behind corporate websites and search engines).
When we talk to our customers about their marketing strategies, they're often reluctant to do an email campaign because they don't want to annoy their list. The data shows, and experts agree, if the campaign provides information that will help your customers, then it won't annoy them.
How do you do that? We found this great A to Z guide to email marketing from SendGrid. On the subject of frequency, the guide says:
"If you're watching your engagement metrics, then you should be able to derive how often your recipients would like to be contacted. An even better way to figure out how often your recipients want to be emailed is by giving them an opportunity to tell you in a preference center! A preference center is a powerful tool that helps maintain the right expectations between the sender and the recipient."
All 26 tips provide wonderful guidance on how to effectively use email marketing. And if you need some inspiration, Hubspot compiled some great examples of email marketing campaigns. View them here.