You don't want to miss the highly anticipated 2010 Federal Community Social Media Study, a comprehensive look at the use of social media among federal agencies and their suppliers.
Highlights include: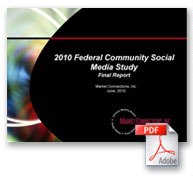 Government agency perceived challenges, risks, and opportunities
What agency employees feel they need in order to adopt more social media usage
How organizations that serve the federal government use social media to connect with these audiences
And much more! This government market research serves as an excellent benchmark for social media usage in the federal community prior to the Obama administration defining its policy towards Web 2.0 technologies in the fall of 2009.
Visit www.marketconnectionsinc.com/socialmedia for more details and a peek at the contents. Download your copy and start enhancing your social media strategies today!