The federal marketing landscape is changing. At the same time, content marketing has been growing and evolving to help marketers better meet the needs and desires of their target customers.
The question is, what are those needs and desires? You can have a robust content strategy plan and a great delivery mechanism, but if you aren't giving your prospects what they want, when they want it, then you won't see the returns you expect.
To help federal marketers target their content, Market Connections and Merritt Group have teamed to conduct a follow up to the 2015 Federal Content Marketing PulsePoll™. On Thursday, April 27, we will release the results and see what, if anything, has changed in the last two years.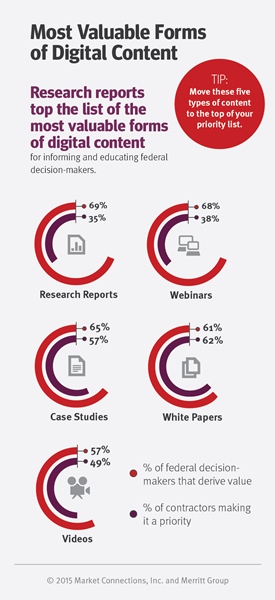 2015 Federal Content Marketing Review Key Results
While we don't have this year's poll results yet, we have been keeping an eye on what our clients are doing and the return it has. When it comes to informing and educating during the buying process, federal decision-makers still respond to the top three types of content:
webinars (68%)
research reports (69%)
case studies and white papers (64% and 62%, respectively).
It will be interesting to see if contractors have adjusted their content plans to respond to those numbers. In 2015, the top content they produced was case studies and white papers (57% and 62%, respectively), webinars (38%) and research reports (36%).
What do you think? Have you noticed any shifts in response to the types of content your company produces?
2017 FEDERAL CONTENT MARKETING REVIEW
Join Market Connections and Merritt Group as we present the results of the 2017 Federal Content Marketing PulsePoll™, followed by a panel discussion. Learn which content, formats, and channels are considered most relevant, influential and informative during the federal procurement process among government decision makers and the contractors who market to them. This year, we also asked about additional channels including social media and paid versus earned marketing.
Who Should Attend: Marketing/communications professionals investing time and budget to produce and distribute content, and business development and proposal professionals looking to make an impact when connecting with federal decision-makers.
When: Thursday, April 27, 8:30-11:30 AM (EDT)
Where: Crowne Plaza Tysons Corner
1960 Chain Bridge Rd., McLean, VA 22102