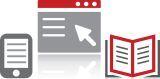 In the digital marketing arena, digital content is king. There is no doubt or dispute about it. The dispute lies in how content informs decisions, builds relationships, and motivates customers to buy.
Market Connections, Inc. is conducting a short poll to answer this question. The poll will look at federal government employees' use of digital content to inform and educate decision making, as well as government contractors' use of digital content marketing. Market Connections will share the results of this poll in early 2015, paying special attention to gaps between government and contractors' use of content.
Please share your perspective! The poll will only take a few minutes to complete, and the results will shed valuable insights on the value of digital content in the federal market. Just follow the appropriate link below:
Your answers will be anonymous, so please be candid. The answers will only be reported in aggregate with those of other people responding to the study and will be used for research purposes only.
Thank you for your willingness to participate in this study on digital content! FedPulse and Market Connections look forward to sharing the results with you next year.