8TH ANNUAL BREAKFAST & BRIEFING
ONLINE REGISTRATION IS CLOSED. LIMITED IN-PERSON REGISTRATION AVAILABLE.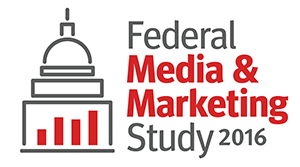 Join us November 9th at this popular event for B2G marketers. The annual Federal Media & Marketing Study™ looks at media consumption habits of federal decision-makers: the top publications, websites, radio, TV and more, along with demographics, job functions and purchasing responsibilities.
November 9, 2016 | 8:30 AM – Noon
TEGNA Conference Center, McLean, VA

NEW THIS YEAR:
Social Media – Are federal employees following companies online and what kind of content are they looking for?
Mobile Apps – What types of mobile apps are federal employees using?
Barriers to Access – What are the top barriers federal employees face when trying to access media on government equipment?

PRESENTERS:
Lisa Dezzutti, Market Connections, Inc. – President & CEO
Sara Leiman, TMP Government – VP Media Director
PANELISTS:
Patrick Burns, NetApp – Senior Director, Marketing
Ginger Kessler, Brocade – Federal Marketing
Tim Letzkus, Office of Personnel Management HR Solutions – Senior Advisor
Joe Pendry, Leidos – VP Communications and Marketing
Download the 2016 Overview
The 2016 overview will be available online after the event. See this year's highlights of media usage habits from more than 3,000 federal decision-makers and influencers who participated in the survey.