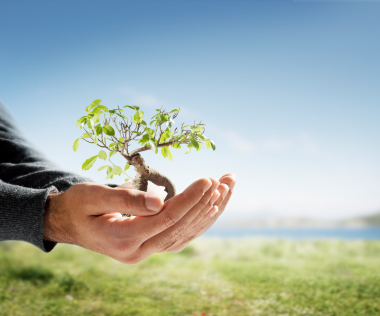 We were recently asked to gather perceptions around the issue of going green. Companies want to better understand how important this issue is to their current and prospective customers, the best ways to deliver "greener" services and solutions, and how to effectively communicate the ripple effect of those green benefits to their customer organizations.
This issue is of particular relevance to government contractors, as the Obama administration has made it clear that green and alternative energy sources will be a focus over the next four years. Certainly global warming is a primary reason for this focus. But, cost cutting is another important driver, as government agencies and contactors can lower expenses and improve the bottom line through the adoption of responsible resource consumption programs. Equally important, green programs offer contractors a compelling discriminator in an increasingly competitive marketplace.
A Forrester Research report noted that 55% of respondents cited saving money as the most important reason that their businesses are going green. A McKinsey & Company report, also published earlier this year, stated that at least 40% of the eco-friendly changes business should make would also positively impact their bottom line.
Some of the green approaches being adopted include:
Move to a green building: Most urban centers have seen dramatic increases in their office vacancy rates. In the Washington, D.C. metro area, it's as high as 13%. As demand drops, companies looking for new spaces can find modernized, energy-efficient buildings at considerable discounts from the highs of four years ago.
Embrace a Work-From-Home Program: A recent study by the Texas Transportation Institute ranks Washington, D.C. second only to Los Angeles in traffic congestion, with commuters averaging 62 hours wasted in traffic per year. The report estimates that clogged roads cost the local economy $2.8 billion in 2008, as drivers consumed 90 million gallons of gas during the estimated 133 million hours they spent in traffic. Telecommuting is an effective way for companies to reduce the environmental impact (and traffic-induced stress) of some staff members, and there are numerous ways to structure such a program.
Go paperless: Many organizations still generate tremendous amounts of printed paper, often because of internal policies regarding document retention. However, given the significant advancements made in document management and storage solutions, much of the printing can be eliminated simply by modernizing the organization's policies and systems. And, if you must still print, buy recycled paper.
Change the light bulbs: Although energy-efficient bulbs are more expensive to purchase, they last up to 10 times longer than incandescent bulbs and cut energy usage up to 75%.
Raise the temperature in your data center just one degree: Older servers can run effectively in temperatures ranging from 68-70 degrees, while newer models can operate in much warmer environments. Increasing the temperature in your data center by just 1 degree will save you 4% in cooling costs each year.
Shut down orphaned servers: Many data centers, especially large ones, run only one or two applications per server. As new applications and servers are added, sometimes the old ones are way underutilized, or simply get left on even though they aren't in use. Consolidating and shutting down underutilized or orphaned servers, which can account for as much as 10% of the services in a large data center, can lower energy consumption costs considerably.
Recycle e-waste: Donate your older computers, monitors, printers and other electronics to local public and private schools for tax incentives under the 21st Century Classrooms Act for Private Technology of 1998.
Look for the Energy Star logo: When upgrading systems, installing Energy Star-compliant technologies can lower future energy costs. In fact, some of those purchases may be eligible for tax rebates.
Push your vendors and partners to go green: If your organization works with multiple partners and vendors, push them to adopt these initiatives. Concerted, collective action, after all, is one of the surest ways to effective results.
Market Connections can help your organization determine if going green is a key priority for your target audiences. Ask us about it when it's time to undertake a broader attitude, awareness, and perception study.