Government Contractor Study 2012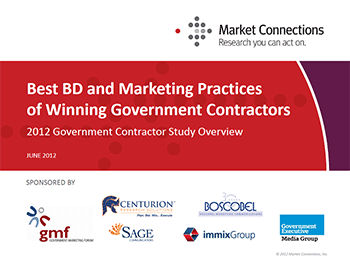 CLICK ON ICON TO SEE PROJECT COMPONENT
Best BD and Marketing Practices of Winning Government Contractors
Even as government contractors face an increasingly austere federal market, contractors with higher win rates are expecting to see continued growth in the future—especially for those who assess opportunities in cyber and cloud early.
This popular study highlights the best BD and marketing practices from a national survey of government contractors, including:
Top federal business opportunities over the next 12 months
Key capture, bid and proposal activities of companies with higher win rates
Marketing and B&P budget plans of companies with higher win rates
Consequences of the rise of Lowest Price Technically Acceptable (LPTA) procurements
Top marketing elements, including social networking and other digital marketing
Top strategies to position for success in the federal market over the next three to five years
How do you compare to the competition?
Find out how your strategies and tactics, BD and marketing practices stack up to competing high win rate contractors. Prepare for the top challenges and opportunities in FY2013 and get ideas to position for success in the face of a tightening market.
Fill out the form below to download a free executive summary of the results!
Government Contractor Study 2012