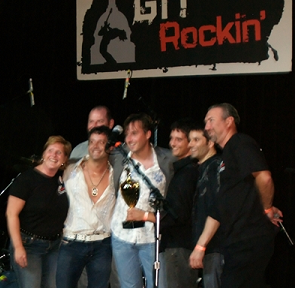 Last Thursday was the second annual Battle of the Government IT Bands, and what an event! Organized by 1105 Government Information Group, the event brought together five bands whose members worked for government agencies and contractors all in support of the metropolitan Washington D.C. chapter of the USO.
Musical styles ranged from Tacocat's 80's rock covers, to the Moogly Blues Band's down home southern blues. One band, Outta Scope even played some of their own compositions, jamming out to tunes that recalled Steely Dan and the Grateful Dead (the name of the band is a nod to the band members who work for NASA, and they were introduced as "the band that put the rock in rocket science".) And when DISA-Peering Act's lead singer leapt off stage to dance with the crowd during their thrilling final song, the place went wild.
By the time The Groove, who were the last band of the night, got on stage it was easy to forget that these were government IT bands. The Groove's cover of Billy Idol's Rebel Yell packed the dance-floor, and they more than lived up to their billing as band that plays "the most memorable dance music from the 70s and 80s,?? wrapped around a performance like no other."
With the last song played, the audience was given a few minutes to vote for their favorite bands, and it was clear that for some, this was an agonizing decision. The votes were counted and winners announced by Chris Dorobek, Editor in Chief of FCW, flanked by Amy Fisher, 1105 Government Information Group's Director of Marketing and event organizer extraordinaire. To wild applause from the crowd, The Groove were presented with the winner's trophy.
Overall, it was an incredible event,?? excellent music, a great crowd, and all for a good cause. (Plus, it was just further proof that our industry really does know how to let its hair down!) For those who weren't able to make it this year, you were missed. But we look forward to seeing you at the Third annual Government IT Battle of the Bands next year!
Rock on!
For more information about the event, its sponsors, and the bands, visit: www.gitrockin.com