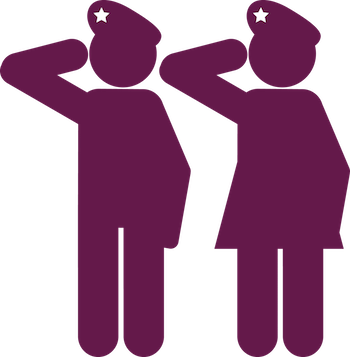 Every year, nearly 250,000 service members transition out of the armed services. They take with them knowledge and skills that not only benefit military organizations, but any company serving the federal government. They tend to be educated, disciplined, and professional individuals with strong work ethics. Focusing recruiting efforts on them makes sense on every metric.
However, simply working with the government is not a strong enough recruiting tactic. Providing a military-friendly work environment is what attracts them and focusing recruiting efforts around that message is important. Military.com recently published an article called Five Things to Help Recruit Veterans to Your Business. Here are five recruiting practices that will help your company draw in veterans:
Develop a winning military recruiting strategy.This strategy can be as simple as attending job fairs on military installations and advertising on military-centered media properties, such as Military.com's Careers Channel.
Leverage networks and your existing team members.Your veteran workforce is a great referral network. Develop a strategy to encourage (and reward) referrals.
Market your organization as an employer of choice.Building your brand for this demographic is different than other prospective employees. Understand what value you offer and create specific recruitment materials around it. (This recommendation ties in directly with recruitment research, and information on our upcoming webinar on the topic follows at the end of this article.)
Utilize existing government and private initiatives.Venture out to new recruiting websites, such as HireVetsFirst.gov and TurboTap.org. As with any kind of marketing, you need to go where your prospects are.
Know how to translate military jargon into civilian skills.The transition from military life to civilian life can be challenging. Throw in new vocabulary and it can be overwhelming. You'll stand out as a military-friendly company if you use current veterans in your company to mentor new employees through this transition. That support will make them more likely to help you recruit their friends (tip 2).
Learn How Recruitment Branding Research Can Help You
What will make your company really stand out for veterans seeking jobs? Recruitment research can give you the answers. Join the next webinar in our Best Practices series on "Using Research to Recruit and Retain the Right Talent for Your Company" to learn how.
Join Market Connections Vice President, Laurie Morrow, as she shares how using this type of research can help you understand:
How top candidates perceive your organization and your competitors
Candidates key needs and wants for an ideal workplace
Barriers to attaining and retaining staff
Thurs, October 12, 2017
11:00 AM – 11:45 AM EDT