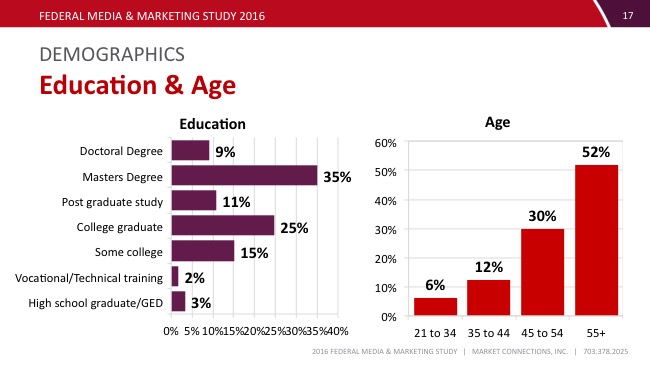 We have a question for you: Do you change your marketing tactics based on your audience's age? For years in B2B or B2G marketing, our clients focused their efforts based on industry and job title. But is that enough anymore? Does a director with 30 years experience respond to the same messages as someone who has recently become a manager? Not necessarily.
This is something to keep in mind as the workforce ages and our ability to gather data on exactly who your buyers are increases.
For example, in the 8th Annual Federal Media and Marketing Study, we found that federal workers are not retiring. More than half of respondents (52 percent) placed themselves in the age 55+ category. In 2015 that number was 48 percent and in 2014 it was 42 percent. This impacts where marketers need to spend their advertising budgets as this demographic accesses different media outlets than their younger counterparts, and it impacts the messaging.
Getting an Edge with the FMMS Data Tool
No matter what industry you are in, there are ways to get the data to help drill down to the specifics of your target audience. For the B2G market, the FMMS data tool provides a wealth of information. The full dataset is available in a subscription-based online tool. For marketers, this valuable marketing resource can help target exactly where to focus advertising dollars.
The FMMS data set is a dynamic web-based reporting tool that allows you to cross-tabulate survey results to create your own customized data views, such as job title and product purchases; or job title and web site visits or publication readership. It also includes a net overall reach analysis eliminating overlap between media properties helping you understand the benefit of adding additional media channels and individual media properties to your media plan. Overall, the tool lets you customize reports to define:
Where to reach your target audience
Which media to select
How to weigh your media options
You can also combine the dataset with your own proprietary data.
Learn more about the study and the online tool: MarketConnectionsInc.com/fmms2016study