Part 1: Companies Using Thought Leadership to Extend Reach and Impact
Positioning your company for growth and new business wins involves both delivering exceptional products and services and becoming a trusted advisor. Positioning yourself, and your company, as a thought leader—and therefore a trusted resource—plays an increasingly critical role in winning the business.
Thought leadership is such an important component of a robust marketing strategy that Market Connections has seen a significant increase in thought leadership studies being commissioned, as well as unique and creative ways of leveraging thought leadership content. Leveraging the research is the key to making it work for you. Here are two examples of companies that have successfully leveraged their thought leadership research.
A SolarWinds Tweetpic in October 2014 continues to leverage a research study released in March of that year. SolarWinds released their latest study in January 2015.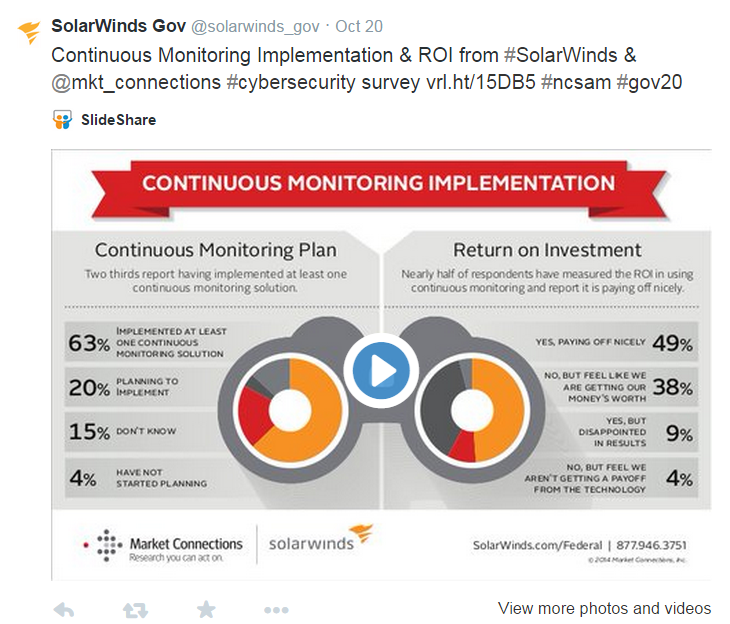 Dell Software repeated the success of a federal thought leadership research program with a state and local version that asked organizations to self-rate their ability to identify and respond to IT security compliance issues.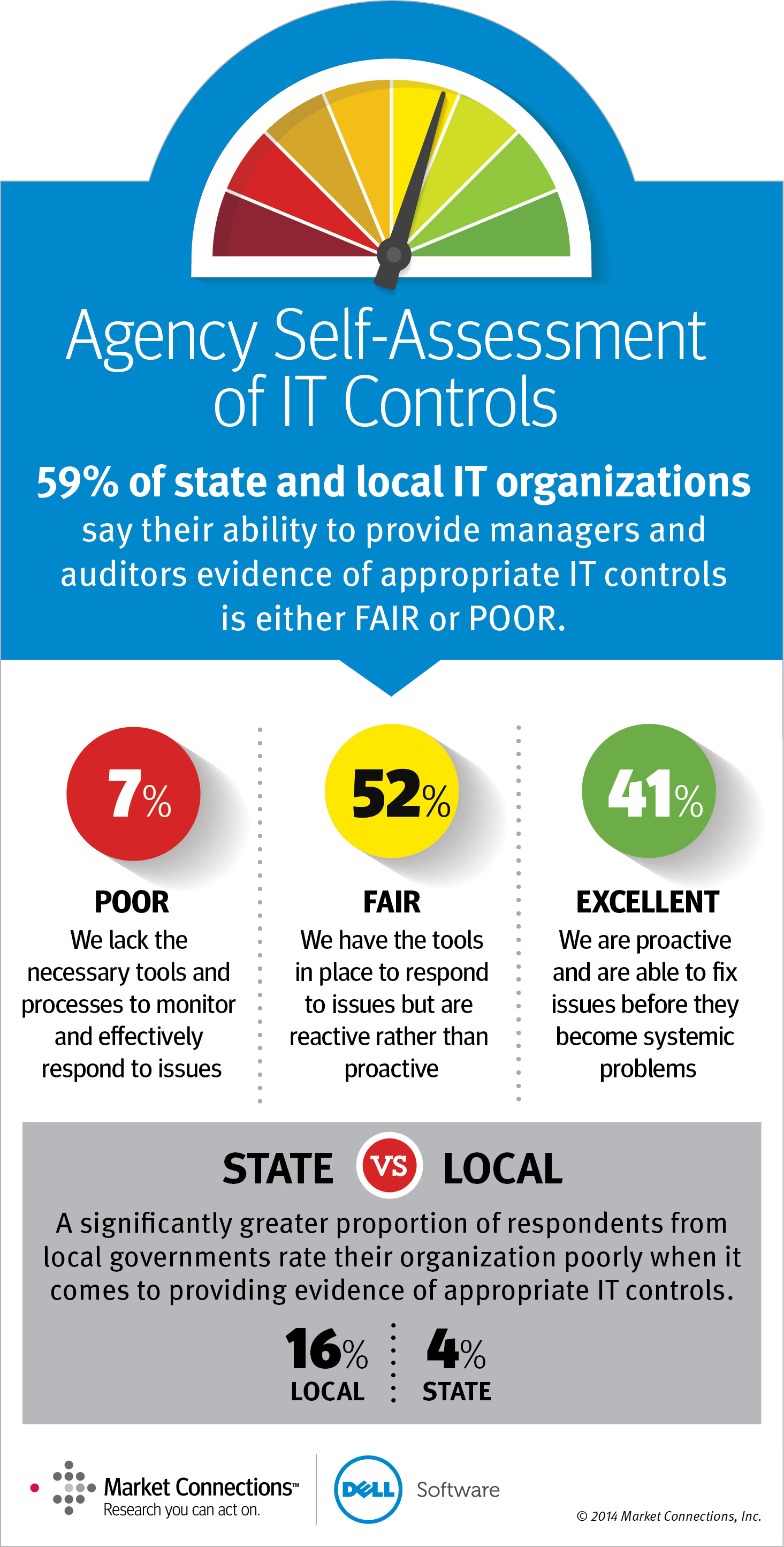 SolarWinds conducted thought leadership research early in 2014. They initially released the research through a press release and PowerPoint report, which helped the secure a significant amount of press coverage, according to Lisa M. Sherwin Wulf, Federal Marketing Leader at SolarWinds. They also developed a comprehensive white paper and an infographic, which are available for download.
"What was exciting for us was that we had so much relevant content in the research results we were able to leverage it in multiple ways for a long period of time. Our users also responded very favorably to this information, which was relevant for both IT and cybersecurity departments," said Sherwin Wulf.
But it didn't stop there. SolarWinds leveraged Slideshare extensively to drive prospects to their content, hosted a webinar with the Digital Government Institute (DGI), and periodically tweeted individual infographics throughout 2014 to keep momentum going. They shared the results through an online event with GovDefenders and spoke at the recent DGI Cyber Security Conference & Expo about the results. SolarWinds also credits the inclusion of their thought leadership research to help them win Overall Best in Show for a presentation at the 2014 AFCEA Cyber Solutions Trail during AFCEA's International Cyber Symposium.
Dell Software, as a fairly new entity of Dell Computers, has both built brand awareness and supported the marketing and sale of key software products by routinely commissioning thought leadership research. Dell has been known for decades in commercial and public sector markets for their hardware, but software was a newer endeavor for the household name when Quest Software became Dell Software in 2013. With enterprise software that meets the security, data, cloud and virtualization needs of government and education, demonstrating expertise and understanding of the unique challenges public sector organizations face was key to establishing Dell's software division.
Dell leverages thought leadership research results in both marketing and business development activities, focusing research on topics that support key software products. Dell extends topics beyond federal IT to state, local and educational audiences. For example, they recently commissioned a poll to assess how quickly federal agencies are able to detect and respond to network vulnerabilities, determine to what extent federal agencies are using compliance and IT governance software, and which features they deem most critical when selecting a tool. That same research was later extended to state and local audiences to gather a 360-degree view of the marketplace and provide all government audiences with useful and insightful information about IT risk and compliance solutions. Dell's strategy included developing white papers, infographics and webinars, and leveraging a public relations and social media campaign to pushing out the results and drive both media and potential buyer attention. The content becomes a part of Dell Software's online resource library, and product managers and business development professionals leverage the content and research findings in their outreach and sales pitches.