The 2016 Government Contractor Study reveals that more than half of government contractors (53 percent) find customer relationship management to be a challenge for marketing and business development. Knowing when and how to engage with a government customer is a key to managing these relationships — whether that customer is a current client or a prospect.
Engagement is important at every stage of the customer lifecycle, from before the RFP is issued through the life of the contract.
Customer Engagement Via Mobile Devices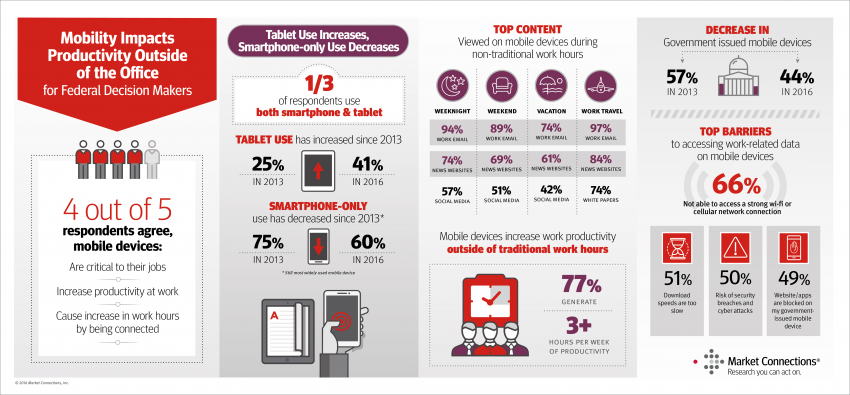 As mobile device usage dramatically increases, engaging with clients and prospects is easier — you can reach them outside of business hours and deliver the kind of content they want, when they want it. Market Connections recently conducted a PulsePollTM on government decision- makers' mobile device usage. The study found that the majority of federal decision-makers check social media sites, news websites and work email during non-traditional work hours. That means you have more opportunities to reach them during times when they are not performing other job tasks.
Types of Messaging to Use
Engaging with them more frequently with content that educates and informs is a good way to provide more value and increase customer satisfaction. Customers are looking to engage with you differently depending on where they are in the sales lifecycle. Below are some broad guidelines for that engagement.
Awareness
At this stage, customers' emotions are high and their knowledge of what you offer, low. They have a problem and are looking for a solution. Get their attention with short, emotional conten
Interest
At this stage, customers have some ideas about how to solve their problems. Now they need justification for their interest. Talk about benefits and how those benefits solve problems.
Evaluation
This is an important stage: The prospects are looking at all the options with an open mind. You must provide enough depth of information to maintain credibility and establish your employees as experts. Content must educate prospects about not only the product or service, but also industry tr The prospect needs solid reasons to move forward with you.
Purchase
Emotions are running high again. At this point, it's important to assuage fears about making a wrong decision. Content needs to reinforce the emotions you used to gain their attention and trus
Establishing relationships goes beyond the day-to-day, face-to-face interactions you have with clients and prospects, although those will always be the most important touch points. But engaging your customers and prospects via other channels and at different points in the relationship builds trust and loyalty, and ultimately improves customer satisfaction.