How to increase win rates is a topic that comes up in almost every discussion we have with our customers—whether we're conducting new pursuit and capture research for them or simply catching up at a networking event. As companies are in the midst of planning their 2015 marketing activities, we thought it would useful to discuss how to increase win rates by benchmarking your capture process. We originally posted an article on this topic in 2012 based on the results of the 2012 Government Contractor Study, and the ideas remain as relevant today as they were then.
Capturing lessons learned and institutionalizing them to improve your capture process is an important step toward increasing win rates. Incorporating them into your capture and proposal development processes and institutionalizing them will make the bid process smoother. Benchmarking those lessons against industry best practices will further strengthen your process.
The 2012 Government Contractor Study revealed that there is a defined set of capture management activities that most contractors follow. So when benchmarking your capture activities against industry best practices, this process is a good starting point.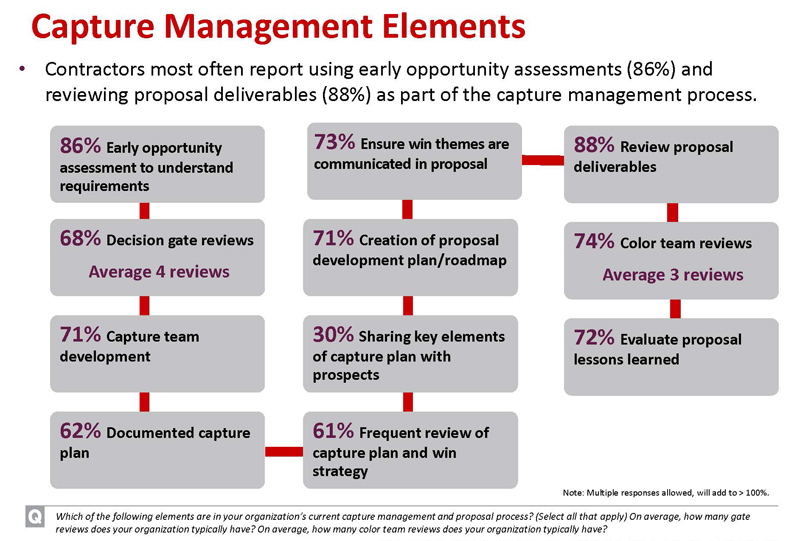 Here are a few other highlights from the study:
Contractors with higher win rates are more likely to assess opportunities early. Winning contractors identified three key activities: early opportunity assessment (91% versus 78%), developing a capture team (75% versus 50%) and using color team reviews (82% versus 58%).
Thought leadership works. Contractors with higher win rates used more thought leadership marketing materials (65%) than those with lower win rates (44%) in 2011.
Measure customer satisfaction and loyalty. Of companies with win rates greater than 50%, 60% of their wins are coming from recompetes, while 15% of wins are coming from new bids. For companies with win rates in the 21-50% range, 51% of wins are coming from new bids, but only 28% of wins are coming from recompetes. Customer satisfaction research, combined with a loyalty program, will help you get a handle on your performance, understand what is important to your customers and determine the right operational adjustments to improve performance, enhance ratings and ultimately increase recompete win rates.
Relationships are a key to success. Nearly one-third of contractors say they are positioning their companies for success in the federal market by focusing on building relationships with new agencies and potential teaming partners, as well as modifying their messaging to be more relevant to government's current needs. (Read more about building relationships.)
Not only is it important to capture and institutionalize lessons learned, but also by benchmarking them against industry best practices, you will develop a framework that enables your capture team to improve the process, rival the competition and increase win rates.