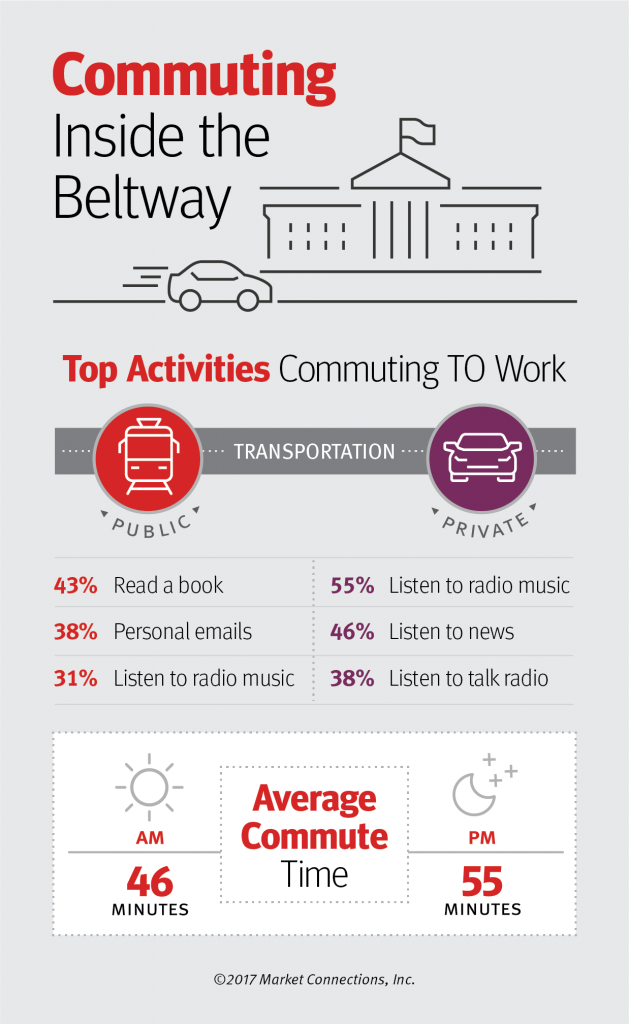 Last week, Market Connections revealed results from the 9th annual Federal Media and Marketing Study (FMMS) followed by a moderated panel of expert federal marketers. During this discussion, panelists noted key data points from this year's study results they felt were particularly interesting as they plan their 2018 marketing strategies:
In the DC market, federal decision-makers spend an average of 46-55 minutes commuting to and from work. This is a perfect opportunity to engage with your audience when they are most captive. Those who take private transportation listen to the radio: music (55%), news (46%) or talk radio (38%). Those who take public transportation read books (43%), respond to personal email (38%) or listen to radio music (31%).
Develop white papers, case studies, and webinar as part of your collateral for this audience. The level of trust for these assets created by third parties has increased from 2016 to 2017. It is important to educate your audience and help them find solutions to the problems they face.
The phenomena of "fake news" impacts news credibility  with 66% noting some level of impact. This could explain why feds are accessing more sources of media and spending more time with media throughout the workday, with 61% accessing online news and 57% watching the news, up from 54% and 51% respectively.
With these trends, and others, in mind, the expert panel of federal marketers provided their insights into the key takeaways from the data.
Grant McLaughlin, Chief Marketing & Communications Officer, Booz Allen Hamilton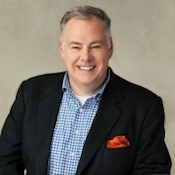 This research, and conducting research is key. The insights are invaluable. Plan for it far enough in advance so that you the flexibility to act on the insights.
The data around commute time and habits was particularly interesting, and it seems federal marketers should be able to capitalize on it. Whether it's attracting talent to your organization or establishing authority as a thought leader with key prospects. Would sponsored content, radio or podcasts be a good strategy? Whatever the answer, make sure you are clear on what they are going to learn and the benefit to them is clear.
Melissa L. Koskovich, Senior Vice President for Communications & Marketing, Leidos Inc.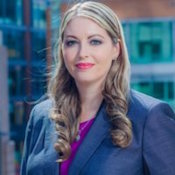 The media mix is fascinating, particularly with the "fake news" element thrown in. With more people accessing more media sources, it is an opportunity for federal marketers. Everyone should look at the media mix from the study and compare it to their plans, and make adjustments now. Once that is done, continue the journey of differentiation. Having a strong message and articulating it are imperative for success.
Lisa De Luca, Senior Manager, Public Sector Marketing, Veritas Technologies LLC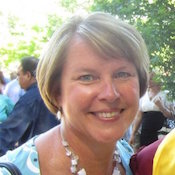 Differentiation and capturing the audience's attention are more important than ever as decision-makers have more and more media sources to choose from. Look at how to position your company to be considered a thought leader. Ask yourself "How do I make myself relevant in this market?"
Also, foster partnerships. That's an opportunity federal marketers can leverage to make a larger impact.
Lisa Dezutti, President & CEO, Market Connections, Inc.

Make sure you understand your customer. When budgets are tight, there is a tendency to "peanut butter" the message—spreading one message out over the whole market. Doing that simply does not work in this market. Take a deeper look at your plan and make sure have tightened the message to fit the audience of a particular media property.
Francis Rose, Panel Moderator and Host, Government Matters & Government Matters Defense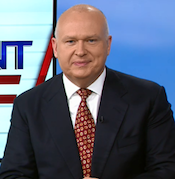 When approaching properties such as Government Matters, be clear about what problem you are trying to solve. Are you educating them or creating a bit controversy? What do you bring to the conversation? What will your prospect learn? That is how you get invited to shows, and how you reach the audience.
Download the Overview:
Download the report to see how the study results may impact your 2018 media mix and strategy.
Purchase the online tool:
Get in-depth insights with the FMMS data tool. This is a dynamic web-based reporting tool that allows you to cross-tabulate survey results to create your own customized data views, such as job title and product purchases or job title and website visits or publication readership.