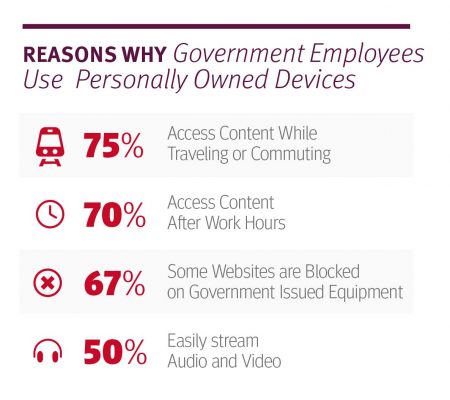 Anyone marketing to the federal government knows the challenges many prospects face with accessing content. In fact, working around blocked websites and other technical challenges is a factor in creating a content strategy.
Those barriers don't mean you can't reach federal decision makers via new channels. Like most people, federal decision makers also own personal mobile devices, and they use those devices to engage with work-related content. According to the 2017 Federal Marketing Content Review study, three quarters of federal decision makers are doing that during their commute.
Think about it: during that time when they are transitioning between personal and work life, they choose to learn about the products and services that can help them in their job. They're watching videos, reading case studies and white papers and seeing what industry thought leaders are saying about market trends.
That means it's critical to create a mobile-first design and distribute content on platforms that are designed for mobile, such as LinkedIn and Spotify.
Are you creating content with the thought that your buyer will engage with it during a commute? In addition to mobile-first design, what considerations do you take into account?