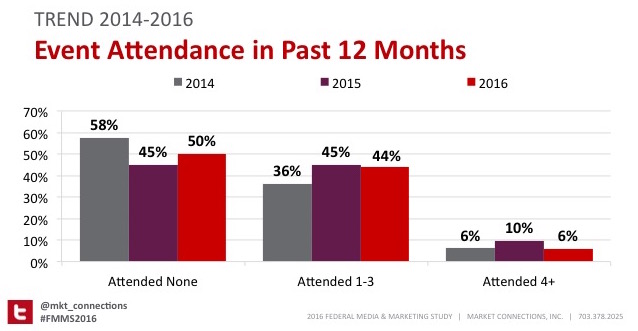 One of the results of the 2016 Federal Media and Marketing Study (FMMS) is that event attendance is slightly lower than it was last year. Considering that sponsoring and/or exhibiting at trade shows is typically a key marketing tactic for government contractors, what are industry leaders doing to address that trend?
At our FMMS results briefing, we asked the panel of marketing experts to weigh in.
Ginger Kessler, Brocade – Director of Federal Marketing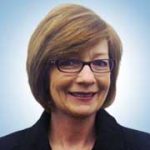 Kessler has definitely seen a decline in attendance at trade shows. "It feels there aren't many government people actually coming into the exhibit hall, or even attending the sessions," Kessler said. "However, there are still a lot of people that our sales team wants to meet. I think it's a matter of putting a really targeted strategy together."
Brocade typically attends 25-plus trade shows per year. The company is eliminating four or five in the coming year because those shows are not yielding returns. Brocade finds others still important to attend but is scaling back its presence via smaller booths.
Brocade also conducts the Federal Forum every year. Kessler said the event had about 100 fewer attendees this year than the year before. Rather than try to get the numbers back up, the strategy for 2017 is to go smaller and more targeted. "Our strategy is to be focused and not worry about getting everybody," Kessler said.
How does Brocade measure whether a show is working? Kessler said they look at whether the sales reps were able to meet with the customers they're targeting for large deals and whether they were able to move business along.
"I think the associations have to start listening to the vendors and what we need," Kessler said. "We need assurance that the attendees are not only coming to the show, but to the exhibit hall as well. Otherwise, we won't be able to sponsor.
Joe Pendry, Leidos – VP Communications and Marketing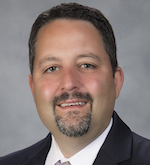 Pendry agreed that smaller and focused can yield better results. "I think the nice thing about smaller shows, and trade shows specifically, is that the people who attend want to be there. We've seen the quality of interaction track upwards."
As far as measuring, he said Leidos uses the gut "more than we'd like." Managers evaluate what influence the interactions at the show could have on the pipeline down the road. "There's always a debate back and forth about who decides what that looks lie, but at least it gives us a baseline from which to make decisions."
Patrick Burns, NetApp – Senior Director, Marketing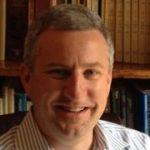 Burns said NetApp has a strong measurement around acquisition at "new buying centers," which include trade shows and events. "We're caught in a quandary with trade shows," he said. "Because we have a large market presence in the federal government, our sales people will tell us we must be at certain trade shows so they can continue to up-sell and cross-sell to the customers. Yet, we know from real data that growing the company is all about getting new customers — people we don't already have a relationship within that agency. Trade shows are a challenge because we have to cut out some of them even though our existing customers are there. It's tough."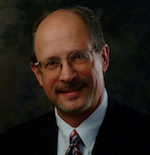 In terms of assessing where your customers and prospects will be, Letzkus said there are several dimensions to consider. One is, How do they make the decision? He said it's similar to what the other panelists say in that they also want to attend events where their audience will be. They're developing marketing plans and strategies and choosing events that will help achieve their goals.
He said that for agencies, an added challenge is getting the senior executive core and the executive leadership of the organization to approve tacitly and, in many cases, to attend.
"Part of what you all are seeing on the commercial side and what I'm seeing in terms of attendance of those kinds leaders is that they don't have the time," he said.
Letzkus said the time crunch for federal employees at the GS 12, 13, 14 and SES levels is unbelievably tight. For example, he had to plan a month in advance to get his associate director to go an event last spring, and even that should have been scheduled two months in advance. The AD had to move some things around to do it. Remember, senior-level people are constantly being pulled into other activities.
"What we're seeing is that the diminished employee base in the Federal Government (it's dropped from 3 million to 2 million) makes a huge difference in terms of the infrastructure to get the work done," he said. You're seeing GS 14s and 15s and SESs doing work that they didn't do four years ago. They were managing, and they went to these events. That was their job. Now that's not true." That's part of the difficulty, he said.
Final Thoughts
The experts agreed that trade shows and events are still an important marketing strategy; you just may need to rethink your approach. The data also shows that webinar attendance is up. This makes sense since participants can attend from their desk. Just something to think about.