Sometimes, interactions customers have with your company outside the contract work still impact their satisfaction with your company. In our post earlier in the week, we discussed customer experience. A piece of customer experience is mobility: website and mobile app usability.
Why is that important? Market Connections recently conducted a PulsePollTM on mobile device usage. That study finds that the majority of federal decision makers use their mobile devices to access websites, and to perform other tasks. That means your website must not only be user friendly, but also be mobile friendly.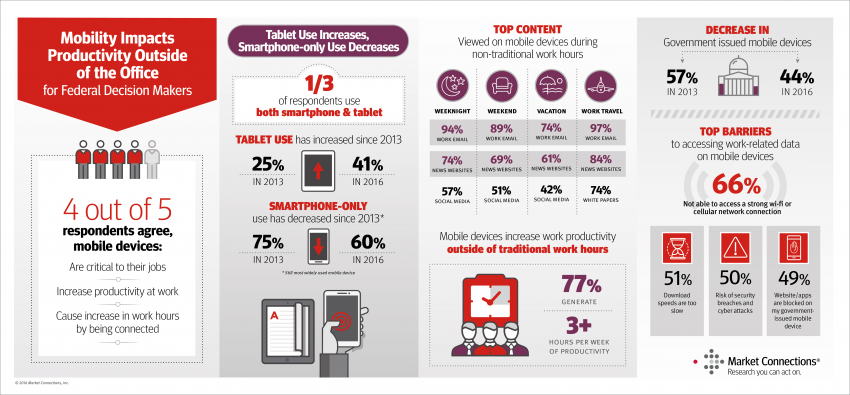 What is usability and how does it relate to customer satisfaction?
Usability is customer experience. Your digital presence — via a website or mobile platform — is the first line for interacting with customers and has everything to do with a customer's experience. Usability is about how intuitive navigation is, how easy is it to find answers, how quickly users can get to relevant information. It is important to ensure your digital assets are designed to meet customer needs.
Usability testing, which determines if the device is meeting customer needs, is vital to the success of any organization's website. Usability testing brings in a group of stakeholders to assess how well the platform lets them perform critical tasks. In one-on-one interviews, they'll assess how intuitive it is to accomplish key tasks (such as contacting the company, downloading articles or making a purchase). They'll also "test-drive" the site to see if it is logically laid out. If the site rates highly on these tasks, it's meeting the user's needs. If not, changes should be made to correct that.
When is the right time to do usability testing?
There are many points at which it makes sense to do usability testing — before a website launch, during redesign, during a critical product/service rollout or simply every six months to a year to keep tabs on possible changes in the needs and expectations of current or potential customers. Digital media are ever changing, and so is how customers interact with those media. To ensure a consistently good customer experience, usability is something to monitor over time.
Never underestimate the importance of customers' interaction with your website or mobile app. This can be the basis for their entire perception of your organization. Usability testing ensures that the perception they have is that you are efficient, organized and accessible.