Part 1 of the Government IT Success PulsePoll™
Federal IT professionals cite an average IT project success rate of 60 percent over the last three years. However, modular development adopters report higher success rates, and 64 percent of respondents agree that modular development improves IT outcomes.
These are some of the findings of a new Market Connections-FierceGovernmentIT PulsePoll™, which asked federal IT professionals about their perceptions of IT success and use of modular and Agile software development.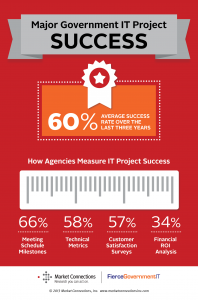 The survey asked federal IT managers about their agencies' adoption of modular approaches to major systems in light of the OMB reform plan and guidance, which encourages agencies to shift away from "the bloated, multi-year projects so common in the past to a more nimble approach."
Two-hundred respondents from federal, civilian and military agencies – along with IT managers from the legislative and judicial branches – participated in the survey.   All respondents are involved with their agency's major IT projects, through the identification of technology needs (67 percent) or requirements generation (57 percent), with a majority (52 percent) stating that they directly manage or implement technology initiatives.
In an OMB blog post on modular contracting, federal CIO Steven VanRoekel wrote, "For too long, Federal IT was marked by runaway information technology (IT) projects in Federal agencies that wasted billions of dollars and were years behind schedule. By the time some of these projects launched, if they launched at all, they were often over budget, late and/or obsolete.  In many cases, these failures can be traced back to lengthy acquisition and IT development efforts that aimed to deliver massive new systems over years, rather than providing new functionality in an incremental manner – as the private sector does."
Modular guidance encourages agencies to break IT projects into smaller pieces, shorten the time from development of requirements to release of solutions and work with contractors to deliver functional solutions sooner in the development process.
Respondents to the PulsePoll™ say they are already seeing improved outcomes through modular development. Agencies that have fully adopted a modular approach cite a 71 percent success rate on IT projects and those that use modular for some major IT projects reported a 62 success rate, compared with those who have not adopted modular, who reported a 51 percent success rate.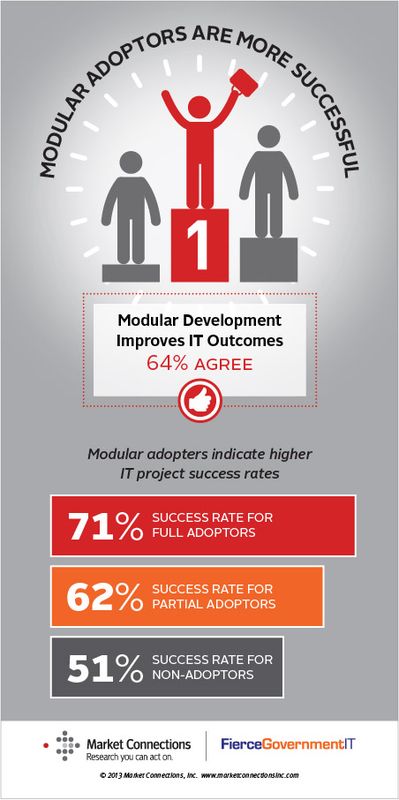 Measurement throughout the lifecycle of a project is inherent in the modular approach, and the PulsePoll™ shows some adoption of formal measures of success:
Two-thirds (66 percent) measure success by meeting project milestones
58 percent use technical metrics to measure success
57 percent measure success via customer satisfaction surveys
One-third (34 percent) use financial ROI analysis to measure success
Customer satisfaction research will garner actionable insights throughout the entire program lifecycle. With this information, IT managers and federal contractors can quickly identify and address any issues head-on during development  and course-correct throughout the entire process.
With tighter budget environments alongside growing needs and requirements, this new study tracks the success of new government IT development approaches. Stay tuned for Part 2 of our coverage of this new poll, where we will highlight top IT success factors and obstacles, as well as the impact of Agile software development on IT project success.  In the meantime, please let us know your thoughts and insights into the impact of modular approaches on government IT projects.