Enterprise Integration Concepts can Address Interoperability, Security, Budget and Acquisition Challenges, Say Survey Respondents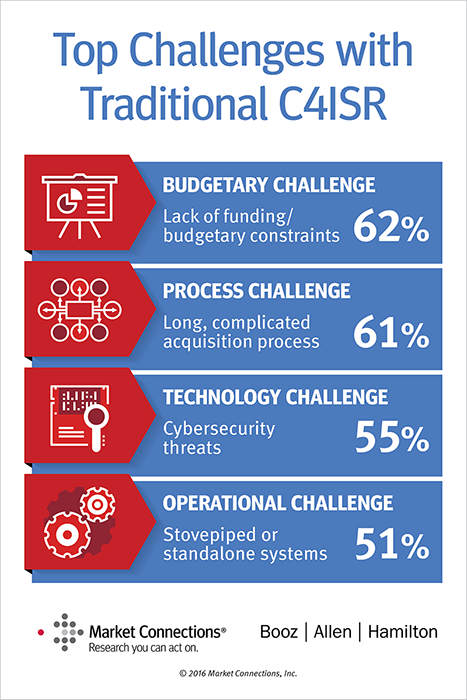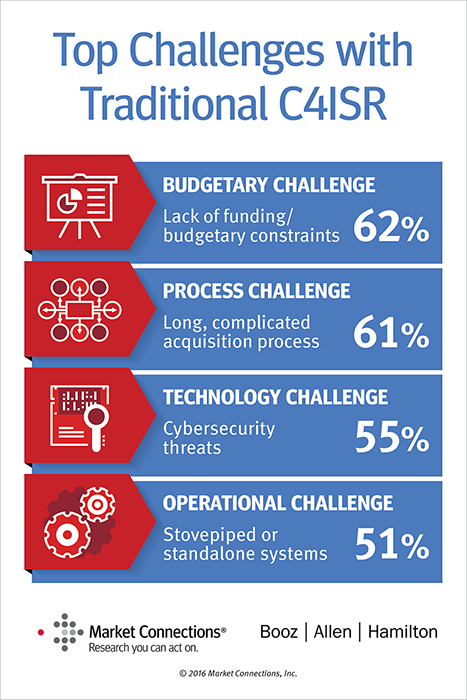 Fairfax, Va.—January 26, 2016 – In a recent study looking at the military's top challenges working with traditional Command, Control, Communications, Computers, Intelligence, Surveillance and Reconnaissance (C4ISR) systems, more than half of military respondents see interoperability across military organizations as a problem that cannot be solved without the true integration and networking of C4ISR, and agree an integrated approach to C4ISR would provide benefits to military organizations in the forms of agile development, security features and enhanced acquisition.
Booz Allen Hamilton partnered with government market research firm Market Connections, Inc. to conduct the survey of military decision-makers, which cited process and budget as the top challenges of working with legacy C4ISR systems. The research also examined the main features of Integrated C4ISR through Enterprise Integration: engineering, operations and acquisition. Two-thirds of respondents (65 percent) agree agile incremental delivery of modular systems with integrated capabilities can enable rapid insertion of new technologies.
"Agile, incremental delivery of modular systems is of particular importance to the military because it breaks down barriers between systems," said David Roberts, a principal in Digital Solutions/C4ISR within Booz Allen's Strategic Innovation Group. "In this way government-owned, open architectures and standardized interfaces allow a 'plug and play' environment that gives wider access to commercial technologies. Ultimately it's all about quality and cost control, and Agile delivers both. Models like the Scaled Agile Framework, for instance, have shown 30-50 percent improvements in productivity and quality, and as much as a 300 percent improvement in time to market."
Respondents indicate improving security to protect from cyber threats is a priority for implementation in the next 12 months. Two-thirds of respondents (64 percent) agree designed-in cybersecurity that infuses solutions with organic, unified, multi-layer defense can strengthen security because interoperability will be designed into systems from the beginning.
"The best way to protect our warfighters is to create and sustain C4ISR systems that are both interoperable and secure," said Tom Pfeifer, Booz Allen senior vice president and leader of the firm's Air Force C4ISR business. Doing so will improve situational awareness and decision making, and this will give our warfighters a decisive advantage in all of their mission objectives. At the same time, the military will realize considerable fiscal savings at a time when budgets continue to shrink more and more."
The report is available for download at www.marketconnectionsinc.com/C4ISR, along with a white paper on the benefits of Integrated C4ISR through Enterprise Integration.
About the Study
Booz Allen Hamilton partnered with Market Connections to assess the challenges the military faces with C4ISR and identify which defense commands and decision makers felt an Integrated C4ISR through Enterprise Integration approach would address their concerns and challenges. Of the 250 defense decision makers who participated in the blind, on-line survey, 35 percent were from the Department of the Army, 31 percent from the Department of the Air Force, 23 percent from the Department of the Navy (including the Marine Corps). The remaining 11 percent represented other Defense Department agencies, including OSD, DCAA, DLA, DTRA, JCS, NSA, DFAS DISA and DARPA. A variety of job roles are represented in the sample, with respondents most often describing their role as operations/administration. More than half (56 percent) develop operational requirements and 45 percent manage subcontractors/consultants on projects.
About Booz Allen Hamilton
Booz Allen Hamilton has been at the forefront of strategy and technology for more than 100 years. Today, the firm provides management and technology consulting and engineering services to leading Fortune 500 corporations, governments, and not-for-profits across the globe. Booz Allen partners with public and private sector clients to solve their most difficult challenges through a combination of consulting, analytics, mission operations, technology, systems delivery, cybersecurity, engineering, and innovation expertise. With international headquarters in McLean, Virginia, the firm employs more than 22,500 people globally, and had revenue of $5.27 billion for the 12 months ended March 31, 2015. To learn more, visit www.boozallen.com. (NYSE: BAH)
About Market Connections, Inc.
Market Connections delivers actionable intelligence and insights that enable improved business performance and positioning for leading businesses, trade associations and the public sector. The custom market research firm is a sought-after authority on preferences, perceptions and trends among the public sector and the contractors who serve them, offering deep domain expertise in information technology and telecommunications, health care and education. For more information visit www.marketconnectionsinc.com.