Nearly two-thirds of government contractors experienced moderate to significant revenue decline in 2013 as a result of sequestration and the government shutdown, according to a new PulsePoll™ of government contractors by Market Connections, Inc. and Lohfeld Consulting Group, Inc.
The online poll of 220 government contractors gauged the impact of sequestration and the government shutdown on government contractors, and how companies are responding to a changing market.
Nearly one-third (31 percent) of contractors said their revenue declined more than 10 percent in 2013 due to sequestration and the shutdown, and another 30 percent declared moderate revenue declines of up to 10 percent. Fifteen percent of respondents experienced moderate to significant growth, while 16 percent said revenue remained flat. Eight percent of contractors declined to comment about their revenue change.
[pullquote]"It is clear that sequestration and the government shutdown have had a tremendous impact on the government contracting community," said Lisa Dezzutti, president and CEO of Market Connections, Inc. "Contractors need to think outside the box, leverage their expertise in adjacent markets and focus on business development and capture strategies that will increase win rates."[/pullquote]
A significantly greater proportion of large businesses indicated that 2013 revenue was essentially flat or had a moderate decline, while a significantly greater proportion of small businesses indicated a significant decline in revenue.
In response to government market pressures, contractors are re-architecting by expanding into adjacent markets (45 percent), modifying lines of business (35 percent), and putting greater emphasis on the front-end of the lifecycle to improve capture strategies and increase revenue in 2014. Forty percent of respondents also said they are expanding into new federal agencies.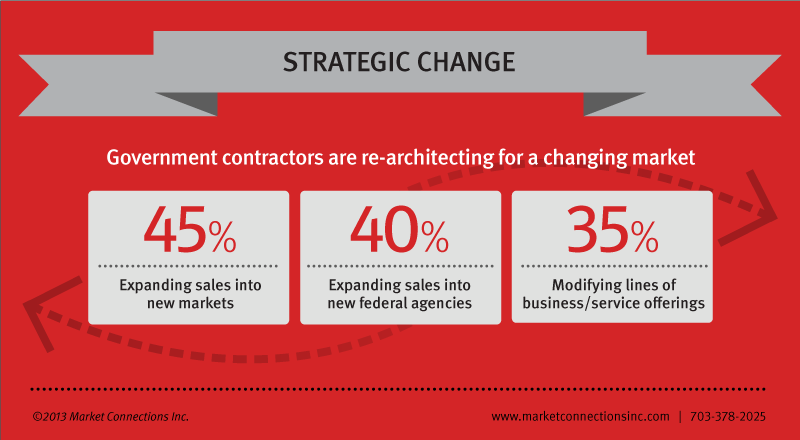 "We are pleased to see so many contractors working to improve their capture and proposal processes, new business tools, and infrastructure and adopting agile staffing strategies," said Robert Lohfeld, CEO and general manager of Lohfeld Consulting Group. "We have long advocated for shifting new business investment dollars toward the front-end of the business acquisition lifecycle, and companies who are doing this are seeing it pay off with higher win rates and lower overall business acquisition costs."
More contractors are also pursuing new opportunities in state and local government, international markets, and energy in 2013 than in 2012. Pursuit of healthcare opportunities is still high on the list of new and adjacent markets contractors are pursuing: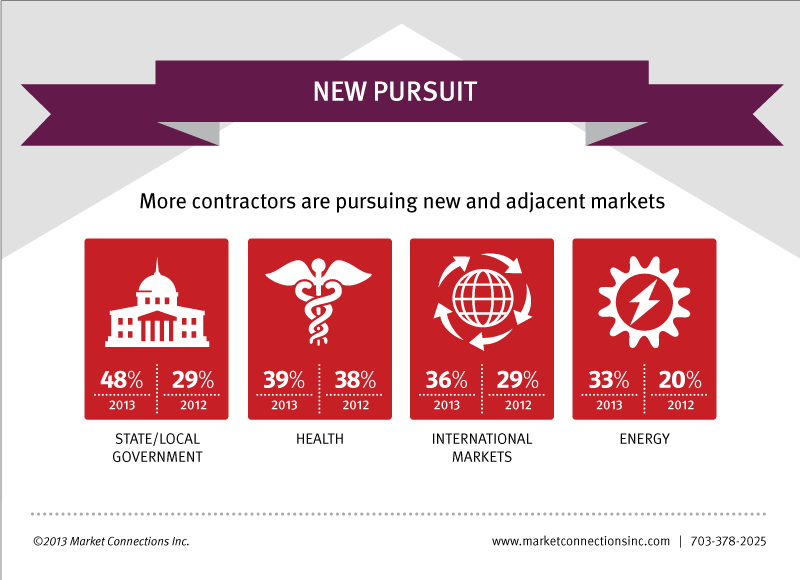 Contractors are making the following investments in the front-end of the lifecycle to enhance the business development and capture process and increase win probability: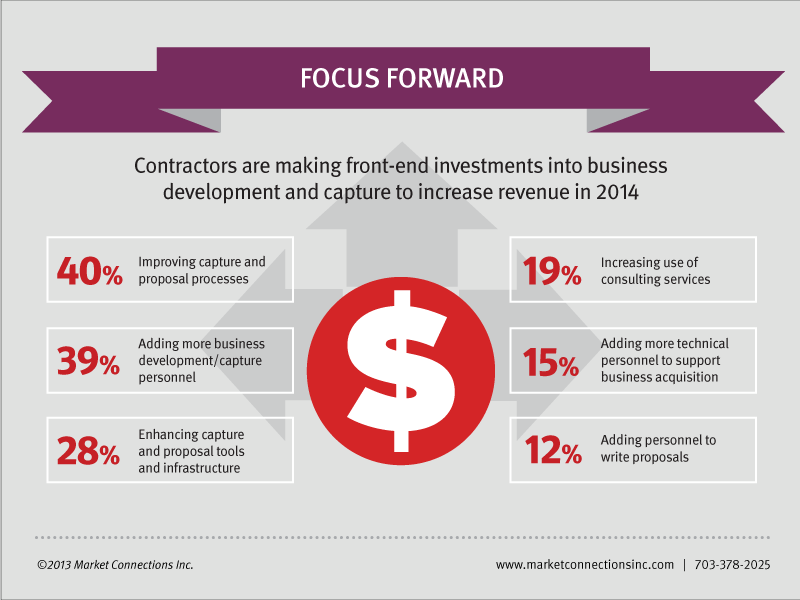 In addition, more contractors are embracing agile staffing strategies, augmenting their talent with external consultants.
"If your firm's revenue grew at all in 2013, you should feel pretty good because you were the exception in the market," added Lohfeld. "Personally, I'm glad to see 2013 coming to a close, and I remain optimistic about 2014. It looks like Congress will pass a budget, and the president will undoubtedly sign it into law. This greatly reduces the uncertainty in the market, and there is even encouraging discussion that some of the sequestration cuts may be restored."
View and download infographics illustrating the poll results.