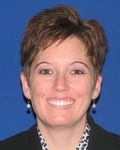 As the government's needs for advanced cybersecurity solutions continues to grow, federal contractors are required to develop the most advanced capture strategies for winning new business and beating out incumbents.
By using third-party research providers, it is possible to gain the actionable insights about government cyber needs to help fully inform the capture process.  This information also plays a key role in developing the right balance for cyber solutions that meet government needs and budgets.  As opposed to common online subscription databases, this kind of research is customized, proprietary and provides 'true competitive' intelligence and insights.
The FedPulse team recently spoke with Beth Beach, Director, Cybersecurity & IT Division at TASC, about how research is the foundation for new contract capture success and much more.
FedPulse: Tell us about TASC's cybersecurity solutions?
Beach:  What is interesting about our cyber and analytic solutions are that they span the entire landscape of cybersecurity needs for government.  From program protection to critical infrastructure protection, to data analytics, cloud computing, wireless and mobility solutions, privacy, and risk assessments we are continually aiming to ensure that our government customers' applications, infrastructure and information are compliant and protected at all times.
FedPulse: Why are your cyber offerings so important to government?
Beach:  As everyone knows, the federal government is continually facing new and highly-sophisticated threats – from attacks on networks and critical infrastructure to insider threats and advanced persistent threats or APTs.  We have deep experience providing mission support to the intelligence community, Department of Defense, and civilian agencies to protect our nation and its most critical networks and sensitive information. This provides us with the expertise and best practices needed to help our customers stay ahead of emerging cyber threats. More importantly, we provide tailored solutions that enable our government customers to meet mission goals and requirements.
FedPulse: How do you go about targeting potential government customers?
Beach:  We take a customer-centric approach in everything that we do.  As such, we leverage the expertise in providing mission-critical solutions for the defense and intelligence communities for other agencies. We take a critical look at the solutions we have provided in the arena, and then determine how these solutions can be applied to a new set of customer problems. We also invest heavily in training our staff and developing new capabilities through IRADs. The common goal here is that we provide tailored solutions that meet the mission.
FedPulse: How do you use research to inform your capture strategies?
Beach:  That is a very interesting question.  Our ability to understand other agency needs simply comes down to research, which is vital in fully knowing customer requirements.  Without understanding the customer's problem set and challenges, it is impossible to develop the right solutions that meet their needs.
Many industry members develop a cybersecurity solution in search of a problem to address.  We approach it in the exact opposite fashion.  We determine the problem first, then we develop real-world solutions for meeting these needs, and again, these insights all come from third-party research. By starting with requirements rather than the solution we feel that we have much more effective mission support-based solutions
In addition, by using a third-party research provider like Market Connections, we are able to more credibly gain the insights that we need during the capture process.  The government customer knows that most BD professionals are there to sell them on the solutions.  By using a third-party, there is more of an independent feel to the discussion, and government customers like this – they don't feel like they are being sold to.
FedPulse: How important is research in helping TASC secure new government contracts?
Beach:  It is critically important. One of the advantages of being an incumbent is that you have all of the insights you need with regards to the contract.  When it comes to gaining new government customers, you need research to help understand the needs and define mission success. By using an independent research provider, we are able to get the candid insights we need to help us win these new government contracts.
In addition, it is critical to get started early in the research process and use these insights to tailor a customized solution that meets a government customer's mission requirements.  Again, research is critical.
We would like to thank Beth for taking the time to speak with us about how research is used to inform TASC's capture strategies.  To learn more about TASC's cyber solutions, click here.