Earlier this year, General Dynamics Information Technology—a leader in cloud computing and virtualization migration and support—in conjunction with Market Connections, launched a study to learn about federal agencies' progress on cloud computing. Specifically, the study asked federal agencies about the current stage of their cloud implementation plans, what their key challenges and concerns are, and who is driving decisions about the types of cloud environments to use.
The study found that IT professionals are not necessarily making the decisions about an agency's cloud migration strategy. Not surprisingly, it also revealed that security is a top-of-mind concern when planning a cloud migration—primarily, agencies are concerned with unauthorized access to, or leaks of, proprietary data (69%) and security defects in the technology itself (65%).
General Dynamics Information Technology plans to use this research to further develop and tailor existing capabilities that assist government customers as they transition from legacy to cloud environments.
FedPulse had the opportunity to speak with Damian Whitham, senior director, cloud computing solutions, about what the company learned from the research and how it will leverage the findings.
FedPulse: Tell us about the research you implemented with Market Connections around cloud migrations for federal agencies.
Whitham: As federal agencies move toward cloud solutions, we wanted to understand the thought process they are utilizing to make decisions about their cloud migration strategies. When we started talking with customers about this several years ago, this new approach had caught everyone off guard and the technological and financial impacts of moving to the cloud were not clearly understood. We suspected that the government's understanding of the implications had matured, but we wanted to to confirm those suppositions with research.
[pullquote]Download the white paper detailing the research results.[/pullquote] With the help of Market Connections, we implemented a blind online survey of 150 civilian, defense, and legislative agency decision makers. More than half of the respondents are on a team that makes decisions regarding technology solutions, nearly all have developed requirements for technology solutions or services, and 21% make the final decisions.
One of the most interesting—and surprising—things we found is who is making the decisions regarding cloud migrations. It seems logical that the CIO or CTO would make the decisions about when and how to migrate to the cloud, and 53% of respondents said this is the case in their agency. Yet mission-oriented department heads (37%) and the CFO, COO, or other managers (31%) are also calling the shots. (Note: the total is higher than 100% because respondents were able to select all titles that applied.)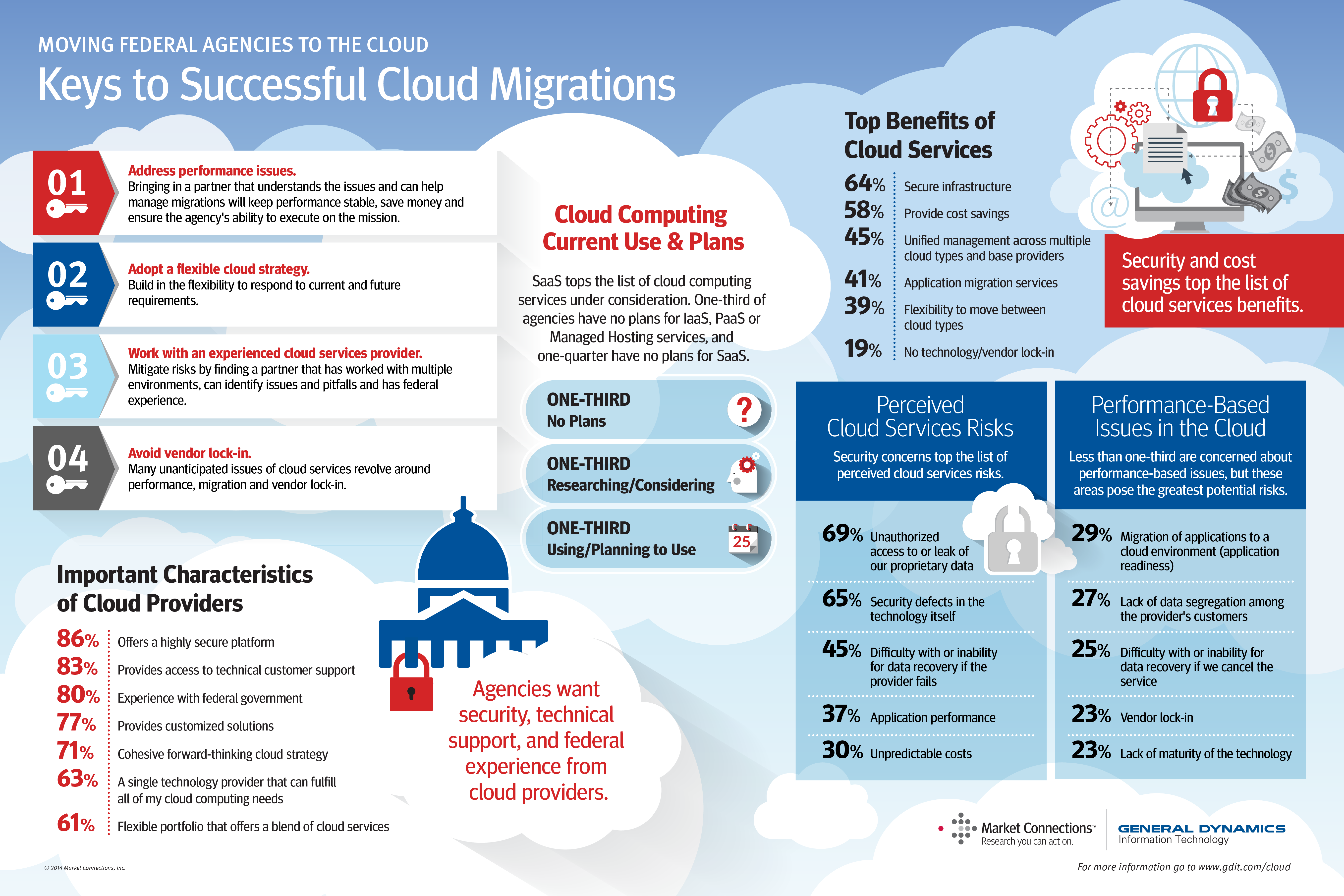 FedPulse: Why was this type of research project important to General Dynamics Information Technology?
Whitham: This kind of research gives us perspective and allows us to align our services with the government's needs. It also reveals where agencies may not be considering the full impact of some migration decisions—such as how cloud migrations impact performance and the user experience. This gives us the opportunity to provide insights based on our experience that will help agencies avoid potential pitfalls or minimize challenges.
FedPulse: How are you using the results of the survey to understand and address your client's needs?
Whitham: We validated erveral key things: agencies need to balance technology and total cost; they prefer to work with vendors who are experienced with the government and understand their needs; and they need flexibility. Customers will choose a cloud technology for a number of reasons and their integrator partners need to remain flexible and have the capability to work with any cloud-based solutions, whether they're based on EXSi, KVM, Hyper-V or something else. Each of these key findings speaks directly to what General Dynamics Information Technology offers.
FedPulse: What did this study reveal to you about the user experience and performance in cloud migrations, and how will that knowledge shape how you work with your customers?
Whitham: We believe that a good user experience is ultimately what any cloud migration strategy is about, and that performance is the key metric. So we were surprised that concerns about these two issues were low—of the five performance-based issues to choose from—application migration, lack of data segregation among the provider's customers, difficulty with or inability for data recovery when the service is cancelled, vendor lock-in, and lack of technology maturity—less than one third of respondents listed any of them among their primary concerns. For example, 71% of respondents do not consider application migration a primary concern. Yet migrations directly impact performance and the user's experience—and ultimately the agency's ability to deliver on their mission.
This shows us that educating our customers about these critical issues is a top priority. And, in doing that, we can help them focus on the desired result of a cloud migration and developing a strategy and processes that will get them there. Cloud migrations are not about the technology alone.
FedPulse: Anything else to add?
Whitham: While this resesarch validated some assumptions we had, it also revealed some attitudes that surprised us. We are using this information to frame our message, show our customers that we have the breadth to address their top priorities in moving to the cloud and . start some thought-provoking conversations.
We would like to thank Damian for taking the time to speak with FedPulse. Learn more about this study.