This Thursday, Market Connections and Merritt Group will release the results of the 2017 Federal Content Marketing Study. We thought we'd give you a sneak peek and discuss a few of the findings with Merritt Group Executive Vice President and Partner, Jayson Schkloven, and Vice President Government, Matt Donovan.
MC: The data shows a need to develop different types of content for different stages of the buying process. Where should contractors faced with tight budgets start?
Jayson: We often advise our clients to get as far left of the RFP as possible. Contractors need to be able to win the business before the RFP is even released. We advise clients to build thought leadership content up front as requirements are still being investigated and defined; content that positions them as experts on key topics and trends in the eyes of the federal buyer before the RFI or RFP is even released. That positions the contractor as a go-to authority when the RFI or RFP is being shaped, well before it hits the street.
Matt: I completely agree. Especially from an awareness and market education perspective – you must get as far left of the RFP as you possibly can to avoid being left out.
This process is so different from the commercial sector where the stages of the buyer's journey progress to that final transaction. In the federal market, if you're not included in the RFP, you've missed your chance to compete before those stages unfold.
Jayson: This initial type of content is about thought leadership, be it white papers or eBooks or position pieces. But the study data shows as buyers get further along in the buying cycle, they have different content needs; at this point they want to see case studies, demos or a use case. This is a challenge when contractors can't name their federal clients.
MC: What is your advice?
Jayson: Use cases and case studies are always hard for marketers to secure in the federal space. If you have a client champion that is willing to be featured in a case study, that is always going to be money well-spent and should be a priority. Once the case study is published, you can always use that to inform other content assets and thought leadership themes for the earlier stages in the buying process.
Matt: Agreed. In terms of that first touch, aim to be educational or tell them something they don't already know about a critical pain point or challenge. Industry research has proven to be fantastic way to build awareness and start a dialogue that can lead into the following phases of the buying cycle.
MC: As federal decision makers are looking for that information, we know from various studies they face technical barriers to accessing some types of content, from websites that are blocked on work devices to bandwidth. We also know more and more, they are using their personal mobile devices to access content.
With that in mind, the study shows that almost one-third of contractors don't take those existing barriers into account when developing content. What are your thoughts on that?
Matt: I think it's essential to have a full understanding of any limits or barriers to communications federal agencies face. This market is unique in terms of email restrictions, or restricted social platforms and websites – especially within DoD and Intel. Will emails get through? Are social media sites blocked or prohibited during work hours?
But the thing to remember is many federal decision-makers are bringing their own devices to work and consuming content outside of work.
Jayson: The data also showed federal buyers are consuming content on the commute. When I see that, it begs the question: what are vendors and contractors who are trying to reach the federal audience doing to take advantage of this in new and innovative ways? Are they building websites and assets with a mobile-first approach?
Mobile has become a huge platform for content consumption and it continues to grow. Ensuring your website is responsive and mobile-friendly is table stakes at this point. But thinking a little bit more creatively about types of mobile content, like a podcast series or digital pocket guide, is something we are doing a lot more of with our clients. Or developing programmatic ad campaigns targeting mobile audiences or paid social campaigns on mobile platforms like Facebook Messenger; there are so many options.
Matt: Absolutely. Even on the social media piece, I think what the data is saying, and what our clients have noticed, is we're all human beings; we're on Facebook and Twitter after work. People don't stop consuming information outside of the office. So even the tactics and channels that are prohibited at work may still reach the right decision maker and shouldn't be completely left out of the marketing mix.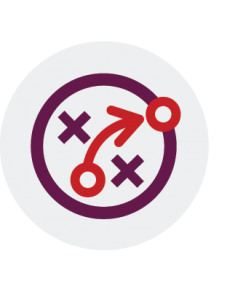 MC: Part of that marketing mix includes getting found, right? Interestingly, the data shows search engines are the number one channel federal decision makers use to find content. Yet, 40% of contractors are not using search engine marketing (SEM). Do you think search engine optimization (SEO) alone is enough to capture those searches?
Jayson: Regardless of whether you're investing in SEM, you need to make sure you are practicing good organic SEO. First, make sure you have relevant, pertinent content about your organization and your areas of expertise throughout your site and you are investing in updating it regularly.
I think too many organizations view their website as something they refresh every six months to a year or longer. That type of set-it-and-forget-it approach will not get you ranked organically. With our clients, we're seeing greater success when they update the content on their site regularly. We sometimes develop a quarterly web strategy or monthly editorial calendar for their websites. In both cases, we build good content that is rich with targeted organic search terms that are also truly relevant.
It's not about trying to game the search engines. The search algorithms have gotten too smart and those tactics can hurt more than they help your ranking. The key is to have a site that's mobile friendly, follows good structure, is easy for search engines to index with content, and is updated regularly.
Matt: There is absolutely a place for SEM – it can be cost effective and search engines are where most of us start when we're collecting information on a major purchase. But whether it's organic with SEO or whether you're using a paid strategy, it goes back to valuable content. If there isn't any stickiness or engagement, and it's not driving a follow-up action, the click didn't mean much.
Want more? Act now: Registration ends April 25
When: Thursday, April 27, 8:30-11:30 AM (EDT)
Where: Crowne Plaza Tysons Corner
1960 Chain Bridge Rd., McLean, VA 22102