As the workforce ages and baby boomers leave both the public and private sectors, filling the void is a priority—and a challenge. Competition is fierce for finding talented and skilled personnel who are the right fit for your organization. On top of that, what age cohorts like Millennials want from their professional life is often different than what the Generation Xers hiring them value.
How can contractors or government agencies stand out? Recruitment research is one way to understand the myriad factors at play. In a few weeks, Market Connections Vice President, Laurie Morrow, is hosting a Best Practices webinar on how to effectively use recruitment research. She shared some thoughts about how this type of research is different and why it is important.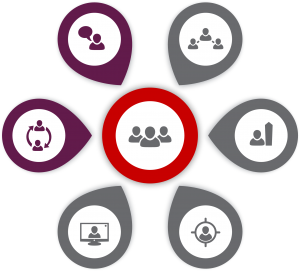 AQAMC: How is recruitment research different than other types of brand perception research?
Laurie: A brand perception study assesses how the market — a company's customers and prospects — view a firm and its competitors. We include some of the same elements in recruitment research too, but the target audience is different (although for large brand studies, we sometimes include a segment of prospective employees in the study). Overall, the factors the target audience measures may be different. For example, company culture has a different significance for a prospective customer versus a prospective employee.
For recruitment research, it's important to test recruiting communications (ads, messaging, collateral, and so on) prior to launch a campaign, just as it is with testing advertising and messaging with customers and prospects. We primarily use focus groups a for recruitment research. While the message in the ads may be focused differently in the two types of studies, the line of questioning is very similar. The ultimate goals is to ensure communications are clear, concise, appealing, result in a favorable impression of the organization, and result in action among the intended target.
MC: What are some of the things you've seen revealed for your customers?
Laurie: We see differences by survey respondents' age regarding what they view as important and how they view a firm, which is not likely a surprise to anyone. But it's always good to have confirmation the message is resonating with different groups, and to ensure recruitment ads or collateral pieces contain elements that are important to a target audience.  Millennials have different views than Generation X or Baby Boomers. Recruitment ads or collateral must be targeted and address these differences. Companies alter and tweak their communications when targeting their customers or prospects, but many do not do this in their recruitment advertising. Research helps guide organizations with this process by first making sure messages resonate and then measuring the effectiveness of recruitment campaigns.
MC: How can companies incorporate what they find into their corporate culture as well as the specific recruiting efforts?
Laurie: This research reveals what employees value and can help shape the employee relations strategy. This data can also help shape processes around things like reviews, promotions, salary, benefits, culture, workplace environment, diversity and inclusion practices, and other areas of Human Resources.
For recruitment, this research pinpoints what prospective employees rank highly, therefore what to highlight in advertising and collateral. This information can also help in developing offer packages to ensure they contain the items that will make top talent say yes to the offer.
MC: Any other thoughts on the importance of recruitment research? 
Laurie: This type of primary research can help organizations find the best sources and/or tools job seekers use and the value they place on these resources. By understanding the process the specific people your organization is recruiting is using to find jobs, you can focus resources where they'll produce the best results. While there are many studies that look at where job seekers go to find work, those studies are not necessarily focused on your industry or niche. Your ideal candidates may be searching in some very unexpected places.
Learn How Recruitment Branding Research Can Help You
The next webinar in our Best Practices series is "Using Research to Recruit and Retain the Right Talent for Your Company." Join Laurie as she shares how using this type of research can help you understand:
How top candidates perceive your organization and your competitors
Candidates key needs and wants for an ideal workplace
Barriers to attaining and retaining staff
Thurs, October 12, 2017
11:00 AM – 11:45 AM EDT