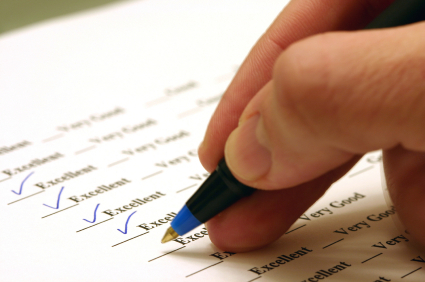 Keeping your customers coming back for more requires knowing both the good and the bad about their interactions with and perceptions of your company. The nature of those interactions dictates whether your customer satisfaction strategy is supported by transactional surveys, relationship surveys, or a combination of both.
Evaluating the Ongoing Customer Relationship
Relationship customer satisfaction surveys, typically conducted once or twice a year, are appropriate when interactions with the customer are ongoing or very frequent, making this type of study common among many business-to-government and business-to-business companies. They measure satisfaction and performance levels in areas such as price, value, quality, service, innovativeness, and responsiveness as well as the company's ability to meet customer expectations and needs.
Furthermore, they may include the input of several people at the customer organization. For example, a government contractor needs to know not only the opinions and perceptions of its daily points of contact at the agency, but also senior officers who would approve or disapprove the contract renewal.
Evaluating the Specific Customer Transaction
On the other hand, transactional surveys are appropriate when customer interactions are straight forward or only slightly complex. They are utilized for measuring infrequent, event-driven interactions, such as installing a network or buying a car. It's best to conduct these surveys immediately after the transaction, when the experience is still fresh in the customer's mind.
Transactional surveys are highly effective for specifically measuring the quality of customer service. In fact, some call them customer service surveys. They differ from relationship surveys in design in order to measure a contained customer experience all the way down to the specific employee involved.
Utilizing Both for a Complete Customer Satisfaction Picture
Some types of companies may require both survey types in order to implement a comprehensive customer satisfaction strategy. For example, a large federal solutions provider that has consulting, integration, and/or program management engagements with its agency customers certainly requires annual relationship surveys. But, that same company may also sell servers or other COTS products that result in infrequent, event-driven interactions with other customer points of contact. In this example, the company also requires transactional surveys in order to measure customer satisfaction in all areas of the business.