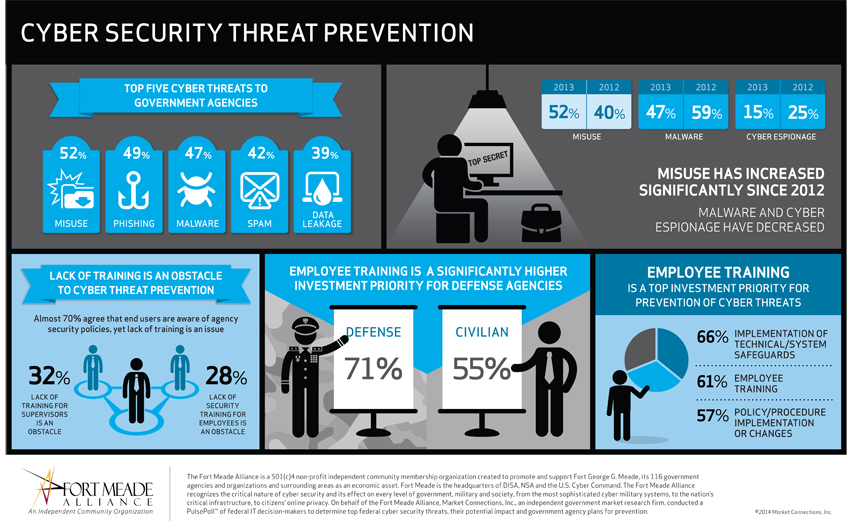 October is National Cybersecurity Awareness Month—a month of events and initiatives designed to engage and educate public and private sector partners and raise awareness about cybersecurity. As a Fort Meade Alliance cybersecurity poll reveals, agencies see the need for continued training and education to minimize cyber threats.
"Cybersecurity awareness training can help solve many of the challenges we face with protecting information technology assets, and our government's most sensitive information and mission-critical systems," said Deon Viergutz, president of Ft. Meade Alliance and director of cyber operations for Lockheed Martin Information Systems & Global Solutions.
Government market research firm Market Connections, Inc. conducted the online poll of U.S. federal government IT decision-makers. The poll measured awareness and attitudes about a range of cybersecurity topics, including threats, challenges to insider threat prevention and investment priorities for prevention of insider threats. Survey results reflect respondents from federal civilian and defense/military agencies.
The survey finds that training to prevent cybersecurity threats is an investment priority for more than 60 percent of federal civilian and defense/military organizations. Key findings include:
Almost 70 percent of government IT decision-makers agree end users are aware of agency security policies, yet lack of training is considered an obstacle to preventing cyber threats by about one-third of survey respondents.
Employee training is among the top investment priorities for prevention of insider threats.
Employee training is a significantly higher investment priority for defense agencies, compared with their civilian counterparts.
About the Fort Meade Alliance
The Fort Meade Alliance is a 501(c) 4 non-profit independent community membership organization created to promote and support Fort George G. Meade, its 117 government agencies and organizations and surrounding areas as an economic asset; to promote the well-being of the region with programs that support FGGM priorities; and serve as a resource to help facilitate connections that make a difference. The Fort Meade Alliance is supported by membership dues and through a grant from the Maryland Department of Business and Economic Development. For more information, please go to www.ftmeadealliance.org