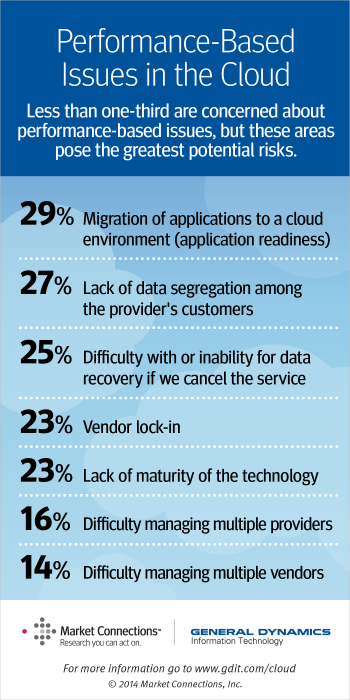 It is not a matter of whether federal civilian agencies will move to the cloud. It's a matter of when … and how. But if agencies don't move to the cloud in a thoughtful manner, they could run into a range of issues that disrupt performance—and impact the end user's experience. As agencies move more applications and services to the cloud, the question becomes, what are the keys to successful cloud migrations?
A new Market Connections research study commissioned by General Dynamics Information Technology finds cloud computing addresses two key government concerns: security and cost savings. Three highlights from the research Include:
Two-thirds of government respondents are using, planning to use or are researching and considering cloud services, while one-third have no plans. Software-as-a-Service tops the list of cloud computing services in use.
Government organizations are more likely to migrate collaboration, file storage, email and standard office applications and less likely to migrate financial and mission-critical applications. Defense respondents are significantly less likely to migrate mission-critical applications to the cloud than their civilian counterparts.
Government IT decision-makers overwhelmingly want security (86%), technical support (83%) and federal experience (80%) from cloud providers, as well as customized solutions (77%) and a cohesive, forward-thinking cloud strategy (71%).
A white paper from Market Connections and General Dynamics Information Technology outlines four keys to successful cloud migrations and includes detailed research findings. Download the white paper at www.marketconnectionsinc.com/cloud.