It is almost time for the annual reveal of the Market Connections Federal Marketing & Media Study results. While analyzing the results of this year's study, we looked back at what came out of the 7th Annual Federal Marketing & Media Study last fall. One of the key findings was that federal marketers must have a strong mobile strategy. A preliminary look at the results for this year indicates a strong mobile strategy is still a top priority for federal contractors.
Given that mobile strategy will continue to be a priority, here is a review of advice from a panel of industry experts who spoke at the annual results briefing last year.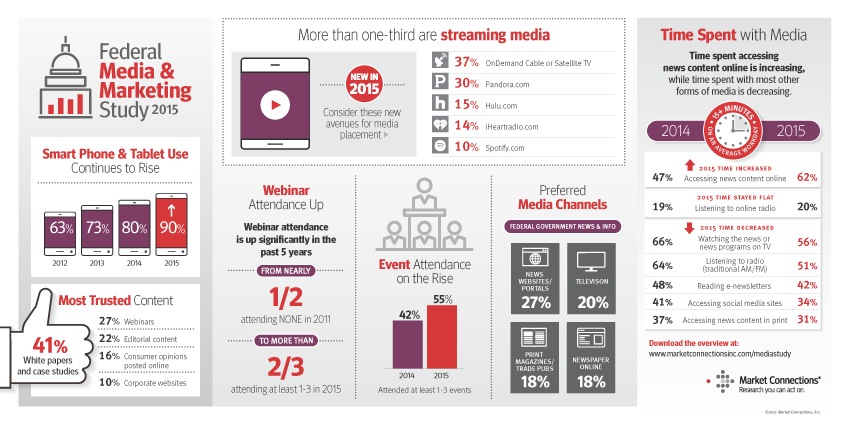 Your prospects are online, and you need to have a plan to engage with them
Panelist Ben Thompson, vice president, digital strategy, TMP Government, said: "Federal employees are people, and they are using social media for information gathering. Don't be afraid to use social media — that's where people are getting their information."
Last year, almost two-thirds (62 percent) of respondents said the time they spent accessing news content online increased, and more than one-third were streaming media.
Kim Urbanchuk, director of ethics and compliance, Airbus Defense & Space, said: "As someone in the 35-to-44 bracket, when I was working for the government, I gathered information electronically. For example, stories would break on Twitter, and I would gather all the information I could by following the links."
Cultivate the relationship using social media
Urbanchuk noted that it is important to keep relationships going and staying on your prospects' radar. A mobile strategy will help systematically reach the right people via the right channels.
Tim Letzkus, senior business advisor, Office of Personnel Management, Human Resource Solutions, said: "You need to reach out to your prospects on a regular and ongoing basis. That's why certain contractors always bubble up when feds are asked who they think of for particular products and services."
As you await the results from the 8th Annual FMMS, Download the 2015 overview report to learn more about the media habits of your target audience. And put the 2016 annual briefing event on your calendar.
2016 Federal Media & Marketing Study™
8TH ANNUAL BREAKFAST & BRIEFING
Join us Nov. 9th at this popular event for B2G marketers. The annual Federal Media & Marketing Study™ looks at media consumption habits of federal decision-makers: the top publications, websites, radio, TV and more, along with demographics, job functions and purchasing responsibilities.
Nov. 9, 2016 | 8:30 a.m. – noon
TEGNA Conference Center, McLean, VA