In today's budget-conscience government contracting marketplace, standing out from the competition requires highly nimble marketing approaches.
With conference and trade show attendance down over the past four years, contractors have been turning to creative marketing strategies to achieve differentiation and enhance lead generation.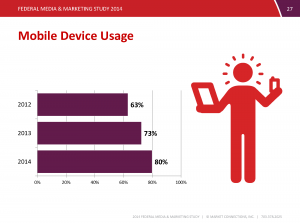 With fewer opportunities to connect with buyers face-to-face, becoming a thought provoking, research driven content generator—and communicating across multiple channels—is now required.
As a recent Washington Post article and the 2014 Federal Media and Marketing Study pointed out, fifty-two percent of federal workers surveyed said they didn't physically attend any events in 2013, up from 38 percent in 2011.
Research from Market Connections also highlights how government buyers are just as dependent on their smartphones and tablets as other consumers, said Monica Mayk, marketing director at Market Connections, in the Washington Post article.
And while they still read print publications, those in government also seek information online, with nearly half of government participating in more webinars (45 percent) and more than one-quarter of government seeking more free information from vendors (29 percent), and streaming more audio and video (28 percent).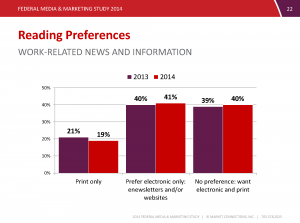 With 80 percent of government using mobile devices (up almost 20 percent since 2012) "This means contractors need to pay more attention to optimizing content for mobile and making sites responsive," added Mayk.
Even more important to success is investing in insightful content that targets decision-makers with relevant, industry-specific knowledge. Companies like SolarWinds and Booz Allen Hamilton are leveraging third-party market research to provide market-validated insights to government customers and prospects.
Becoming a thought leader in specialized niches, as well as utilizing multiple channels for content distribution, is changing the way contractors engage with the government. Federal contractors are also combining research with a sustained approach to content development and distribution to achieve marketing goals.
It is clear that traditional marketing strategies are no longer effective in influencing the government buyer.  As the Washington Post highlighted, a new creative marketing paradigm shift is permanently altering they way contractors interact with the federal customer.
And, this is a good thing.