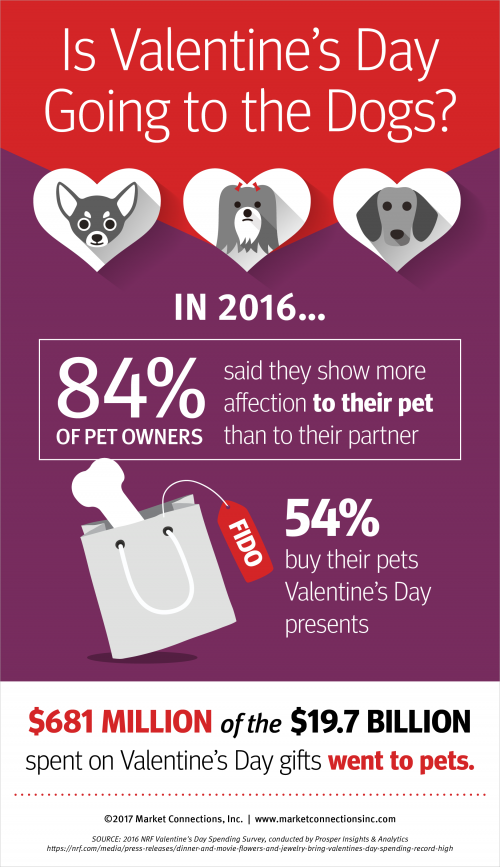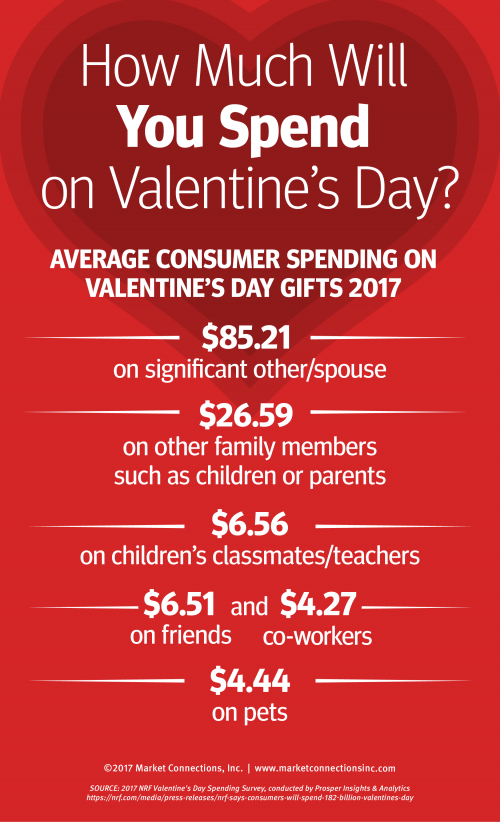 Valentine's Day: the holiday many people love to hate. On one hand, there are flowers, chocolate, and delicious dinners. On the other hand, there are a whole lot of expectations ranging from your significant other to your dog (oh yes, dog's have figured out they get gifts on Valentine's Day).
As we talked about Valentine's Day in the office, we wondered about how much American's spend on gifts and what those gifts are.
The National Retail Federation had the answers for us. Every year, NRF commissions a study from Prosper Insights & Analytics on consumer Valentine's Day spending. We learned some interesting things. First, for the first time in a decade, this year spending will be down from last year's record-high, $146.84. This year the average will merely be a $136.57. Still, total spending is expected to reach $18.2 billion; that's a lot of candy.
What is the breakdown? Well, almost 50% of people will buy candy as a gift (we vote for chocolate). Greeting cards are nearly as popular, followed by an evening out and flowers. Despite what the window displays at certain retailers may lead you to believe, clothing of all types comes in at less than 20%. People will buy gifts for their significant others, friends, family… and their pets.
According to Petcube, which just released the results of its first annual Valentine's Day survey, 84% of pet owners said they show more affection to their pet than to their partner and 54% plan to buy their pets Valentine's Day presents. This supports the NRF data that showed $681 million went to pets in 2016.
So, who are you buying gifts for today? Tell us in the comments.