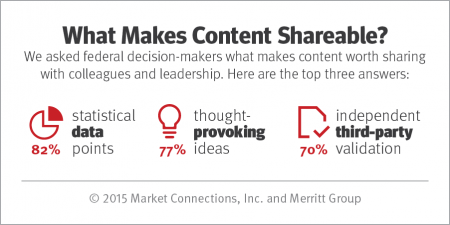 Innovative ideas create change only when people know about them and share the vision. That's why it's important to create shareable content. Whether it's a white paper or a blog post, you need to ensure not only that your prospects read it, but also that they pass it along to colleagues and leadership.
In the Federal Content Marketing PulsePollTM we asked what federal decision-makers think makes content sharable. They said they want substance backed by facts: statistical data points, thought-provoking ideas and independent third-party validation. They want high-quality content that will support a decision, whether it's to buy a specific product or make an organizational change.
Federal decision-makers will not share low-quality content because it offers no substance. They need content that informs, thoughtfully answers difficult questions, and offers well-articulated justification to back claims. Third-party research provides the facts that meet those needs — data that support arguments from a source that has no stake in the outcome.
Don't make your readers take your word for it. When you create content that provides real answers to problems they face, and backs that information with data, your prospects will share your content.
Learn more about the kinds of research you can use to make your content sharable.