Effectively marketing to the government is constant challenge, but it needn't be if you know what tactics to use. In December, Federal News Radio's "Amtower Off Center" invited Lisa Dezzutti, founder and CEO of Market Connections, Rita Walston, senior director, Client Marketing at immixGroup, and Ralph Renzi, director of Federal Sales for WTOP and Federal News Radio to discuss top trends in marketing to the federal government.
Much of the discussion centered around data from the Market Connections 2014 Federal Media and Marketing Study, which tracks the top media outlets where decisions-makers get their information. The unique blend of thought leaders on the panel makes this discussion valuable to anyone marketing to the federal government.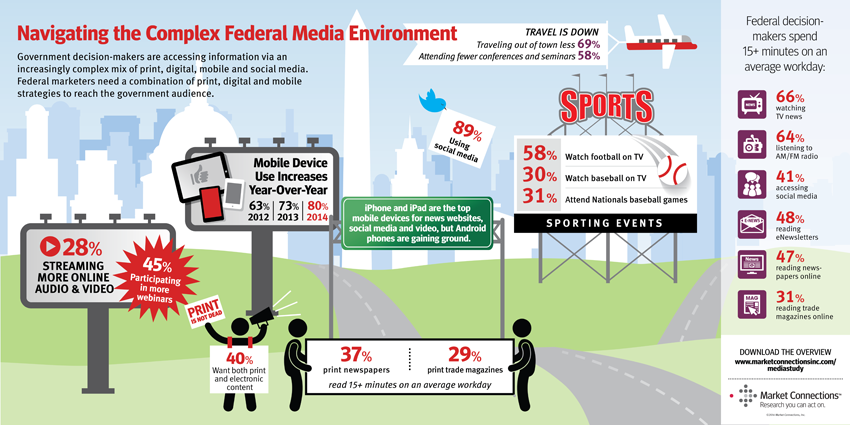 Federal Marketing Insights captured the discussion on video, and is offering it to you for free. This short, 12-minute video explores the latest trends in content creation, thought leadership, mobile usage, and event marketing.
View the Top Trends in Marketing to the Government video.
Topics include:
The #1 reason people lose bids and task orders is that the customer does not know them.
Forrester research says that 70% of the buying decision is made before the customer contacts a vendor.
Federal travel restrictions remain in place.
Budgets remain tight.
LPTA, FSSI and reverse auctions are still with us.
Competition is intense.
The era of the GovCon mega-show is over.
This video is the first in Federal Marketing Insight's four-part series focusing on government marketing trends—a series that promising to be entertaining and informative. Enjoy the discussion!