Holistically Managing the Virtual Environment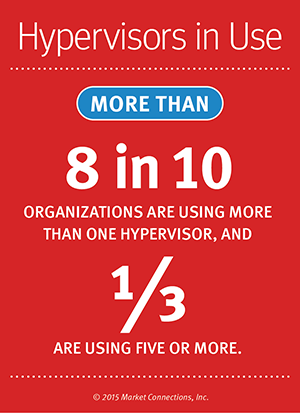 CLICK ON ICON TO SEE PROJECT COMPONENT
Federal agencies' virtualized infrastructure requires monitoring and automation to optimize and fine-tune systems. Maintaining multiple hypervisors can require multiple tools that only present a partial view of the environment.
Agencies tend to use more than one hypervisor because they all have different functions, strengths and costs. This may be efficient operationally, but is very expensive to manage, and comparing the data between the hypervisors is difficult, if not impossible.
Dell Software contracted Market Connections to assess agencies' virtual environment management practices and the challenges and concerns related virtual monitoring.
Fill out the form below to download the white paper and infographics.
Holistically Managing the Virtual Environment

YOU WILL LEARN:
Top challenges of managing a virtual environment
Reasons why federal agencies use multiple hypervisors
The percentage of agencies using more than one hypervisor and five or more hypervisors