Project Page
These are only project pages.
Full report available Friday December 9th, 2022
ABOUT THE STUDY
The Marketing for the Public Sector report represents the views of thousands of federal and state/local employees in a variety of positions.
Focusing on engagement within the digital landscape, this study is meant to empower marketers with the knowledge they need to perfect their marketing plans, campaigns, and content.
Created in an easily digestible and navigable format, the report presents pertinent information about audiences' media engagement habits across broadcast, social, and digital sources.
Whether you are interested in a broad awareness campaign or a more focused agency-based marketing effort, we want to give you the valuable, trusted data and insights on the media and engagement habits of those tough-to-reach federal and state/local audiences.
---
WHAT TO EXPECT
Full Report – Contains data and insights on both federal and state/local customers
Topics Covered – Demographics, job functions, trust in media sources/social media websites, confidence in news (among others)
Publications & Digital Sites – Government media, business and news media, technology & industry, social media & lifestyle
Key Insight – Top concerns for next year, time spent listening to news/radio, accessing social/news media on an average workday, most trusted social media sites
Visual infographic: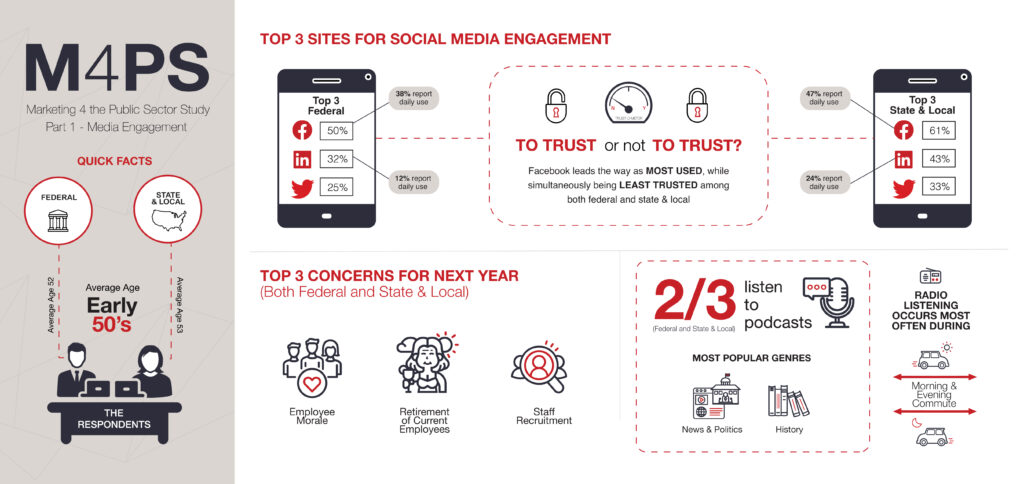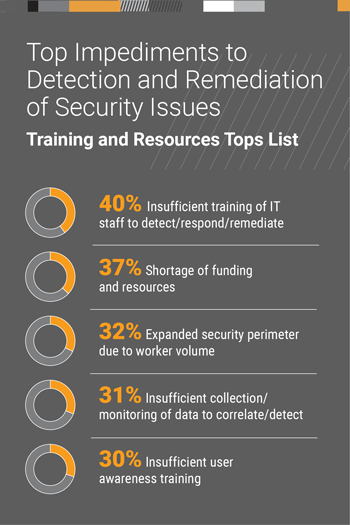 In the two years since we last conducted the SolarWinds Public Sector Cybersecurity Survey Report everything about how we live and work has shifted—and with those shifts, public sector priorities and concerns around cybersecurity have also changed.
SolarWinds knows better than many how threats have evolved, and as a result has learned lessons that are shaping the evolution of cybersecurity in the public sector.
In this seventh edition of the study, we clearly see how the industry is changing. Once again, SolarWinds, in partnership with Market Connections, looked at where and how cybersecurity threats most impact federal and state and local governments and education (SLED) agencies.
The study also examined familiarity with the Executive Order on Improving the Nation's Cybersecurity and the perceived impact of its objectives, organizational use of a zero-trust approach and Principle of Least Privilege (PoLP) to IT, and teleworking before COVID-19, currently, and in the future.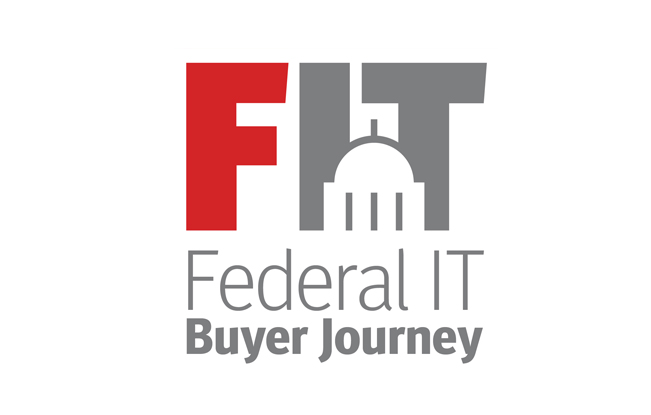 The second in our Federal Information Technology (FIT) series, Market Connections released the 2022 Buyer Journey at Government Marketing University's GAIN conference to help government contractors understand their customer's unique process for purchasing products and services.
From identifying their needs through the final vendor selection, this study provides key data to inform marketing, sales and product teams in strategy development around the following:
Who the key stakeholders are during each stage of the journey;
Where they are going for information during the journey; and
The types of information they find most valuable throughout the journey.
Whether the focus is maximizing each marketing dollar spent, developing products most aligned with customer needs, or equipping agencies with mission critical resources, this study's results will provide the deep guidance government contractors are looking for on the right targets, avenues and formats to be focusing resources.
For the full presentation video, visit the GAIN conference site.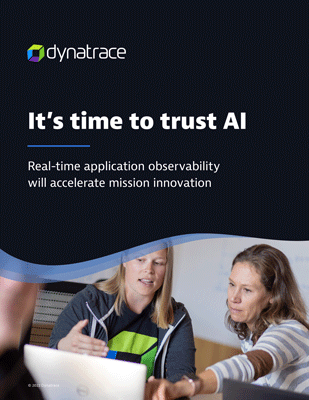 Real-time application observability will accelerate mission innovation
Many Federal agencies are focusing on IT modernization to keep pace with the changing mission requirements and citizen demands. But one of the biggest modernization challenges program managers and mission owners face is time spent chasing problems rather than moving the mission forward. As a result, many agencies are looking to AI as the solution. AI solutions can automate manually intensive troubleshooting and get missions back on track quickly. But despite these clear benefits, agencies are still not embracing these solutions.
Recent research surveyed Department of Defense (DoD) and Civilian agency IT mission leaders about the extent to which federal technologists and
managers are aware of and have the need for application management services, their current efforts to incorporate new tools and techniques into their agencies, and their general attitudes toward using AI.

The 2020 pandemic response significantly impacted the budgets of state and local governments. As a result, they're now facing the challenges of reduced tax revenues, increased expenditures for unemployment assistance, and an increased need to deliver services digitally. For leaders in government IT, this new economic reality, as well as the historic expense of running technology in-house, is driving the move to a cloud-smart approach that can increase efficiency in both operations and budgets.
This focus is not entirely new since governments have been shifting apps (like email) to the cloud for some time. Yet it's clear the pandemic response is accelerating the IT modernization in government that was already in process, especially in regard to facilitating a modern hybrid workforce. Equally clear is that this will impact the future of IT transformation. To learn from, and apply the results of, the government IT response over the past year, Cisco commissioned market research firm Market Connections to conduct a study.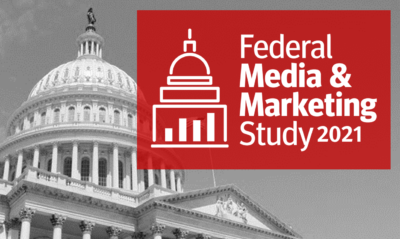 13th Annual Study: On-Demand Video and Presentation Followed by Small Group Discussions
UPDATE! The 2021 FMMS will now be On-demand
Release date: October 21, 2021
Due to concerns with COVID-19 variants, forthcoming mandates, and to protect the health and safety of our participants, we have made the executive decision to transition the 2021 Federal Media & Marketing Study release to on-demand video presentation and download report.
In its 13th year, the Federal Media & Marketing Study continues to empower marketers to hone and perfect their strategic marketing campaigns with valuable and reliable data directly from their federal customers. The survey provides key information about the federal audience's media usage across print, broadcast, social and digital sources. Combining this data with demographics including: job function, location, purchase area and more, marketers have the ability to slice and dice the data and map each to specific media habits, allowing them to target specific audiences.
The survey represents the views of thousands of federal workers in a variety of positions. Whether you are interested in a broad awareness campaign, or a more focused agency-based marketing effort, data from the study can provide you key insights about the media and marketing habits of this tough-to-reach federal market audience.
WHAT TO EXPECT
Job Function and Purchase Responsibility – More than 25 different job functions and areas of purchase, by product and service
Media Usage – 60+ publications, 100+ websites and mobile sites; 10+ social sites; differences inside vs. outside the Beltway
Trusted Content -To what extent do decision makers trust news and information from different media sources?
Time Spent Accessing Content – How much time do government employees spend accessing content online, watching TV, listening to the radio and reading e-newsletters?
TWO PANEL DISCUSSIONS
Federal Media Panel: Moderated by Aaron Heffron, Market Connections
Kevin Baron, Executive Editor, Defense One
Patti Nuttybombe Cochran, Federal Marketing Consultant, Government Matters Media
Jeffrey Wolinsky, Director of Federal Sales, WTOP/Federal News Network 
Federal Marketing Panel: Moderated by Stephanie Geiger, Government Marketing University
Matt Bechtel, Director of Corporate Marketing, Booz Allen Hamilton
Allison Mason, Senior Director, Public Sector Marketing, Red Hat
Darryl E. Peek II, Head of Federal Strategic Partnerships, Google
ON-DEMAND ACCESS and POST-FMMS ONLINE NETWORKING SESSIONS
ON-DEMAND VIDEO AND REPORT – Our 2021 report and video presentation will be available to download on October 21. Stay tuned for purchasing capabilities
SMALL GROUP ONLINE DISCUSSIONS – A series of online groups (no more than 20 per session) will be limited to FMMS on-demand purchasers to discuss results and network with like-minded peers following the FMMS release. Details on registration will be available in after purchase.
PURCHASE THE OVERVIEW & VIDEO!
Overview results from the 2021 Federal Media & Marketing Study highlights high-level results from our comprehensive study surveying thousands of federal respondents at defense and civilian agencies, inside and outside the Beltway about their use of digital, social, mobile, print and broadcast media. This PDF report provides high-level results of the top digital and print publications, social media sites, radio and TV within the DC metro area. A video readout and analysis of the results by President, Aaron Heffron, is included with purchase.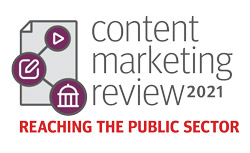 PURCHASE REPORT & ON-DEMAND VIDEO
ABOUT THE STUDY:
Blogs, white papers, videos, podcasts or reports: public sector decision-makers turn to thought-leading sources like these to inform their buying decisions, learn about new technologies, and gauge vendors. As marketers trying to reach these niche audiences, it's important for us to know what types of marketing assets they find most useful and influential, what type of information it should contain, and where they go to find it.
Market Connections polled government decision-makers at federal, state and local agencies and with K-12 and higher education institutions around the country to answer these questions with the 2021 Content Marketing Review: Reaching the Public Sector.
Market Connections presents the results of our latest study of the public sector. The report and video provide a review of key findings followed by a panel of public sector experts who will provide further insights, share their best practices and discuss what these results mean for marketers trying to reach FED and SLED audiences.
NEW THIS YEAR:
What are best practices for reaching the K-12 and HIGHER EDUCATION audiences?
How do public sector decision-makers prefer to receive information since the onset of COVID-19?
How often should public sector marketers refresh their content to ensure relevancy?
PRESENTER:
Aaron Heffron, President, Market Connections, Inc. 
PANEL SESSION I – CONTENT CREATORS
Moderated by Lou Anne Brossman, Founder & CEO, Government Marketing University

PANELISTS:
Matt Donovan, Senior Vice President, Merritt Group
Chris Parente, Founder, StoryTech Consulting
PANEL SESSION II – PUBLIC SECTOR MARKETERS
Moderated by Aaron Heffron
PANELISTS:
Monica Mayk, Senior Team Lead, Public Sector Marketing, Verizon Business
Betsy Morrow, Marketing, Education, Amazon Web Services
Preston Smith, US SLED West Marketing Manager, CISCO
SPONSORS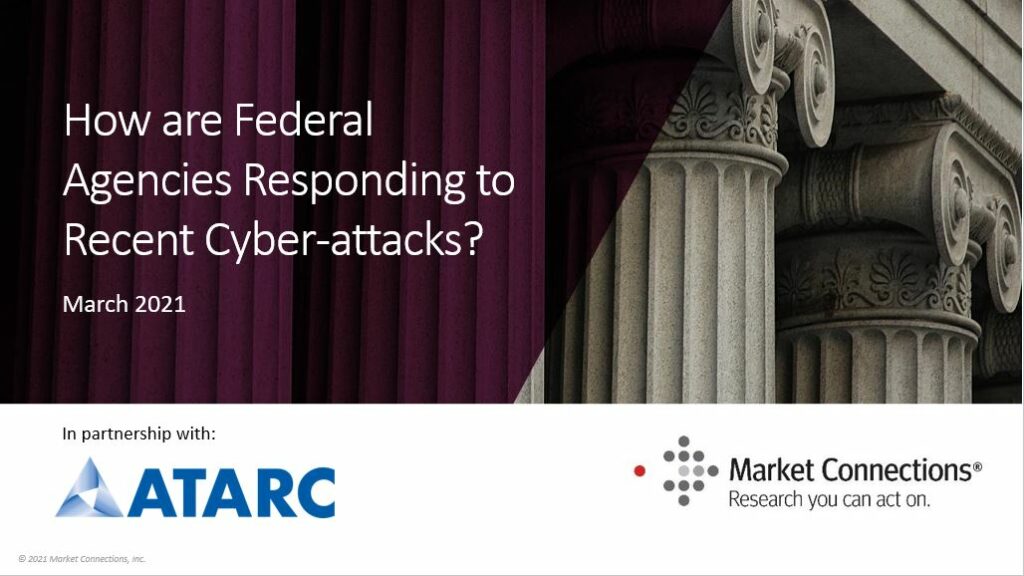 Date: Wednesday, March 3
Time: 1:30 PM ET
Cost: Free
With the news being dominated by stories of cyber breaches and attacks, we asked federal IT decision makers to what extent these cyber-attacks have affected their agencies and what are some actions they are taking in response to recent events? To what extent are they doing things different? Will they make significant changes? How will this affect future contracts and requirements?
Join Market Connections and ATARC on March 3 at 1:30 PM (EST) to learn more about how federal agencies are responding to cybersecurity challenges to help you be a better partner and vendor.
(more…)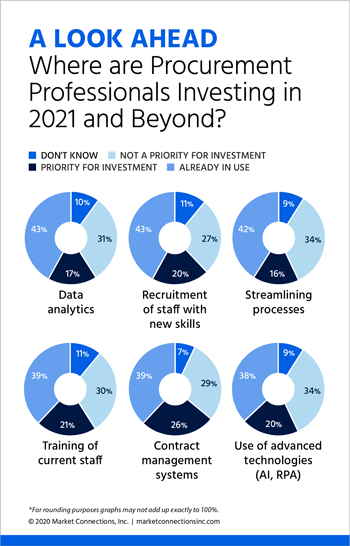 Challenges, Priorities, and Opportunities for Increased Efficiency
Over the past several years, federal procurement has been undergoing a significant shift. Contracts are becoming increasingly complex. The procurement workforce is aging, yet active recruiting remains low. And several new acquisition reform initiatives have been issued in an effort to streamline processes and deliver increased visibility into acquisitions. Those in government procurement and procurement adjacent roles had been managing and adapting to these changes well—and then in March 2020, a global pandemic hit. Virtually overnight, procurement teams were forced to shift to a maximum telework environment and ramp up support for emergency requirements.
But once the initial COVID-19 response was complete, where did that leave procurement professionals in moving forward with other priorities? Akima, an Alaska Native Corporation (ANC), partnered with market research firm Market Connections to explore the specific challenges procurement professionals faced in 2020, as well as uncover their top opportunities and priorities for FY2021.
Talk of 5G, specifically the technology that will underpin new applications and user experiences and enable a step-change in connectivity, excites everyone from tech-savvy teens to CIOs. With a promise of phenomenal mobile connectivity due to higher throughput, higher bandwidth, lower latency, better connectivity, secure information sharing and easy access to data, anything "5G" is an attention grabber.
This excitement rings especially true for military and civilian federal agencies always looking for more effective ways to fulfill their missions to protect and serve citizens in a hyper-connected world. To find out how federal agencies can harness the power and promise of 5G, CommScope commissioned market research firm Market Connections to conduct a study exploring the level of 5G awareness and preparedness within federal agencies.