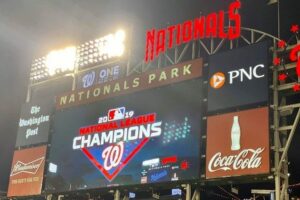 Congratulations to the Washington Nationals who recently won the National League Championship Series (NLCS) and are headed to the World Series! Both local and national audiences will be tuning in to see if the Nats can continue their streak and whether their good luck charm (the baby shark) can take them all the way!
During the post-season, not only are players like Scherzer, Turner or Rendon front and center on people's TV screens and in-person at games to thousands, but so is the venue they are playing in.
Which begs the question, should government contractors be sponsoring or advertising at these highly visible locations? Was this a missed opportunity for many contractors who want to broaden their brand awareness?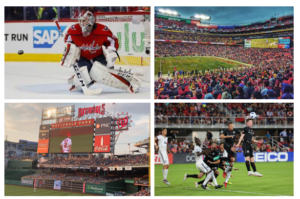 When sports teams are performing exceptionally, or are just exceptionally popular, venues such as FedEx Field for Redskins fans, Audi Field for DC United and Washington Spirit and finally Capital One Arena who hosts the 2018 Stanley Cup winning Washington Capitals, 2017 division winners Wizards, and recent 2019 WNBA Champions, Mystics, receive much higher visibility and can provide companies with strong brand exposure.
Companies such as SAP, Geico, Leidos, Boeing, PNC and others have taken advantage of brand exposure at some of these locations, but would this be a smart investment for other companies trying to get in front of federal audiences?
In 2014, Market Connections asked about federal employees viewing sporting events. Thirty percent stated they watched baseball on TV and 31% had attended a Nationals game in person. In 2015, attending Washington Nationals games in person exceeded any other live sports event, with over one-third (37%) of DC respondents stated they had gone to a game.
How did it fare among feds in the summer of 2019?
Among other questions gauging behaviors of federal employees, we asked feds working in the nation's capital about the venues they visit. This included a list of sports arenas, museums, theaters, music venues and other highly visited locations in and around the city. Marketers looking to increase their company's brand awareness in the DC metro area, a major hub of federal activity, can use these findings to help them gauge the value of advertising and sponsorship at these local venues.
Together with findings about their other media and marketing habits including where they go for print, TV, radio, digital and social media usage, federal marketers can take these findings to help them develop or refine their marketing strategy to this unique audience.
Join us on October 31 as we release the 2019 Federal Media & Marketing Study at our annual breakfast briefing at the Center for Education at Wolf Trap in Vienna, VA. Register here.
Can't make the breakfast? The overview report will be available for purchase for $199. (2018 data available now, 2019 data available mid-November). Learn more.
Need more details? Subscribe to the Federal Media & Marketing dashboard for the most comprehensive data about the habits of federal decision-makers both inside and outside the beltway, across multiple purchase categories, agencies and job roles. Learn more and subscribe.
Laurie Morrow has over 25 years of experience in market research and was Market Connections' first employee when it was founded in 1997.
In addition to her passion for research, Laurie also has a passion for the curly W – that is the Washington Nationals. You can almost always count on her being at spring training each March catching her favorite team prepare for a summer of pitches, swings and home runs for the upcoming season at Nationals Park.
With two signed baseballs from Max Scherzer and Stephen Strasburg, a signed third base by Anthony Rendon, a signed baseball bat by Ryan Zimmerman, an impressive collection of bobbleheads and up- close-and-personal pictures with more than 20 players, we thought it would be fun to give you a glimpse to a different side of Market Connections' vice president, and Nationals' superfan, Laurie Morrow.
MC: How long have you been a Washington Nationals fan?
LM: Though I went to a few games here and there during the early years, I really started to take an interest when Bryce Harper was brought up to the majors. He is the same age as my oldest son who also played baseball. It was around the time my son stopped playing in his senior year of high school that Bryce came along. Instead of sitting in the bleachers at travel league and high school games, I started watching the Nationals faithfully on TV. I also try to attend a few games in-person every month.
MC: Who is your favorite player and why?
LM: Anthony Rendon. Tony is an awesome player and is truly underrated. He has never made it to the All-Stars but deserves to be there. Besides being a great baseball talent, he is very involved with the Nationals Youth Baseball Academy. I hope the Nats re-sign him.
MC: What is your favorite Nationals memory?
LM: Attending spring training games played in their old stadium in Viera, FL before the team moved to West Palm Beach. The new stadium is very nice, but the old stadium was a great way to see the games and players up close. My husband and I try to go to spring training every year.
I can also share my least favorite memory. This was game two of the 2014 NLDS when the Nationals lost to the Giants (after 18 long innings!). I was at that game and stayed until the bitter end!
MC: Of course, we have to ask, do you miss Bryce Harper?
LM: I wasn't surprised that the Nationals didn't sign Harper. However, I wasn't happy that he went to the Phillies and I will have to watch him play against the Nats 19 times a year for the next 13 years! I don't really miss him. The Nats have great young talent on their team.
MC: What is your outlook for the 2019 season?
LM: I'm hoping the Nationals will start playing better baseball than they have in April and early May. They are a very frustrating team to watch. You can't turn off the TV thinking they already lost or already won. It's always a roller coaster ride, but it's a fun one!
If you have questions about market research or the Washington Nationals, you can reach Laurie at lauriem@marketconnectionsinc.com.