Marketing for the Public Sector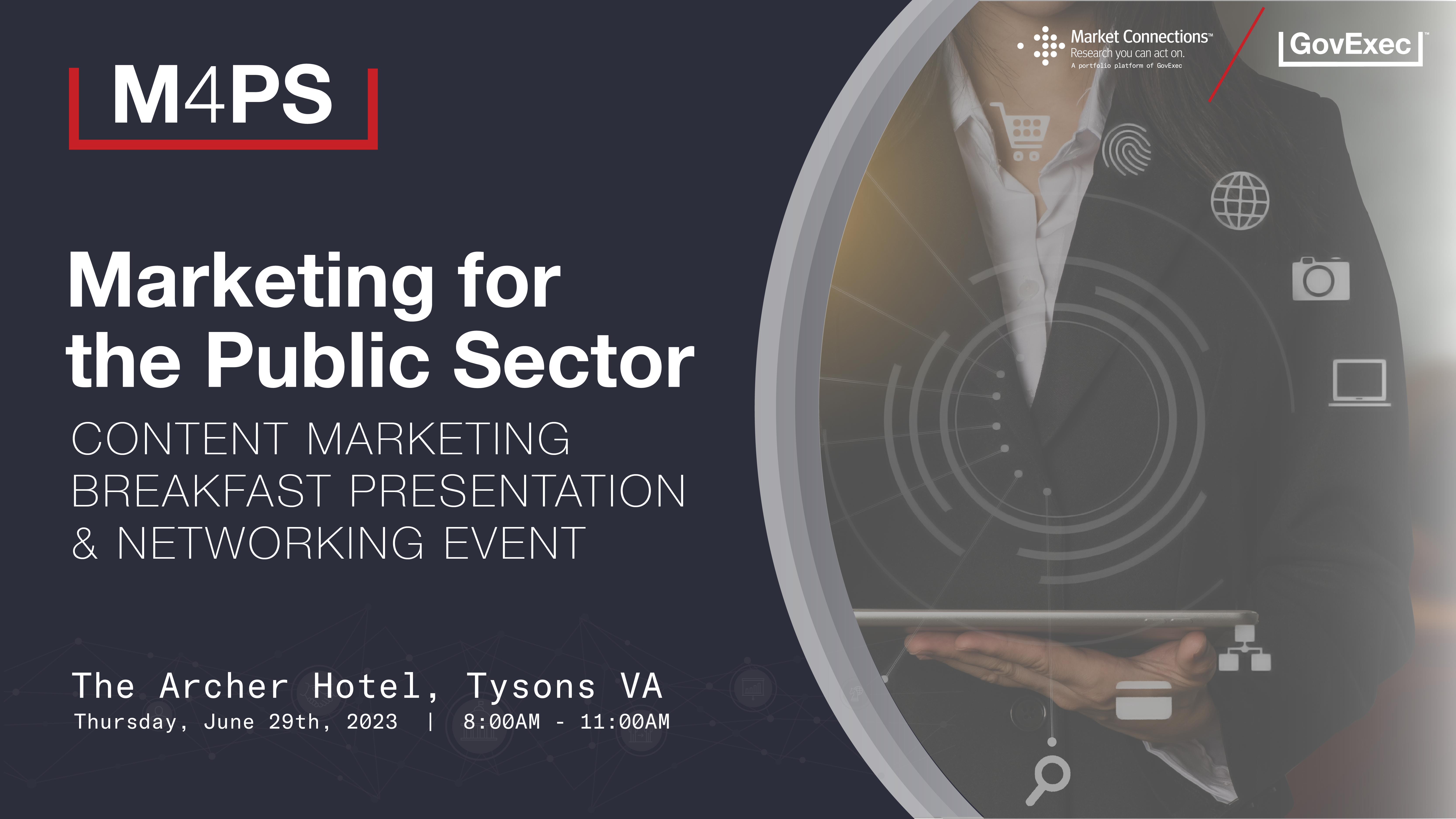 Date & Time: Thursday June 29th, 8:00AM-11:00AM
Location: The Archer Hotel, Tysons VA
Cost: $250. (Early bird tickets $200 - available until 6/12)
Join Market Connections and GovExec as we present the findings from the spring iteration of our Marketing 4 the Public Sector (M4PS) study (formerly brought to you as the Content Marketing Review study)
Whether you are interested in a broad awareness campaign or a more focused agency-based marketing effort, you can expect to leave this information session with pertinent, actionable information to inform your marketing plans and strategies. Including:
content marketing tactics

current outlook regarding participation in in-person/virtual events 

media/content format preferences

education & informing in the buying process

content shelf life
Agenda:
8:00–8:30 a.m.

Check-in, breakfast and networking 

8:30 – 8:45 a.m.

Welcome, opening remarks. 

8:45 – 9:10 a.m. 

Section 1:

Marketing the Funnel:

Delivering the right content at the right time. 

9:10 – 9:35 a.m.

Section 2:

Content Creation:

Creating impactful content that resonates. 

9:35– 10:00 a.m.

Section 3:

Events and Webinars:

Where are we now and where are we going?

10:00 – 10:25 a.m.

Section 4:

FED, SLED and Everything In Between:

Developing a content marketing strategy that is economical but relevant across segments.

10:25– 11:00 a.m.

Closing remarks and networking.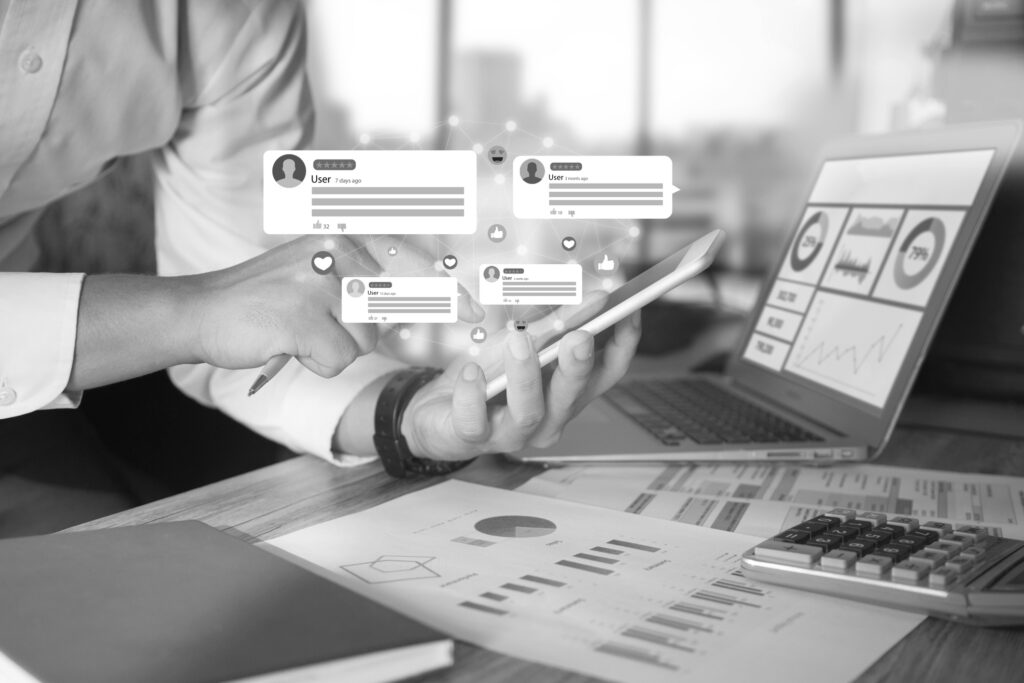 When it comes to reaching public sector audiences there are a number of things to try, a number of avenues to venture down, and a number of platforms to spread your message on. If you're reading this, you're already aware of that.
Yet, with the plethora of information sources at our fingertips, it can be hard to narrow down the specific data needed to begin formulating marketing plans and strategies. That is why the Market Connections research team created a study specifically for the individuals and teams Marketing for the Public Sector (M4PS).
Part one of the study launched in October 2022 and provides insight into media engagement habits. Part two, slated to launch in June 2023, will get more specific, diving into the procurement and buying processes, current outlook regarding participation in in-person/virtual events, as well as media/content format preferences.
Overview
We surveyed more than 1,000 people working in the federal and state/local government about their media engagement habits. We asked them about:
Top concerns for the next year
How much trust do they have in the information they get from certain sources
How much time is spent on an average workday accessing certain media
Top digital sites for getting news/information
Confidence in news sources
Social media usage
Top sites for streaming
Data/information on podcast listenership
Included are key insights, observations and takeaways from analysts – as well as specific data on the DMV market (D.C. Maryland, and Virginia region.) Whether you are interested in a broad awareness campaign, or a more focused agency-based marketing effort, our aim with part one of the M4PS report is to provide you with trusted data, ultimately serving as launching point for your future planning endeavors.
What is important to your audience
Figuring out what's important to your audiences is key. It allows you to make decisions with a wider lens or narrow down and go niche if necessary.
By arming yourself with both parts of this report you will be able to further strategically position yourself exactly where you want to be in the public sector market. Since all goals are different and there is no one-size-fits-all approach to planning, we started here by anticipating your needs, so you can in turn begin to anticipate the needs of your audiences.
The media engagement report is available now.
And keep an eye and ear out for M4PS part two, coming in June 2023.
---
Have questions? Want more information? Please reach out to info@marketconnectionsinc.com.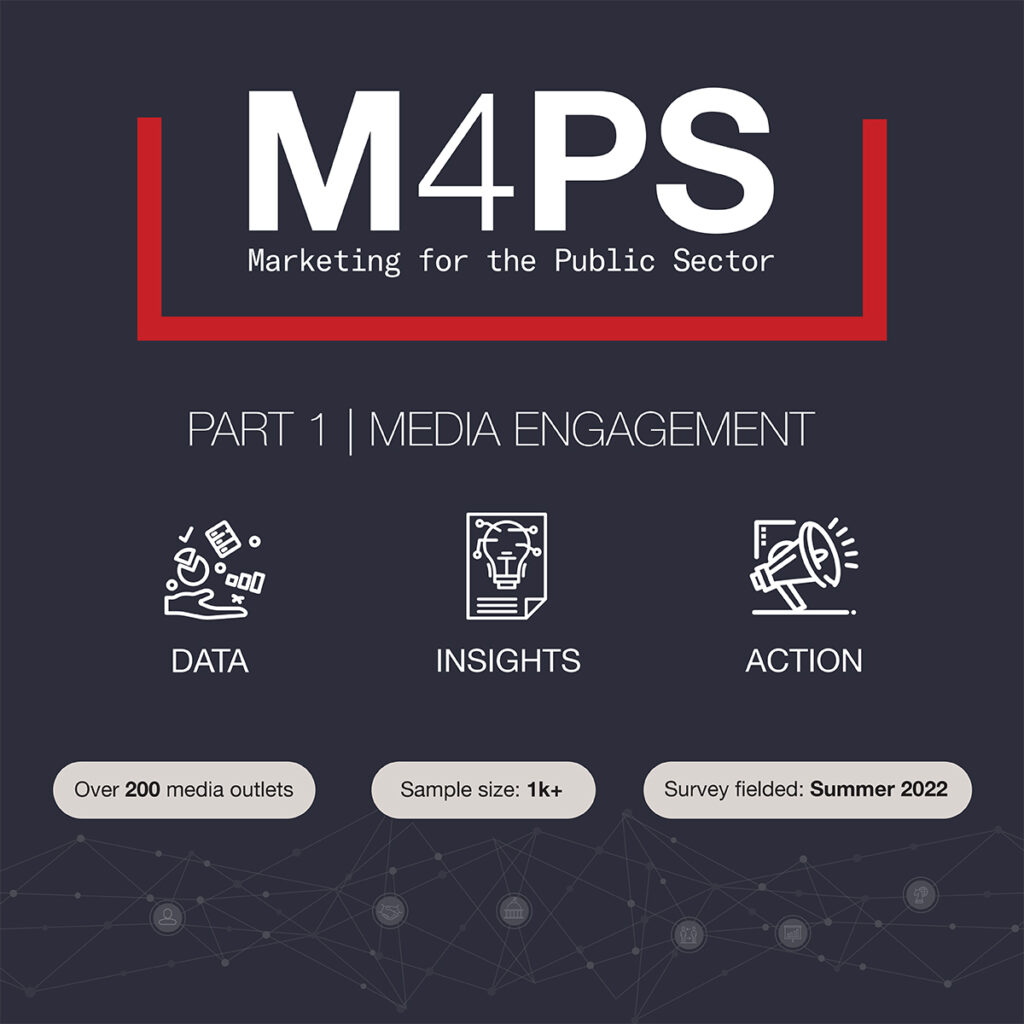 On-Demand Release*
Full report available Friday December 9th, 2022
ABOUT THE STUDY
The Marketing for the Public Sector report represents the views of thousands of federal and state/local employees in a variety of positions.
Focusing on engagement within the digital landscape, this study is meant to empower marketers with the knowledge they need to perfect their marketing plans, campaigns, and content.
Created in an easily digestible and navigable format, the report presents pertinent information about audiences' media engagement habits across broadcast, social, and digital sources.
Whether you are interested in a broad awareness campaign or a more focused agency-based marketing effort, we want to give you the valuable, trusted data and insights on the media and engagement habits of those tough-to-reach federal and state/local audiences.
---
WHAT TO EXPECT
Full Report – Contains data and insights on both federal and state/local customers
Topics Covered – Demographics, job functions, trust in media sources/social media websites, confidence in news (among others)
Publications & Digital Sites – Government media, business and news media, technology & industry, social media & lifestyle
Key Insight – Top concerns for next year, time spent listening to news/radio, accessing social/news media on an average workday, most trusted social media sites
Visual infographic: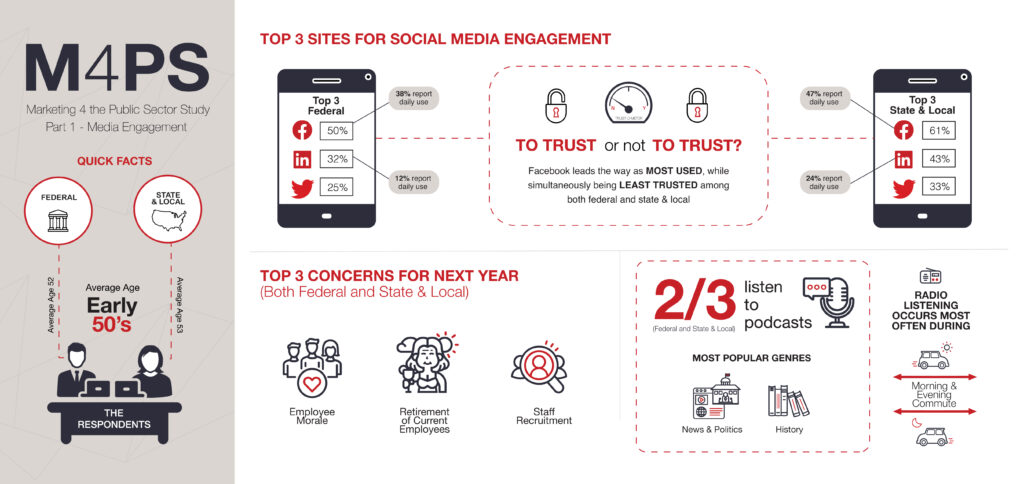 2022 Update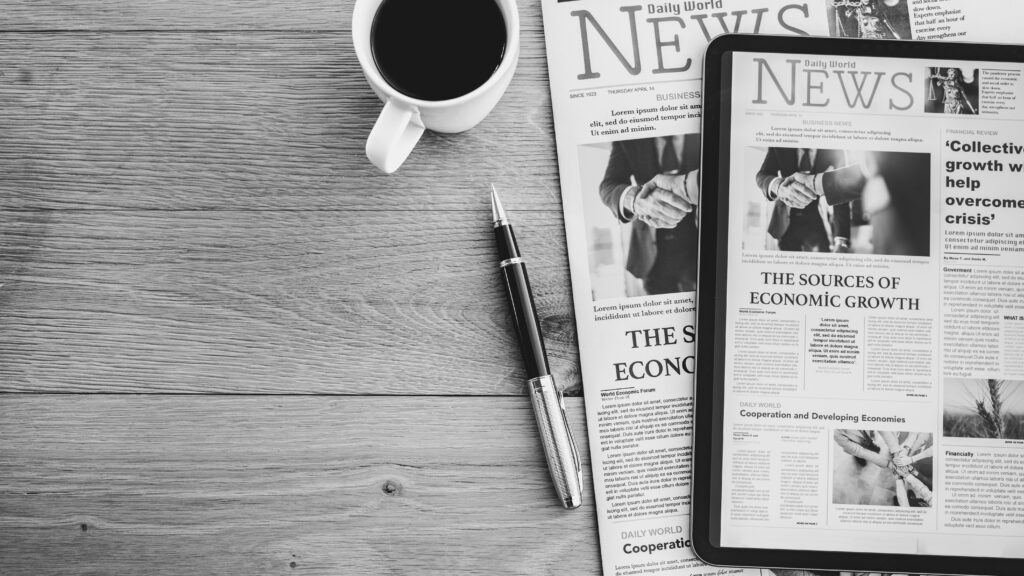 STAY CONSISTENT TO REACH TARGET AUDIENCES
In the last few years the way we seek and receive news has been changing and evolving faster than ever. Between the COVID-19 pandemic more or less forcing many companies to adapt to work from home trends, team collaboration needs, and an industry wide push toward cloud, things are getting more digital by the day.
While many people still start mornings off with a newspaper, listening to the radio on the commute to work, or gathering around the TV for the evening news, they don't confine news consumption to those times. Increasingly, most likely due to the ubiquity of remote work and the convenience of cell phones and apps, people are engaging with news outlets and seeking out important updates from various digital sources throughout the day, a trend public sector marketers can (and should) take advantage of.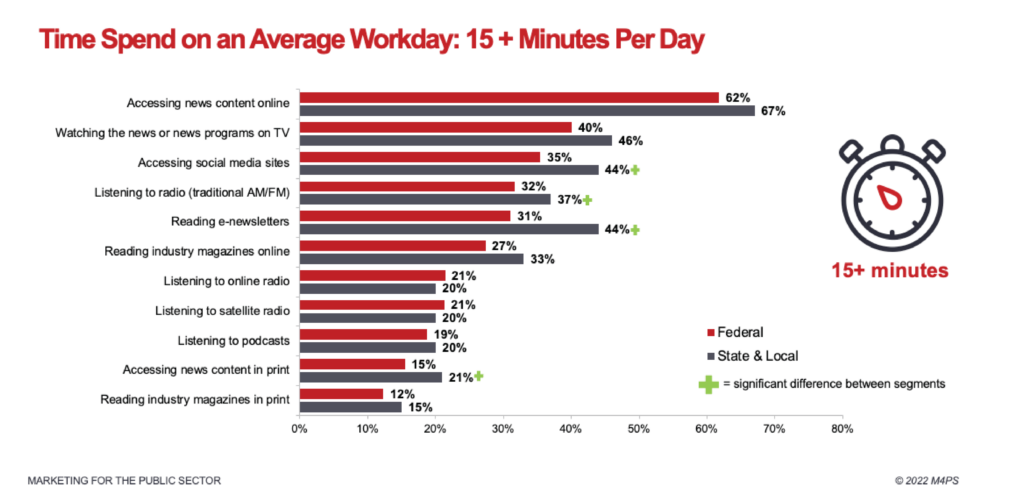 LEARN MORE MEDIA TRENDS

Part 1 of the 2-part 2022 Marketing for the Public Sector (M4PS) study looks at media engagement among both federal and state/local audiences.
Brought to you in a neatly packaged two part study, M4PS, called "maps" for short, focuses on the digital world around us. A first look at highlights from the M4PS study were presented to attendees at Government Marketing University's GAIN conference, and part one of the full report will be available to purchase in November.
STAY UP ON TRENDS AND BE WILLING TO ADJUST ACCORDINGLY
Market Connections will continue to look at trends and impacts on federal and state and local employees' media usage and preferences. Learning where your potential customers go for news and information can be fabulously useful in building a marketing plan. A better understanding of demographics, "go-to" news sources and most trusted social media channels can help you consistently put your message where their mind is.
Federal and state/local customers, just like the rest of us, are affected by outside factors. Marketers can't always rely on by-the-book and tried-and-true methods of the past. A willingness to stay on top of current trends and adjusting current strategies based on new information is a must.
Need data to help make informed purchasing decisions? Our M4PS study provides the information you need.
Need more custom research to learn about your customer's needs, challenges, perceptions and preferences? Reach out today. We'd love to help!