B2G Marketing on a Budget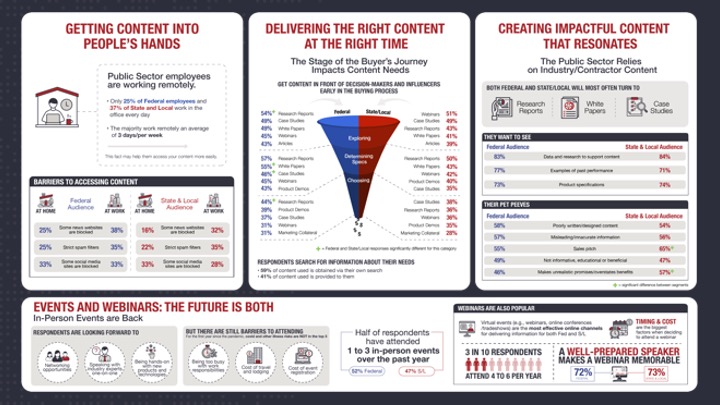 B2G marketers: this article is part 4 of a 4-part series recapping the June 2023 Content Marketing Review.
B2G Marketing on a budget… we've all been there. Most of us live there permanently. At the Content Marketing Review, Susan Rose, Senior Director of Insights and Content, GovExec and Monica Mayk, Head of Marketing, U.S. Public Services, Tata Consultancy Services talked about marketing on a budget. Part 1 of this series answered the question, "If it was a perfect world and you had everything that you wanted, what would your marketing strategy look like?"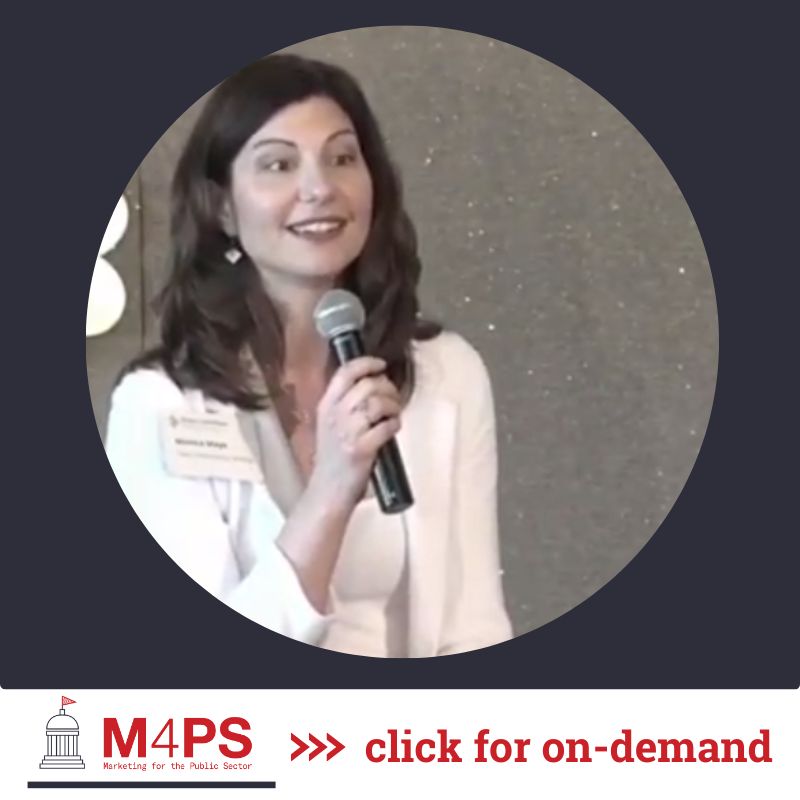 This panel answered: "Okay, we don't have unlimited time, staffing or budget. How do we make all of this work?"
Investing More Money Into Marketing
A lot of people are wondering, "How can I implement a strategy when I have a micro budget? How do I work with a budget that's tactical and get the results in return that superiors are wanting?"
Tight budgets are real. Yet senior leadership needs to understand that if they are not making a sufficient investment in marketing, the marketing units can't be strategic or deliver the type of results they are looking for.
It is key for companies to set aside a certain amount of money for marketing so marketers can establish a reliable strategy that will result in their connected presence in the market. For example, when Monica worked with Verizon, she was on a shoestring budget. She only had a few hundred thousand dollars to support a two billion dollar business that was trying to sell into every federal agency. A few hundred thousand dollars wasn't nearly enough to manage the vastness of the business, so she had to use that investment in creative ways to incur a reasonable outcome (listen to the on-demand recording to learn what she did).
Knowing the Portfolio is Key to B2G Marketing on a Budget
Knowing everything your company is selling under your portfolio is important in establishing a logical strategy. Referring back to Monica's Verizon example, she had a gigantic portfolio and had little idea about some of the products and services that her company was selling. And she had to market solutions that people did not associate with the company's brand. In fact, she almost had to work against the corporate and consumer brand by focusing solely on her priority, which at the time happened to be all of the federal agencies.
She established a process where she said, "let's find the intersection between what we have to offer, what's important to our customers, and who are the places we are selling to" so her company could establish some thought leadership and demonstrate some expertise. Through this process, she was able to narrow down the portfolio and pick a few key solutions that would connect to their customers and prospects. Security, connectivity and public safety were those initial priorities at the time. This process allowed Verizon to showcase key solutions and products that supported those specific themes that resonated with the agencies. By following this process, Verizon went from having no impact on the agencies to making their presence abundantly clear in the market.
Marketing Strategies
Conducting research and leveraging credible data that has been validated will always increase the trust the market has in you. Thought leadership and content campaigns, as well as advertising and awareness aspects, all aid in getting your message out there. A few B2G marketing methods that tend to be successful when you're on a budget are:
Articles
White Papers
Research Reports
Advertising Messaging
Finding the right partner that will help you create, publish, promote, extend, and reuse content will end up being a high-value investment, because you are essentially receiving five things for the price of one. It is not only important to broadcast your content on your own website and LinkedIn account, but third party websites as well. Posting content on other sites increases your chance of reaching a larger audience.
Final Thoughts
It is important to note that marketing results will be measured over time. You cannot expect to garner results right away. That is one of the hardest things that finance teams cannot understand in the public sector. You have to wait three-to-five years before you start seeing practical results. As a prime example, Monica spent around a million dollars in marketing with Verizon over the course of three years on a single opportunity with one agency. After a five-year pursuit, Verizon won an agency single source contract for $2.3 billion dollars. A million dollar investment ended up turning into a $2.3 billion dollar, ten-year contract. This is just one of the many examples that proves if you invest a considerable amount toward your marketing budget then you can end up with an astonishing end result.
Get the Study
Want more? The Content Marketing Review is now available on demand. Click this link to learn more.
Related Posts
Marketing 4 the Public Sector (M4PS) Study Recap
Marketing The Funnel and Delivering the Right Content at the Right Time
Creating Impactful B2G Content
Events and Webinars: where we are, where we're going